There's a cheaper way to look like you're doing physical work than buying the $425 jeans at Nordstrom with fake mud.
You can actually go out and do some work.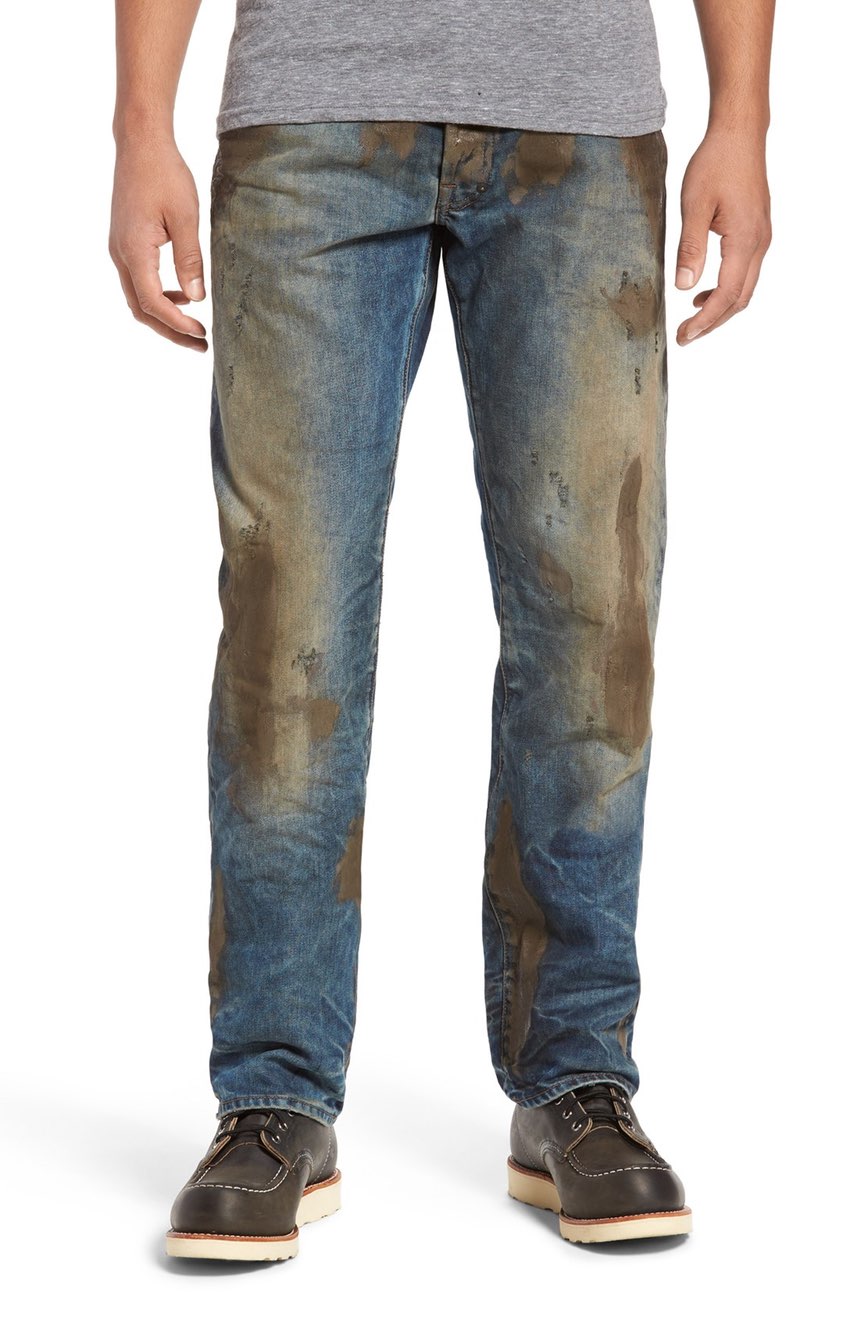 Here's Nordstrom's description:
Heavily distressed medium-blue denim jeans in a comfortable straight-leg fit embody rugged, Americana workwear that's seen some hard-working action with a crackled, caked-on muddy coating that shows you're not afraid to get down and dirty.
You know what shows you really are afraid to get down and dirty? Those shoes.
Not surprisingly, Mike Rowe, who's made a good career out of lamenting the lack of appreciation for real dirt, calls it a "war on work."
On the positive side, Nordstrom's isn't purging their shelves of work-related imagery, like the owners of Monopoly did when they replaced the wheelbarrow with a rubber ducky. They seem to value icons work. What they don't value – obviously – is authenticity.

I understand the appeal of buying broken-in jeans. I mean really, who has time these days to wait for a pair of jeans to naturally fade? I also understand the different cuts. Might as well get something that fits and feels comfortable. But they lost me years ago with their various stages of "distress." The stone wash and the acid wash the rinsed wash and the bleached wash… And they really lost me when they started tearing holes in them on purpose.

I saw a pair of jeans at Macy's the other day that looked like they'd been bathed in boric acid, hung up and shot multiple times with a twelve-gauge, and then pounded on a rock down by the river. They too, were on sale, for $249.00.

But forget the jeans themselves for a moment, and their price, and look again at the actual description. "Rugged Americana" is now synonymous with a "caked-on, muddy coating." Not real mud. Fake mud. Something to foster the illusion of work. The illusion of effort. Or perhaps, for those who actually buy them, the illusion of sanity.

The Barracuda Straight Leg Jeans aren't pants. They're not even fashion. They're a costume for wealthy people who see work as ironic – not iconic. To them, might I suggest the revolutionary new "Borax Wash," which I discovered some years ago while rescuing birds who had the misfortune of falling into Searle's Lake in the lovely and picturesque town of Trona.

If Nordstrom's wants to carry them, the description would read something like this:

"Finally – a pair of jeans for the hard-working gent who doesn't want to actually wear them. The Borax Wash is so rugged and so manly, they don't even need a human to hold them up! So sit back and relax, secure in the knowledge that your work pants can't be folded or stored like other jeans. Show the world you mean business by owning the only jeans that can't be worn! The jeans, that can stand on their own!"

$600 – only at Nordstrom.
If murder or autopsies are more you're thing, you can buy a pair of these for $425 too.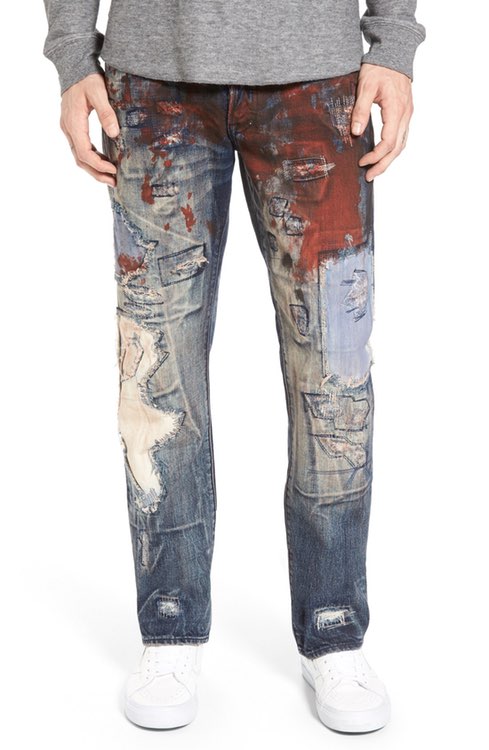 Says Nordstrom:
Hand-painted and destroyed denim jeans tailored in a modern straight-leg fit have been prominently hand-sanded, distressed and repaired with contrasting patchworking and stitch-detailing, transforming your style into wearable abstract art.
Don't think of them as jeans; think of them as art.
Nordstrom is getting ripped online for the jeans, which is still publicity and that's probably the point.
That's the art.