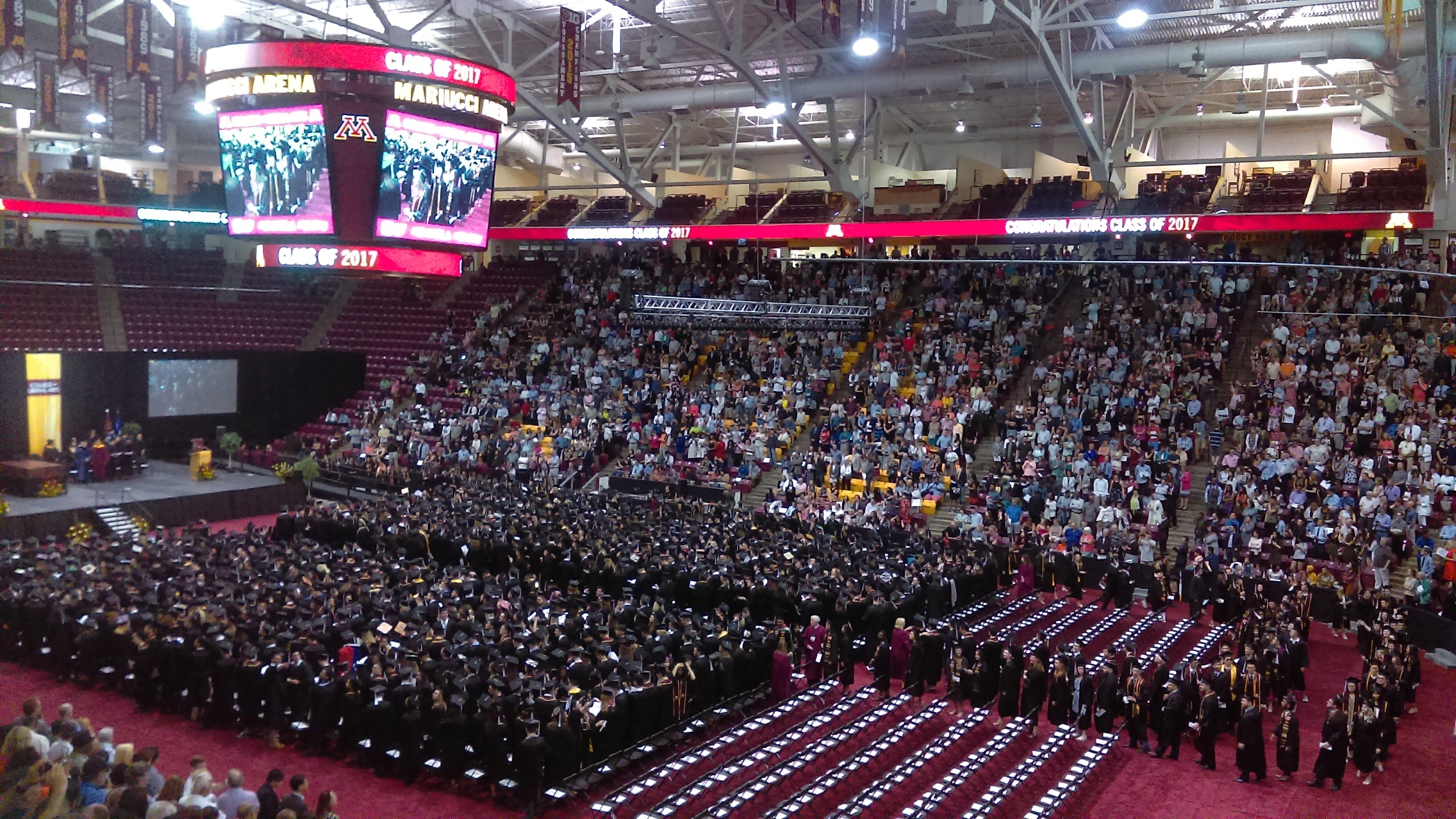 Thousands of students graduated from the University of Minnesota College of Liberal Arts on Sunday afternoon in two separate commencements for the U's largest college.
Comedian Maria Bamford, the featured speaker and U of M grad, told the students about her opposition to the university's offer to allow her to speak at no charge, instructed the students to value their education and work, and then gave a random student $5,000 from the speaker's fee (after taxes and expenses) to show them the value of doing so.
And it's a tax free gift & put your account number on the check! 😍 Find out your interest rate!! Thank you for accepting and congrats!! https://t.co/3tFJUbo4h4

— off grid til 7/17 (@mariabamfoo) May 14, 2017
"Never say 'no' without a counteroffer," Bamford told graduates of her request for $20,000. She was later offered $10,000 and considered splitting
the difference but said, "I'm from Duluth and filled with a deep shame."
She took the money and gave it away.
Liberal arts went through its period where a lot of people just didn't see the value of it, not when colleges had become vocational schools, the worldliness and well-roundedness of students be damned. But we're seeing it now.
The commencement program carried this insightful opinion, for example:
We need to understand history, culture, religion, and language to appreciate and navigate the shifting ground of diplomacy and politics; leaders who lack that understanding affect war and peace around the world. We need to understand economics to survive in the current climate; economics without ethics has led to a worldwide recession. Justice and equality, belief and truth, the beauty of the written word, a work of art, a musical passage — these equip us to create a meaningful life, a life worth living.

Liberal arts graduates can challenge accepted paradigms, create bold new ideas or artistic works, view issues from multiple perspectives. They can develop hypotheses and collect data, reason soundly about complex questions, and, above all, communicate clearly and ethically.
Beautifully written and argued, which is why the final paragraph was a bucket of cold water on the future:
Today's graduates are likely to lead nomadic lives of short-term jobs — some of which have not even been invented yet — and multiple careers. But the liberal arts have provided them solid grounding across disciplines, centuries, cultures, and geographic boundaries, and in research, ways of thinking, and communication skills — the very best preparation for life in a rapidly changing world.
This, in particular, is the time of year when old-timers want to give advice and wisdom to the graduates. But that paragraph underscores the reality for those of us of a certain age: We haven't got a clue how to navigate this changed world as a graduating student.
Good luck, grads! You're on your own.