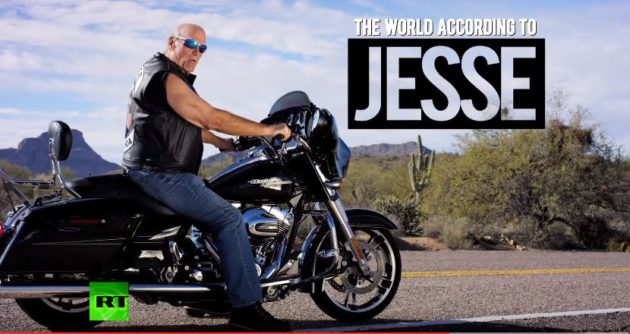 "It's called the feeling of freedom," Jesse "The Body" Ventura barks into the mic, atop his motorcycle. "Everyone in the world should experience freedom, and you get it on the open road."
That's the opening of the trailer for his upcoming program for RT, Russia's state-sponsored media outlet. It's called "The World According to Jesse."
"What you will hear from me is opinions, not agendas," Ventura tells RT. "I look forward to holding our government accountable. I will be exercising my First Amendment rights with no filters."
Here's how the Russian government's own cable network brands the series:
A new variety news show hosted by Jesse Ventura captures "the feeling of freedom" in confronting government and corporate power run amok. The former Minnesota governor, pro wrestler and New York Times bestselling author invites you to "come along for the ride."

The World According to Jesse, premiering this Spring on RT America, brings a fresh "open road" approach to understanding current events and what the mainstream media won't cover.
If Ventura's last foray into hosting a TV series is any indication, we're certainly in store for an interesting "ride."
In 2009, The Body hosted the short-lived truTV program titled "Conspiracy Theory with Jesse Ventura." Ventura and his crack team of investigators dug into hot topics such as the 9/11 truther movement, the possible existence of lizard-like shape-shifting humanoids and the 2012 apocalypse.
RT America will air the new show on Fridays with weekend re-runs.