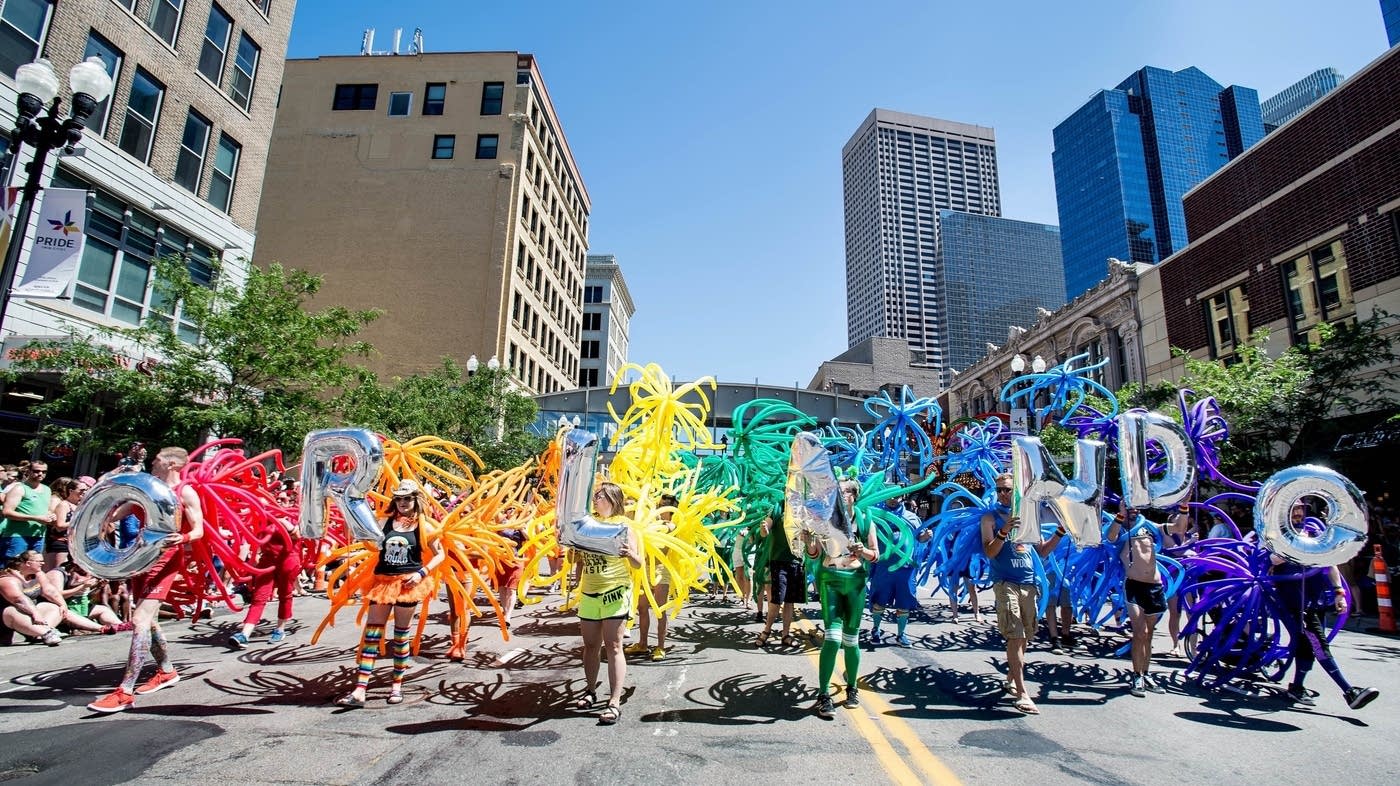 Updated 12:05 p.m. | Posted 7:14 a.m.
In normal times, members of the Minneapolis Police Department and some other departments would march in the Twin Cities Pride parade. But these are not normal times and organizers have said the police should stay away from Sunday's parade, at least as much as police can stay away from public gatherings.
Organizers posted this message on Facebook
We appreciate all the calls and emails from community members voicing their concerns with us and we are always open to feedback. With the Twin Cities Pride Parade and Festival drawing about 350,000 people each year, we are doing our best to balance the concerns of the community and our concerns for making this family-friendly event a safe and welcoming place for everyone to attend.

There has been some misinformation circulating and we'd like to make sure accurate information is shared with the all of you.

Twin Cities Pride is required by law to have a police car lead the parade to make sure the route is clear of 5K runners and other people before the parade officially starts. We always have several police departments wanting to roll down Hennepin with lights and sirens to participate in this announcement that the parade is about to begin.

With the recent verdict in the Philando Castile case Twin Cities Pride has decided to forgo this part of the police participation in the parade for this year and respect the pain the community is feeling right now. There will just be one lone unmarked police car starting off the parade and there will limited police participation in the parade itself.

The police have been listed in the parade line up as the first contingent in the parade, but there is no contingent of police marchers as rumored. The police have been the first contingent in the lineup as long as this City ordinance has been in place and this is nothing new. Following the police is the Ashley Rukes GLBT Pride Banner and the Dykes on Bikes and Twin Cities Riders, so we want to make absolutely sure the street is clear of people and pets before these units roar down the street on their Harleys.

Thank you again for sharing your concerns. We hope this helps ease people's fears about police participation in the parade. We will be scheduling a Listening Session for later this summer to give the community a place for making their voices heard and to suggest changes for future Pride Festival and Parade planning.

Dot Belstler, Executive Director
Amy Brockman, External Relations Manager
"I understand people are angry and we can respect their feelings, but the reality is at the end of the day if we can't work together it becomes more challenging to become better as a community and to become better as a police department," St. Paul Deputy Police Chief Mary Nash, the department's LGBTQ liason, tells the Star Tribune.
On Thursday morning, Minneapolis Police Chief Janee Harteau, the city's first openly gay chief, expressed her unhappiness and disappointment and said the decision was hurtful to many officers. "It's time to be lifting each other up, not excluding one another. Saddened to be shut out from Pride. Will I be welcomed next year?" she said on Twitter.
It's time to be lifting each other up, not excluding one another. Saddened to be shut out from Pride.

Will I be welcomed next year? pic.twitter.com/iOghna3MJb

— Chief Janeé Harteau (@ChiefHarteau) June 22, 2017
Minneapolis police union president Bob Kroll was less diplomatic.
"With the uptick in terrorist attacks worldwide, this outward anti-police sentiment is alarming. For an organization that prides itself on being accepting and inclusive, the hypocrisy amazes me," he said in a statement.
Darin McDonald, who says he's the only openly gay man on the St. Paul Police Department, called the decision, "horrible."
"Thought Pride message was about inclusion, and not exclusion," he wrote on Facebook, saying Pride is the perfect place for members of the community to meet the police.
Other Pride organizers around the country are taking similar action.
Pride Northwest asked police not to wear uniforms at the parade in Portland, Oregon Live reports.
But organizers stopped short of asking cops not to march.
Police Lt. Tashia Hager wrote on Facebook that the request suggests police should hide who they are.
"Today I learned I was asked to step back into a closet by a group of people who should know better," she wrote on the social media site. "I have been a part of the gay community in Portland for 25 years. I would like to think that the ideals of inclusion and acceptance are not only what the gay community preaches but it is also what it practices. To fail at this endeavor is a hypocrisy that I cannot ignore. I am proud to be a Portland Police Office where my sexual orientation has been more widely accepted than it has in our community at large."
The low visibility of police at this year's Twin Cities Pride stands in contrast to last year, when police provided extra security just days after dozens of people were massacred at the Pulse nightclub in Orlando, Fla.
Organizers say police will still provide security, but will not be in the parade.