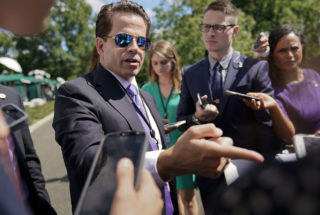 Ryan Lizza probably didn't expect the phone call he got from newly minted White House communications director Anthony Scaramucci last night.
The New Yorker's Washington correspondent had tweeted, citing two sources he didn't name, that Scaramucci was having dinner with President Trump right-wing TV host Sean Hannity and a former Fox News executive.
Senior White House official tells me that Melania was also at the dinner tonight with Trump, Hannity, Shine, and Scaramucci.

— Ryan Lizza (@RyanLizza) July 27, 2017
Scaramucci's instinct led him to call Lizza to ask, "Who leaked that to you?"
Being a good and reasonable journalist, Lizza didn't give up his sources.
So, Scaramucci threatened to fire every member of the White House communications staff. Lizza laughed at such an outlandish idea, but Scaramucci appeared to be serious.
The New Yorker on Thursday published Lizza's write-up of the call with Scaramucci, in which he eventually said, "What I want to do is I want to [expletive] kill all the leakers and I want to get the President's agenda on track so we can succeed for the American people."
Read the whole New Yorker piece here if you choose (Note: It's far from family-friendly). I'll leave some takeaways here:
• Scaramucci likes to refer to himself in the third-person, including as "the Mooch."
• The New Yorker printed six of Scaramucci's F-bombs.
• Scaramucci says chief of staff Reince Priebus will "be asked to resign very shortly." He also called Priebus "a [expletive] paranoid schizophrenic, a paranoiac."
• He doesn't appear to like White House chief strategist Steve Bannon, either. Scaramucci suggested to Lizza that Bannon is trying to build a "brand" off the president.