Other than Kirby Puckett, it's hard to recall a figure in Minnesota sports who crashed and burned as hard as Jeff Dubay, the former sportstalk radio star in the Twin Cities.
A drug addiction and run-ins with the law ended Dubay's career with KFAN years ago and sent him to jail. He recovered, became something of an inspiration, briefly resumed a radio career at KSTP, relapsed, and lost his career again. Another felony drug conviction followed last year.
Were it not for occasional run-ins with the law, Dubay would be a tough question in a "Whatever happened to….? " game.
Now, the Pioneer Press reports today, Dubay has been arrested in Cottage Grove, this time for domestic assault.
According to the complaint, the injured woman told officers that Dubay lives in the basement of the house and that she and Dubay "have had sexual relations in the past, and it made her upset when he brought women to the house."

Dubay allegedly had another woman in his bedroom, and the woman asked him to ask the other woman to leave, according to the complaint. Dubay "became angry and shoved (her) to the floor," the complaint states. "While lying on the floor, the defendant reached over and punched her several times in the face with closed fists."
On Facebook, Dubay, on probation following a felony conviction last year, said he was falsely accused.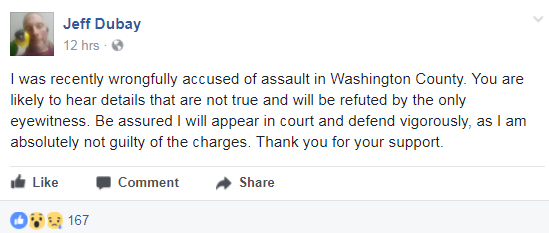 The last time he was in trouble, Dubay had announced he'd stopped taking meds prescribed by his doctor and was worried by the possibility of what was to come.
As before, the Pioneer Press' comment section is a cesspool of gleeful people happy to see trouble for someone they, perhaps, once argued with over sports.
His descent was drug fueled, a testament to the lives being ruined by an epidemic we too often prefer not to acknowledge.
"Leave the guy alone," one commenter said. "He, like all other active alcoholics and junkies, should be allowed to hit his rock bottom in private."