There has likely never been a better piece of advice than this ancient directive: Don't be stupid.
Just ask Ken Pagan, whose life will never be quite the same since he did something stupid.
Perhaps you recognize him: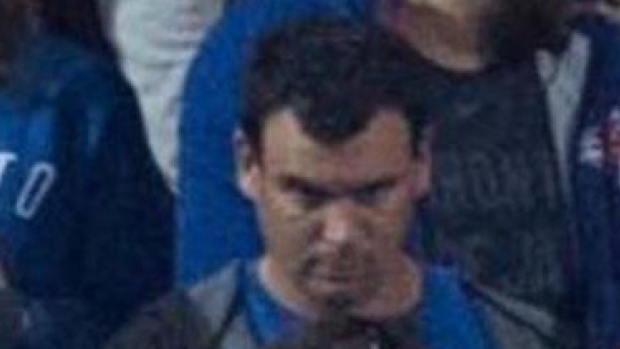 He was caught on video looking like a guy who just did something bad and wanted to blend in with the crowd. Deadspin figured it out because none of the fans around him would rat on him after he did this:
Last October, he threw a can of beer at an outfielder for the Baltimore Orioles as he was trying to make a catch on the Toronto warning track.
That one moment of stupidity cost him his job and a nine-month ban from baseball stadiums.
He tells the CBC today — his first interview since the incident — that he's trying to remember "the person I was in the first 41 years of my life … because that is the person I am — not a drunk beer tosser brought down by Twitter."
"There's no thought — you're in the outfield, there's a ball hit in your direction… excitement… Honestly, if I was to break down the blow-by-blow, I'd be speculating myself. There's no thought process. It was an impulse.
"I equate it to if you've ever taken a bad penalty in hockey and realized, What did I just do? How did that happen?"
He snuck out of the park thinking "this could be bad."
It was. The power of social media was unleashed and there was no stopping it.
Even by Christmas Day, it didn't stop.
"I was getting breakfast, and he was sitting at the table, and he said to Carlee, 'Look at this.' I said, 'What's this?' And he said, 'Oh, some guy in Vancouver just emailed and said, "What are you doing today, loser?"'"
Shame can be worse than guilt, the CBC says, asking whether there can really be such a thing as redemption in the digital age.
After losing his sportswriting job, he delivered pizzas. But he didn't want to go out in public because he was "that guy," his brother said.
He pleaded guilty to charges against him in May, and read his apology at his sentencing a month ago.
The judge put him on a year of probation and ordered him to perform 100 hours of community service.
Because of the online shaming, the judge suggested, he had suffered enough.
He's in a good place now, the CBC says. He's now a supervisor at the janitorial firm where he now works.
He won't go to baseball games anymore. He's afraid someone will recognize him and do something stupid.
(h/t: Julia Schrenkler)
Related: Cubs' long-time goat gets World Series ring (NewsCut)
A white man called her kids the n-word. Facebook stopped her from sharing it. (Washington Post)