Yoga pants and visible hickeys are specifically banned in a lot of South Dakota schools but students with Confederate flag T-shirts might get away with it.
The Sioux Falls Argus Leader says Secretary of State Shantel Krebs has removed a photo from her website, taken during a visit to a school, because it shows a student wearing a Confederate flag T-shirt. The picture was spotted by blogger Scott Ehrisman of the South Dacola blog.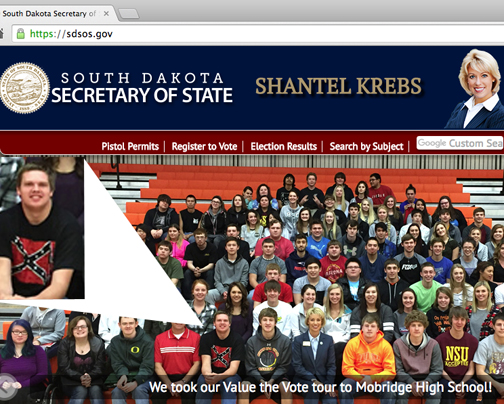 Why is a kid getting away with wearing a symbol of white supremacy to school?
"It's all about teaching kids to be sensitive to others and their rights and their beliefs," the school superintendent in the disttrict said.
"Each district's probably going to be a little bit different," he said, excusing the fact some school districts have a bigger problem with yoga pants than Confederate flags.
The Sioux Falls' school superintendent says politically charged T-shirts aren't banned because of First Amendment considerations. But in 2009, the Supreme Court refused to hear a case challenging a school district's ban on Confederate flag T-shirts. And in 2013 a U.S. federal court upheld a South Carolina's ban on Confederate flag T-shirts.
"Is the speech disruptive to the learning environment?" superintendent Brian Maher said. "If it is, then we have to figure out what the most prudent course of action is."
Maybe a history class would help.
The resurgence of the Confederate flag issue accompanies last weekend's violence at a white supremacist rally in Virginia.
In upstate New York, for example, protesters called for a ban on the sale of Confederate flags at a county fair. In Oregon, organizers of a parade have a apologized for allowing a float in the parade festooned with the flags. And in the Catskills, a man says he might take the flag down outside his home after receiving threats.
"It's just as good as the American flag," a neighbor opined.