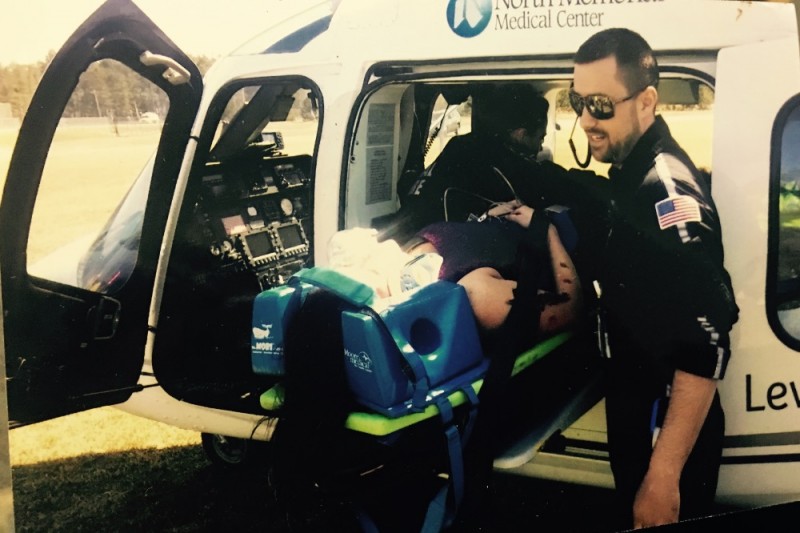 When last we heard about Miles Weske, the flight paramedic had lost his job with the air ambulance company for whom he was working when the helicopter crashed in Alexandria, Minn., one year ago Sunday.
The Nisswa, Minn., man had one goal: to get back in the air as a paramedic.
It's becoming more clear that's not going to happen. Alexandria Echo Press reports his leg was amputated a few weeks ago.
But there's still a love story here.
Miles and his wife, Brook, were married in January. She's a flight nurse and now they've got six kids.
"I'm not going to be the person that claims they wouldn't change anything," Brook tells the paper. "I'll be honest. I wish Miles wouldn't have been in a helicopter crash. I wish that I didn't have to witness Miles go through what he went through. But the fact is that it happened. And now it is our job to make the best of the situation at hand."
"For some reason Miles thinks I'm some sort of hero for sticking by him through this," she said. "I don't think I've done anything heroic. I think that this is what anyone would do for the person they love."
Is it? Miles isn't so sure.
"Many couples have told us that they would not have the strength to stay together through something so life-altering," Miles said. "I have realized that there is such a thing as true love. I made it through because of her, and she made it through because of me."
Previously: After medevac copter crash, paramedic is fired (MPR NewsCut)
To the angels in helicopters (MPR NewsCut)