If you're a small business owner, health care can be a toxic issue for you.
Not the struggle to pay for it; everybody knows that story by now. The effort to take it away from people.
Ask Dave Ratner, who owns Dave's Soda and Pet City, a small chain of shops in Massachusetts that sells pets and soda.
It was all destroyed in one day last week. Thursday.
That's him, second from the left, when President Donald Trump kneecapped the Affordable Care Act with an executive order intended to bleed healthy people from existing insurance plans.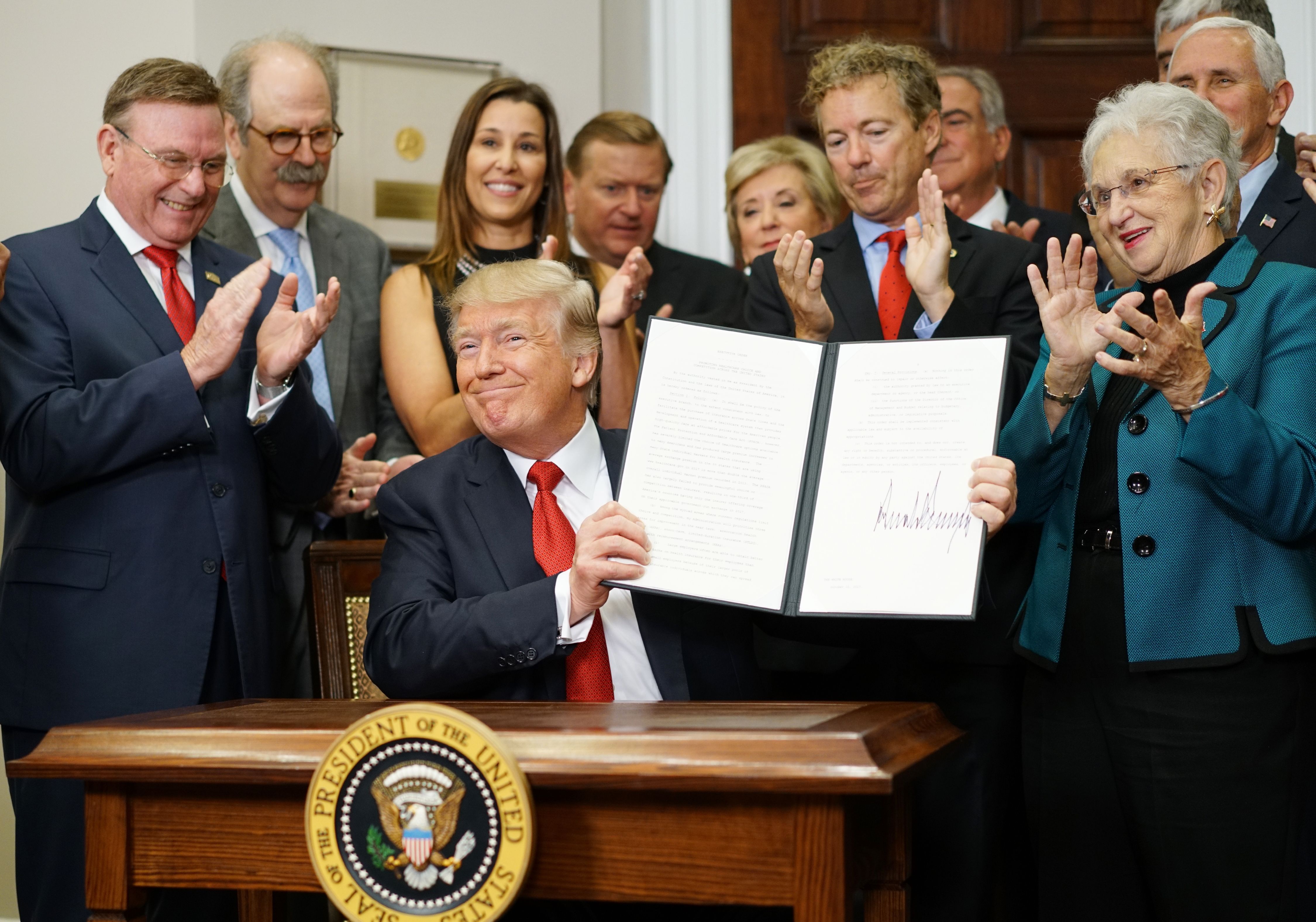 Politics and business don't mix well.
"I feel like I walked into a room, and somebody shot somebody when I was in the room, and so people are looking at me," he tells the Boston Globe today.
His customers have been calling his store to complain. A social media campaign is organizing a boycott of his business.
"My theory on doing business is that all things being equal, people do business with people they like," he said.
Now he's finding out is they don't do business with people they don't.
For those willing to hear it, here's the back story: Ratner is an active member of the National Retail Federation, a trade association supportive of small businesses. For years through this federation, his company and others negotiated for cheaper group insurance rates, giving them some of the advantages large companies have.

With the 2010 passage of the Affordable Care Act, this negotiating power vanished. Since then, he has trekked to Washington, D.C., annually, talking to anyone who will listen about how unfair that is.

Fast-forward to two weeks ago. Ratner received a call from the federation, inviting him to a ceremony in which Trump would sign an order restoring that power to small businesses.

"My first reaction was 'Holy smokes, he's doing something good,' " Ratner said. He didn't think long or hard about whether to attend. He said he had no idea about the scope of the rollback of the ACA included in the executive order.

Trump's order was swiftly followed Thursday by a second move, halting a subsidy that makes health coverage affordable for many low-income citizens — an action that drew a lawsuit from Massachusetts Attorney General Maura Healey.

"I absolutely abhor what he did, and I would not have been there had I known what was happening," Ratner said.
Ratner has hired a PR firm to manage the crisis, and he's got one now, Globe columnist Kevin Cullen writes.
His appearance wiped out business from liberals. And now his repudiation of Trump has angered conservative customers.
Ratner's response to the threats of boycotts and vicious things being said about him on social media has been to repudiate the Trump White House.

Again, that's not necessarily the most savvy thing to do, because it won't win back anybody on the left who has a political litmus test for where they buy dog food. And it will alienate customers in the cluster of towns that voted for Trump, such as Ludlow and Agawam, home to two of Ratner's seven stores, who would have been inclined to rally around him in the face of a liberal backlash.
"Why people are taking it out on me for going to Washington to do something that I thought was going to do good for millions of people, I just don't get it," he tells WBUR.