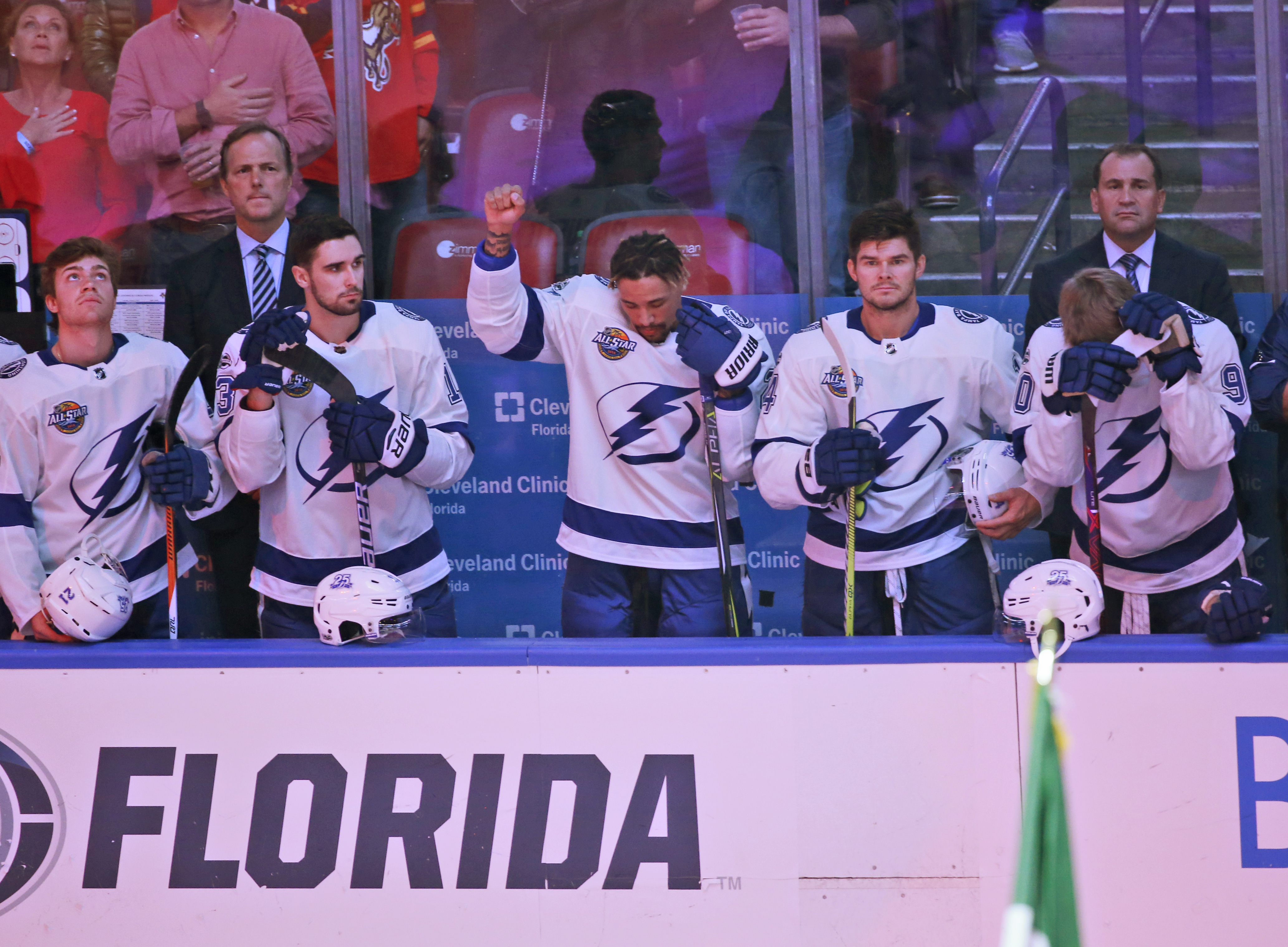 The National Hockey League this weekend got its first taste of pro-sports protest during the "Star-Spangled Banner," courtesy of a Minnesotan.
J.T. Brown, the Minnesota-born son of a former Minnesota Vikings running back, who played his college hockey at the University of Minnesota Duluth, stood and raised his fist in silent protest during a regular season game between his team, the Tampa Bay Lightening, and the Florida Panthers.
He wrote on Twitter that he hoped it would bring awareness to police brutality and racial inequality; he saw a raised fist as a middle ground for those who believed that kneeling for the national anthem, as some NFL players have done, disrespected the flag. He said he'd talked about his plans with people in the military and his family.
His consideration of the matter, however, wasn't enough to save him from the angry, racist backlash, and death threats.
Lightning wing J.T. Brown said he knew there would be backlash after being the first NHL player to perform a silent protest during the national anthem.

But Brown, 27, said Sunday that the racist remarks and death threats he received on social media after his action prove why the issues being protested need to be talked about.

Brown, one of about 30 black players in the NHL, raised a closed right fist during the anthem before Saturday's 5-4 loss to the Panthers. He said he did so to show support for those trying to bring awareness to police brutality and racial inequality.

"I love my country, but that doesn't mean I cannot acknowledge that it is not perfect," Brown said in a lengthy Twitter post. "In my life, I have been through more than my fair share of racism both on and off the ice. There comes a time when you cannot remain silent, hoping and wishing for a change. It takes much more."
"Our lives begin to end the day we become silent about things that matter."

-Martin Luther King Jr. pic.twitter.com/Ql2vEFwl5E

— Jt brownov (@JTBrown23) October 8, 2017
Just in case you thought the issue had ceased to become an issue at ESPN, this just in:
BREAKING: ESPN suspends Jemele Hill 2 weeks for breaking its social media rules after tweets about boycotting Cowboys, advertisers.

— The Associated Press (@AP) October 9, 2017