After several months, this picture of a Rice Lake fishing legend has been returned to the Wisconsin diner from where it was stolen.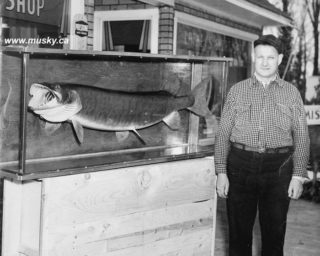 It's a picture of Louie Spray, of Rice Lake, Wis., who once owned the Wisconsin musky record — three times.
It disappeared from the Nite Owl Drive-in in Milwaukee in May, and nobody could figure out why someone would want an obscure musky photograph from its place of honor above a urinal.
It originally had a home at Spray's Bar in Rice Lake, where there was some rumor that Louie ground up fish and shoved it in the musky to make it look and weigh bigger than it really was. The place burned down in 1959.
But the latest mystery is over.
Jon, last name unknown, tells the Milwaukee Journal Sentinel's Jim Stingl that he was visiting a friend over the weekend when he spied the photo.
Jon said, 'Where did you get that?' He told me straight out, 'I took it out of the bathroom at Nite Owl.' "

The neighbor, a fishing enthusiast, told Jon he thought the frame looked like it was going to fall in the toilet, so he assumed no one cared about the photo. He was wrong on both counts. The photo has been a popular sight at the restaurant since a customer gave it to Chris about 15 years ago, and he insists the frame was screwed to the wall.

Anyway, Jon says to the guy, "Dude, you gotta give this back."

The next day, the man called Jon and told him to come pick up the photo. In the meantime, he had taken it to Walgreens to make two copies, one for each of them.

"Get it back to him. Just don't tell him who I am," the reformed thief told him.
His name is Jon, we're guessing.
The owner of the diner has removed it from the bathroom and given it a place of deserved honor near the cash register, Stingl says.