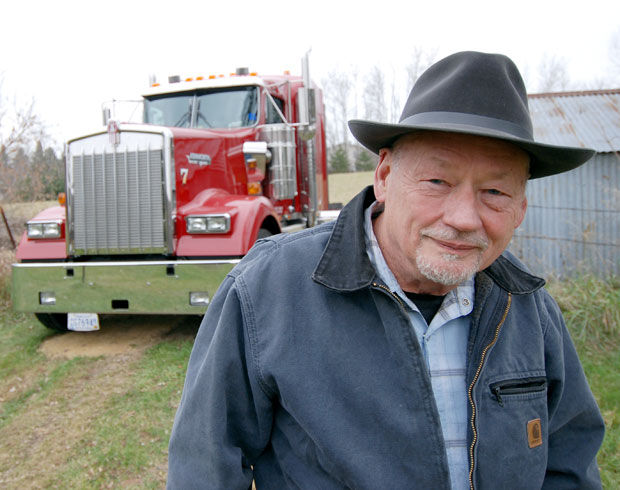 A Prairie Home Companion and its various guests and stars would've been mere marooned nobodies without Russ Ringsak; he drove the truck that was known to hard-core APHC fans as "Hank." He was one of the original members of the troupe, and in many ways the only thing that distinguished his talent from Garrison Keillor's was a CDL.
Ringsak died today, Prairie Home Productions confirmed.
He retired in May 2016 after 30 years on the road with Keillor and company.
When the show played at the famed Ryman Auditorium in Nashville a year ago, Ringsak, then 80, was the only artist to get a standing ovation, the Star Tribune reported. It was the night he retired.
Ringsak, who lived in Stillwater, was an architect before ditching the office life for the road.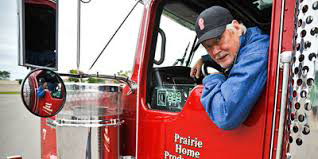 "At a drafting board I'd have to get up every 20 minutes for a cup of coffee," he told Overdrive Magazine once. "It was kind of just a permanent antsiness that finally got to me."
In 1977, he sold all of his assets and bought a powder blue R-model Mack for $38,000. He rented a flatbed semi trailer and taught himself how to drive before signing on as an owner-operator. He hauled steel – his favorite – but later got laid off. He continued hauling potatoes, glass, paper, gravel, farm chemicals and auto parts, and he says he even got talked into hauling a reefer once.

Ringsak met Garrison Keillor, the host of "Prairie Home," on a softball team in the early 1970s. They kept in touch, and in the early 1980s, "Prairie Home" went national. Ringsak suggested they could save shipping charges when they went on the road for shows by hiring him to drive a rental truck. The show took Ringsak on as a part-time tour contractor, and by 1990, he was a full-time driver for the show as well as its principal researcher.
When A Prairie Home Companion pulled into a city, Ringsak would check out the local architecture and sights and write a column for the show's website. In fact, if Keillor, who often arrived to a city just before showtime, included local references in one of his monologues, it was usually because Ringsak gave them to him.
"I'd walk around and take notes," he told the St. Croix Valley Lowdown. "I got to be his legs."
Ringsak was, according to reports, a talented softball player, a skilled architect, Nashville-quality picker, and a conscientious and capable driver. He provided much of the photography and many of the articles back in the day for a still fledgling website (many of them have been wiped off the MPR/PHC site but can be found via the Wayback Machine).
But above all else, he could flat-out write.
I always carry two sets and another spare ignition key but the last remaining key to the trailer pin collar was in that set that escaped. Which meant if the trailer needed to be left somewhere it couldn't be locked against some other evil tractor sneaking off with it. Not real common in polite Minnesota but such a thing has been known to happen. I parked it back in St. Paul at the home base rental lot and on the way to the house bought a new pin collar; without the key the old one was useless and taking it to locksmith would cost about as much as buying a new one. But to buy another lock was to make another mistake.

We reloaded the trailer back to road mode and the new pin lock was used to secure the trailer in a dock area here in town while I took Hank home. The morning I left for New York I crawled underneath to that greasy no-man's-land under there, put the new key in the new lock and … it … unbelievably … would not budge. I had checked both keys multiple times. They worked. But now it was locked. Real tight.

Ease it gently, squirt oil in there, put the big wrench on the key, gnash the teeth, curse, whap it with the hammer. Fought it for half an hour and finally called a locksmith. Took him an hour to arrive with his mobile locksmithing rig and an assistant; huge racks of keys in there, a stack of manuals, a vice, a grinder, a computer, channel locks, hammers, screwdrivers, wrenches, pry bars, a sledge and dozens more tools. Phones and radios. He said he and his dad and his brother there have this full-time portable lock shop, the family business on a pickup truck. He and the brother spent forty minutes struggling with it; they ultimately had to drill it out of there. Ruined it. Tempered steel, I guess. But my dang fault again. Should have never lost those keys in Kentucky.
His retirement came not long after an incident in Williams, Arizona in January 2016 when he had a "spell" while driving. Somewhere out there is a state trooper who saved his life.
Y'know, when you've run two million miles and haven't used the clutch to shift since you were a rookie and all of a sudden you can't get beyond fourth gear (of thirteen), you think maybe there might be a screw coming loose upstairs? I didn't try to argue with that trooper. I followed him over to the meat wagon like a pup.

He had done me a real favor just by noticing an odd move in parking. My answers to a few questions were enough to set off the medical alarm, and if I knew who he was I'd thank him for it; a real pro showing up at a time when I needed one.
Long before he actually began working for Keillor's show, Ringsak was the lead architect for the restoration and redesigning of The World Theater in St. Paul, which later would become the home of A Prairie Home Companion and renamed the Fitzgerald Theater, it, too, becoming a public radio icon.
[Update 10/4] – Garrison Keillor statement follows:
Russ Ringsak, the Prairie Home blues guitarist and truck driver, died Tuesday morning at his home in Stillwater, 81, with his true love Denise Remick by his side. Thanks to her, he had a good finish. The Love & Comedy Tour buses came by his house on August 7 and he was his own beaming self — and on Labor Day weekend, he sat backstage at the Minnesota Show at the State Fair grandstand and enjoyed the crowd and the fireworks.

I met Russ in 1971 when he joined the Jack's Auto Repair softball team sponsored by my old morning show on KSJN. We became friends when his children Lisa, Hans, and Karen were still small. He was one of the finest and most generous storytellers I ever knew, talking about his youth in Grafton, N.D., where his dad was county attorney and where, as Russ said, everyone knew each other's secrets. He was an architect with Hammel, Green when I met him, but he had a secret yearning to be a truck driver and enjoy the life of the open road. And that is exactly what he did, and nobody enjoyed it more.

He bought himself a semi cab and became an independent over-the-road trucker, keeping crazy hours, seeing the country, listening to blues and country music almost nonstop, and practicing guitar in his sleeper cab. He wrote me letters from the road, which I read on the radio. He came to the Saturday broadcasts when he was in town, became a friend of all the musicians and staff, and joined our Tourists tour in 1981.

He signed up to be the show's full-time truck driver in 1991 when we started doing more than half the broadcasts on the road. He was thrilled when one of his heroes, Chet Atkins, became a regular on the show and in Chet's honor his name was painted on Russ's cab. Like Chet, Russ loved good jokes and whenever you met him, he always had a new one. He and I mourned the slow decline of joke-telling and we got the idea of the annual Joke Show on PHC.

Russ continued to contribute "Letters from the Truck Driver" to the show and now and then we invited him to play onstage with the band, which he loved, of course, and which also gave him jitters to the point of conniptions. But he sang his "Oreo Cookie Blues" or Waylon or Willie with great conviction and never let us down.

And he went out in a burst of glory, on May 7, 2016, at the Ryman Auditorium in Nashville, in new cowboy boots and a bright red shirt with "Lucky 7" embroidered on it in big letters, singing and playing "Six Days On The Road" with Brad Paisley playing lead guitar, and Del McCoury, Aoife O'Donovan, and Heather Masse cheering him on. An honest-to-god truck driver singing the greatest trucker song of them all on the same stage that Hank Williams and Roy Acuff and George Jones and Loretta Lynn had sung on.

Russ was the real thing in every way. He was a genuine friend to a struggling radio show before we could hire a staff and he stayed a friend for forty years and more. He loved good craftsmanship, music, trucks, Harleys, his kids, his friends, and a series of wonderful women right up to the marvelous Denise. The world was richer for his being in it, whether you knew him or not.

– GK