[Update: Oreskes has "resigned: from NPR]
From @npr CEO Jarl Mohn, Senior VP of News Mike Oreskes, accused of sexual harassment and assault, is out pic.twitter.com/AdPIeOJdMZ

— Sam Sanders (@samsanders) November 1, 2017
The story of Michael Oreskes, the news boss of NPR, is as disgusting as they come, and they come pretty numerously these days. Men who use their power to harass and assault women in the workplace know no politics nor specialty: They are everywhere.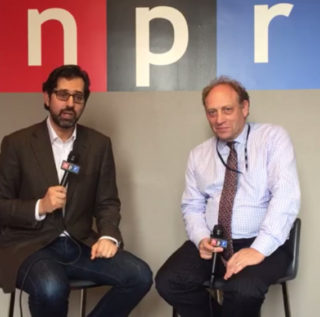 Oreskes allegedly assaulted two women in separate incidents when he worked for the New York Times, both times kissing them and including his tongue. What sort of person would do such a thing?
One of the women stepped forward because she found it hypocritical that Oreskes would be directing NPR's current coverage of sexual harassment allegations against other powerful people.
He's been suspended from NPR now, which is also investigating an allegation from a female staffer at NPR who says a business meeting with Oreskes turned uncomfortably personal.
After joining NPR in the spring of 2015, Oreskes encouraged staffers to reach out to him to discuss their careers during his visit to NPR West in Culver City, Calif. At the time Hersher had been working a series of temporary assignments for NPR, and she took him up on his offer during a subsequent visit to Washington. An afternoon meeting was pushed off into evening and an invitation to dinner at a seafood restaurant near Union Station.

Hersher, now a reporter and producer on NPR's science desk, says she wanted to tell him about her belief that she would need to leave NPR to transform from a producer to a reporter. Her dinner with Oreskes became increasingly uncomfortable as the conversation veered into personal matters involving relationships and sex. At one point, she says, he referred to a former flame as his first "sex girlfriend."

Hersher says the conversation made her uncomfortable.

"From my point of view, every little thing that he or I said pointed to the relative difference in power," she said. "Like he's the one with the power. He's the one who gets to decide what we talk about — and I am trying to keep up."
It says something, at least, for the integrity of the NPR newsroom, a newsroom whose reputation was built largely by women, that it didn't hold back the story, even if most of the information in last evening's segment on All Things Considered had to cite the Washington Post, which had broken the story earlier in the day.
NPR wasn't commenting beyond saying it takes the allegations seriously, as is often the case on personnel matters. And Oreskes wasn't talking.
There are two sections of the Washington Post story that present a horrifying reality of life for women in the workplace.
This is one:
Both of the women spoke to The Washington Post on the condition of anonymity so as not to damage their employment prospects.

…

Neither woman complained at the time; both believed that their complaints would be ignored and would jeopardize any chance of working for the Times.
This is the other:
This account was confirmed by Jill Abramson, who was Oreskes's deputy at the time. Abramson, who went on to become the Times' top editor and is now a columnist and a senior lecturer at Harvard, said in an interview that she regretted not confronting Oreskes about his behavior.

"If I had to do it again, I would have told him to knock it off," said Abramson, co-author of a book about the Clarence Thomas-Anita Hill harassment case. "I think I should have raised this with [the Times' human resources department]. . . . Maybe confronting him would have somehow stopped him from doing it to another woman."

Abramson said she hesitated in part because the young woman didn't want to raise the issue but did want Oreskes's alleged behavior to stop. But Abramson said: "I don't really feel it was in a gray area in retrospect. I should have stopped him."
The real power to intimidate comes from merely having it in the workplace, let alone using it.
The apologists for sexual harassment were immediately out in force, questioning why NPR should suspend a person for something he did 20 years ago. Even questioning how a man could "slip his tongue" into a woman's mouth without a little bit of help. Disgusting, anyone?
And that's the way these stories are. As bad as the revelation of perverted men abusing women, the recriminations on the victims and would-be victims may be even more abusive because it's designed to keep women who will soon be victims from stepping forward.
Why should managers be held accountable for something they did 20 years ago? Because they're an abomination. And so are their apologists.
This morning, NPR named NPR named its senior vice president for news, Chris Turpin, as its acting news chief pending a decision on Oreskes.
[Update 3:48 p.m. – The NPR CEO appears on the radio to explain the situation to listeners and, apparently, staff]
The whole newsroom is listening to this Jarl Mohn interview on Oreskes. pic.twitter.com/SlMEPhUsCM

— Diane Jeanty (@dianejeanty) November 1, 2017
Related: 5 ways men can address—and help prevent—sexual harassment at work (CNBC)