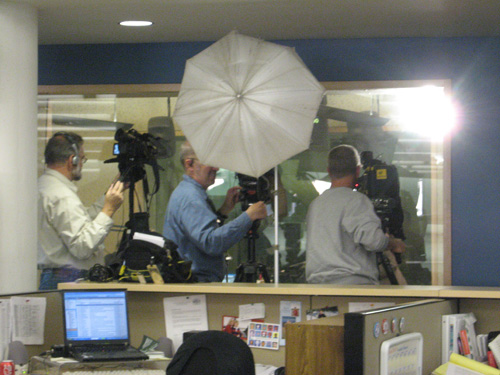 Tuesday December 5, 2017
9 a.m. – MPR News with Kerri Miller
According to the Associated Press, 1,000 of the nation's 6,700 charter schools are 99 percent of one race. Minnesota has 200 schools where 90 percent of the enrollment is students of color. Those schools often lag in reading & math proficiency.
Guest: Cornell University professor Noliwe Rooks, author of "Cutting School: Privatization, Segregation, and the End of Public Education."
10 a.m.- 1A with Joshua Johnson
More than 1,000 children are arrested for prostitution every year in the United States, according to the Justice Department. Cyntoia Brown wasn't one of them. She was arrested for murder. When Brown was 16 and a victim of sex trafficking, she killed a man who solicited her for sex. She was convicted of first-degree murder and aggravated robbery. Brown is currently serving a life sentence and won't be eligible for parole until — when she's 69 years old.
Brown's case is receiving renewed attention thanks to celebrity supporters who think her punishment is unjust. And it's also brought focus to sentencing of juveniles within the adult justice system.
Guests: Anita Wadhwani, investigative reporter, Tennessean; Ashley Nellis, senior research analyst, The Sentencing Project; Yasmin Vafa, co-founder and executive director, Rights 4 Girls; Thalia Gonzalez, senior visiting scholar, Center on Poverty and Inequality at Georgetown Law; associate professor of Law and Politics at Occidental College.
11 a.m. – MPR News with Tom Weber
When Duluth Mayor Emily Larson took office nearly two years ago, she pledged to continue Duluth's momentum and to share that growing prosperity throughout the city. "My vision is of a healthy, prosperous, sustainable, fair and inclusive community for all neighborhoods," she later said in her first State of the City speech, stressing that Duluth needs to break down racial and geographic disparities.
Guest: Mayor Emily Larson.
11:20 a.m. – The Federal Communications Commission will vote Dec. 14 on whether to roll back so-called "net neutrality" protections that dictate how consumers can receive broadband internet. So what is at stake? Under the FCC proposal, internet providers would be allowed to charge content creators more for a "fast lane" to customers, and to slow down other content.
Guest: Cecilia Kang, NY Times technology reporter.
12 p.m. – MPR News Presents
"The Invention of Race," a special by John Biewen of the Center for Documentary Studies at Duke. How, why and when was the notion of "race" developed? The construction of race, and racism, from the ancient world to today. Why were some people considered inferior, and why were some enslaved?
1 p.m. – The Takeaway
More on WNYC's investigation into John Hockenberry.
2 p.m. – BBC NewsHour
How do you campaign as a political party, when your leaders are still in prison or in self imposed exile: campaigning elections in the Spanish region of Catalonia starts today
3 p.m. – All Things Considered
Re-examining sexual harassment and abuse allegations against President Trump; the Russian doping decision; Miami and the rising ocean that threatens it; and an update on the Minnesota budget forecast.
7 p.m. – The World
Part two of a week-long series "Wear and Tear," featuring the women who make your clothes all across the globe. Today The World's Jasmine Garsd reports from the Los Angeles area to revisit the year 1995, when authorities raided a housing complex in El Monte, California. Inside, they found 72 Thai nationals being held in servitude. They were forced to make clothing in a sewing room set up in the building, and they were never allowed to leave.
8 p.m. – Fresh Air
Cullen Murphy, editor at large for Vanity Fair magazine, has written a new memoir about growing up the son of a comic strip artist during the golden days of the Sunday funny papers. His father, John Cullen Murphy, drew numerous comic strips, the best known and longest running was Prince Valiant. He also writes about growing up in a suburb of Connecticut where many comic strip and cartoon artists congregated. Murphy's new book is Cartoon County: My Father and His Friends in the Golden Age of Make-Believe.