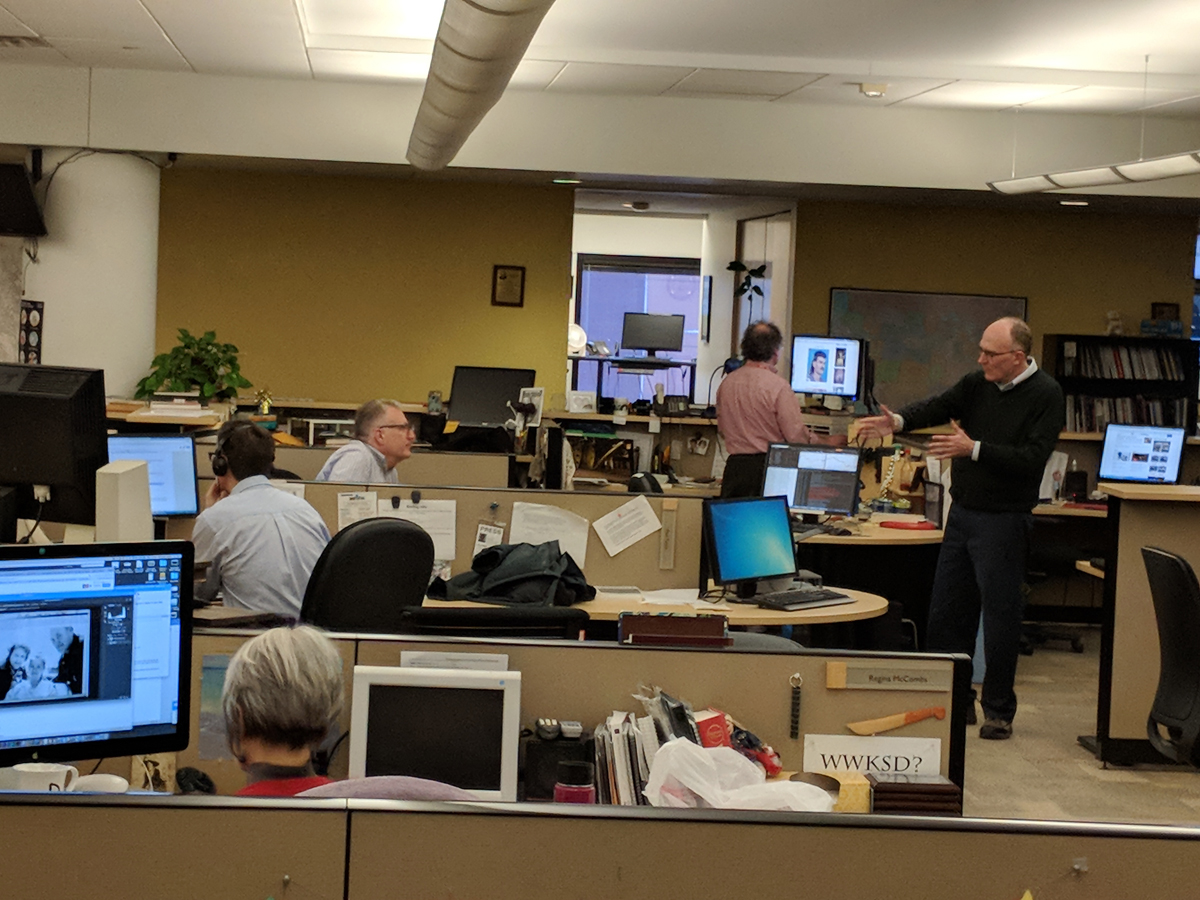 Friday January 26, 2018
(Subject to change as events dictate)
Until 9 a.m. – Morning Edition
A look at the special election in the Hastings-Newport area which will decide whether Republicans widen their slim majority in the Minnesota Senate; Howard Sinker on sports; Mark Seeley on climate and the weather; Nina Moini on the events surrounding the Super Bowl week; StoryCorps.
9 a.m.- 1A with Joshua Johnson
The weekly news roundup.
Guests: Shawna Thomas, Washington bureau chief, Vice News; Paul Owens, opinions editor, Orlando Sentinel; Matthew Peddie, host of Intersection and assistant news director at WMFE public radio in Orlando.
10 a.m. – MPR News with Kerri Miller
Friday Roundtable. An Associated Press analysis from December 2017 found that many charter schools across the country are racially segregated, and that the academic performance in those schools lags behind public schools. But a lot of parents – including parents of color – claim that charter schools – even if they are racially segregated – are great alternatives to public schools that have failed their children.
Guests: Brandie Burris-Gallagher, Policy director, EdAllies; Dan Shulman, attorney who argued the Cruz-Guzman v. the State of Minnesota school segregation case before the MN Supreme Court; Bernadeia Johnson, former superintendent of Minneapolis Public Schools, now assistant professor of educational leadership at MSU Mankato.
11 a.m. – MPR News with Tom Weber (Mike Mulcahy hosts)
The week in politics: Matt Dean drops out of the governor's race, Karin Housley cranks up her Senate campaign, and Native Americans use their clout in the farm bill.
Guests: Zach Ducheneaux, Intertribal Agriculture Council; Keith Anderson, vice chair of the Shakopee Mdewakanton Sioux Community.
12 p.m. – MPR News Presents
Students at St. Olaf College ask questions in "A Dialogue on Sport, Protest and the NFL National Anthem Debate." The dialogue was with NFL Hall of Famer and retired MN Supreme Court Justice Alan Page, sportswriter and ESPN analyst Jackie MacMullan, and Nate Boyer, a former US Army Green Beret and former NFL player for the Seattle Seahawks. The event was held at St. Olaf College Institute for Freedom and Community on Tuesday night in Northfield. On Thursday we aired the opening remarks by the panelists and the discussion they had among themselves. Today, you'll hear their interaction with college students.
1 p.m. – Science Friday
What will it take to convince more people to get their kids vaccinated or get this year's flu shot? A look at what research says about how doctors can talk to hesitant patients. Plus, why a flu infection might boost your risk of heart attack six-fold.
Guests:Kevin Schwartz, infectious disease physician, Public Health Ontario.
2 p.m. – BBC NewsHour
President Trump says America is open for business – but what are the obstacles for would-be investors? Thousands of refugees flee fighting in Congo for Burundi. And Elizabeth Hawley, chronicler of mountaineering expeditions,has died aged 94.
3 p.m. – All Things Considered
Voters in southern Minnesota will decide next month who will replace former state Republican Rep. Tony Cornish, who resigned after allegations of sexual misconduct. There's a primary Monday on the Republican side where Jerry Munson has the party endorsement, but Cornish is pushing Scott Sanders as the person who should replace him. MPR's Tim Pugmire will have a look.
MPR News also previews the crush of events starting Friday with the opening of Super Bowl Live, the free concerts on Nicollet Mall in downtown Minneapolis, and the NFL experience at the convention center, where kids can get autographs and meet players.
Plus: A same-sex couple sues for their child's citizenship; a snow drought in the West; President Trump's day at Davos; and the jukebox makes a comeback.
7 p.m. – The World
A 10-year old in Florida confronts climate change. He's taking the U.S. government to court for not protecting the environment.
8 p.m. – Fresh Air
Guest: Singer, songwriter, guitarist Sam Baker.
His new album and his fifth is Land of Doubt, on which he trades in his acoustic guitar for electric. He's from Texas, and he writes about migrants, ditch diggers, a woman playing the slots at Reno and more. He was nearly killed in 1986 in Peru when the train he was riding exploded from a terrorist bomb, an event that profoundly affected him, and led him to begin writing songs.