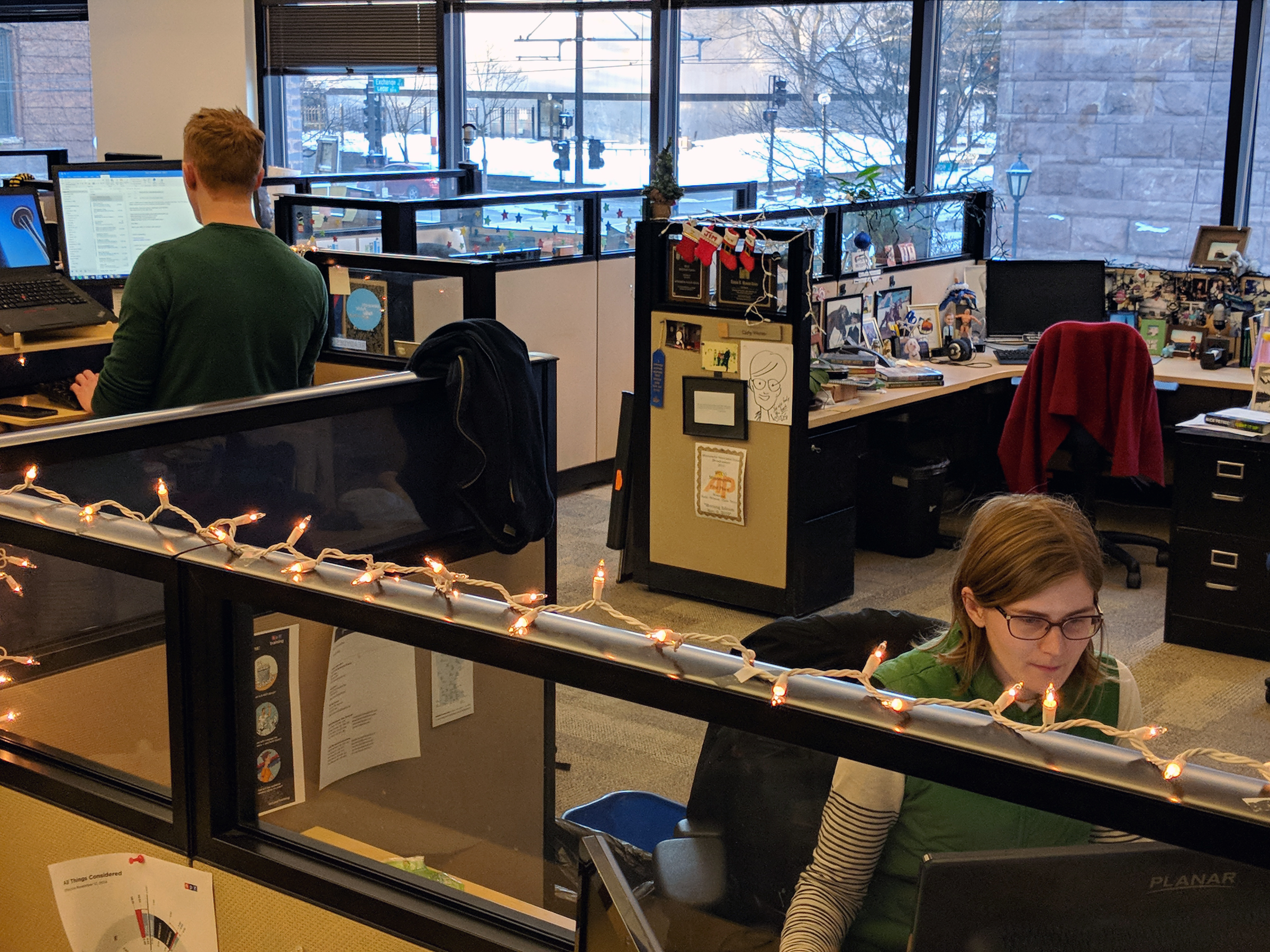 Thursday January 4, 2018
(Subject to change as events dictate)
Until 9 a.m. – Morning Edition
The scramble to prepay taxes, Howard Dean on the next generation of Democrats, and the death of a famed bookstore owner. Plus: Martin Moylan reports on price differences at area hospitals, Kirsti Marohn watches the ice cutting for St. Paul's Winter Carnival/Super Bowl ice palace, and a look at the effect, if any, of the cold weather on invasive species.
9 a.m. – MPR News with Kerri Miller
Sexual harassment and the low-wage workplace. When celebrities started speaking out against workplace sexual harassment, a group of Latina farmworkers wanted to make sure their voices were heard, too. Why are low-wage workers are vulnerable to sexual abuse and exploitation?
Guests: Susan Chira, senior correspondent and editor on gender issues at the New York Times. In December 2017 Chira co-wrote a story about sexual abuse at two large Ford motor plants in Chicago; Karla Altmayer, lawyer and co-founder of Healing to Action, an organization that works to end gender-based violence.
10 a.m.- 1A with Joshua Johnson
As lawmakers get back to work in Washington for 2018, one of the top items on their to-do list is to figure out a solution for recipients of the immigration policy called Deferred Action For Childhood Arrivals, or DACA, which protects undocumented people who were brought to the U.S. illegally as minors from deportation. The president says he's open to talks with Democrats on the issue, but cozy negotiations on immigration across the aisle could alienate Trump's political base. Is there a resolution that could satisfy Republicans and Democrats — and address the unique needs of DACA recipients and their supporters?
Guests: David Bier, immigration policy analyst, Cato Institute's Center for Global Liberty and Prosperity; Mark Krikorian, executive director of the Center for Immigration Studies; Dara Lind, senior immigration reporter for Vox; Erika Andiola, co-founder of DREAM Action Coalition.
11 a.m. – MPR News with Tom Weber (Chris Farrell hosts)
The 2018 outlook for farmers. In the first part of the broadcast, Chris Farrell talks with Twin Cities restauranteur Kim Bartmann, who believes in collaborating with farmers and food producers at her restaurants, which include Bryant Lake Bowl, Bread & Pickle, Tiny Diner, Red Stag Supperclub and others. She'll discuss the challenges and opportunities of owning a restaurant in the current food economy.
Then the conversation turns to agriculture policy with two people who watch it closely. Prices for soybeans, wheat and corn are falling on international commodities markets. Congress is starting work on a new Farm Bill. The new tax law could depress federal spending. The future of NAFTA is uncertain. All of this adds up to uncertainty for farmers and food producers around the country.
Guests: Kim Bartmann, Twin Cities restauranteur; Sara Wyant , journalist with AG Week; Bruce Babcock, economist at University of California, Riverside
12 p.m. – MPR News Presents
Minnesota native Dan Buettner of National Geographic, author of "The Blue Zones of Happiness: Lessons from the World's Happiest People." He spoke at the Commonwealth Club of California.
1 p.m. – The Takeaway
States assess the security of their election systems in the lead-up to midterms, but some cybersecurity experts say we're still vulnerable.
3 p.m. – All Things Considered
Sen. Jeff Flake on the state of the GOP; the housing shortage in the Florida Keys; the future of soaring stock prices; and the tied Virginia House of Delegates gets untied.
Plus: Paul Huttner's Climate Cast, and Minnesota's jump in solar energy capacity, and
7 p.m. – The World
The World's environment reporter Carolyn Beeler joins host Marco Werman in the studio to discuss the East Coast weather, which is made possible in part by a dip in the jet stream. So what again is the role of climate change in all this?
Plus: Puerto Rico, which is still struggling to get the lights back on after the devastating storms of last summer. Daniela Cheslow reports that the lack of electricity is causing a surge of interest in solar power on the island.
And The World's Jason Margolis has an answer to a question you've never bothered to ask: how and why did New Jersey become a global hub for food imports and exports?
And, why they're mourning the lack of snow in Moscow today.
8 p.m. – Fresh Air
Does President Trump have the power to fire special counsel Robert Mueller or stymie his investigation?
Guest: Neal Katyal, former acting solicitor general of the U.S., who wrote the 1999 special counsel regulations under which Mueller was appointed.