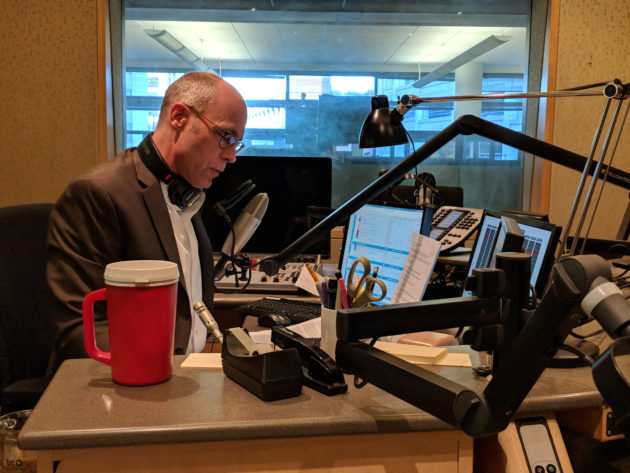 Friday January 5, 2018
(Subject to change as events dictate)
Until 9 a.m. – Morning Edition
Solvejg Wastvedt reports on the lack of progress so far on the agenda of St. Paul school board members who took their seats two years ago.
Elizabeth Dunbar has the story of Minnesota's solar capacity jumping into the country's top 10. Interviews on the weather with Mark Seeley, mayoral politics in St. Paul with Mayor Melvin Carter, and Britt Robson, who'll talk Minnesota Timberwolves.
Plus: How the capabilities of surveillance are impacting marriage and divorce; a parade for a team with a perfect season of losing, and the turmoil in Hollywood from sexual abuse and harassment scandals.
9 a.m.- 1A with Joshua Johnson
The Friday news roundup. New years tend to start with a lot of promises. 2018 is no different. President Trump promised to not back down on North Korea, he promised awards for dishonest media, and Mother Nature promised to chill us out.
Guests: Jessica Taylor, lead digital political reporter, NPR; Jamelle Bouie, chief political correspondent, Slate; Eliana Johnson, White House reporter, Politico.
10 a.m. – MPR News with Kerri Miller
What is it about our favorite on-screen performers that make them great actors?
Guests: Lauren Keating, director of new and classic work, a Mellon Foundation/TCG Leadership University Fellow and the Associate Producer at The Guthrie Theater; Ansa Akea, film and theater actor and director who has worked at some of the best local and regional theaters throughout the Twin Cities; Sha Cage, an actor, playwright, and performance artist.
11 a.m. – MPR News with Tom Weber
Newcomers to the Minneapolis City Council discuss their plans.
Guests: Andrea Jenkins, Jeremiah Ellison and Phillipe Cunningham.
11:30 a.m. – MPR News reporter Emma Sapong recently reported on the exploding business of eyelash extensions – and how forthcoming state regulations threaten the often minority-owned businesses.
Guests: Raeisha Williams, owner of LashBar in North Minneapolis; Lee McGrath from Institute for Justice MN; Susan Brinkhaus, executive director of Salon & Spa Professional Association.
12 p.m. – MPR News Presents
National Book Award finalist David Grann, the top-10 New York Times best-selling author of "Killers of the Flower Moon: The Osage Murders and the Birth of the FBI". David Grann was interviewed by MPR's Stephen Smith for the Thread Book Hour. (recorded April 2017 at the Fitzgerald Theater.)
1 p.m. – Science Friday
Did you get a new smartwatch or smartphone for the holidays? Ira Flatow has for tips for using VPNs, passwords and beefing up your digital security. And Mary Shelley's Frankenstein turned 200 this year. The SciFri Book Club discusses it.
2 p.m. – BBC NewsHour
What might be accomplished with direct talks between North and South Korea?
3 p.m. – All Things Considered
The Minnesota Department of Natural Resources has released a draft permit to mine for PolyMet Mining, a major milestone in the company's bid to open the state's first copper-nickel mine. MPR's Dan Kraker will have the story.
Plus: The week in politics; the pay gap in Iceland; record warmth in Alaska; and a Planet Money segment on salaries.
7 p.m. – The World
Telenovela actors organize to get the same pay and benefits English language TV actors get.
8 p.m. – Fresh Air
Writer and director Jordan Peele made his directing debut last year with the film Get Out. The film has been nominated for two Golden Globes; though the categories it's been nominated under have created controvery: best comedy film and comedy actor. (Originally broadcast March 2017)
Plus: We remember jazz trombonist and composer Roswell Rudd, who died on December 21 at 82. Rudd was best known for his work with groundbreaking groups and musiciams like Herbie Nichols, the New York Art Quartet, Cecil Taylor, Archie Shepp, and Carla Bley. He played traditional and avant-garde jazz for some 70 years. His final album was released last month with a new quartet, Embrace. (Originally broadcast on February 12, 2002)