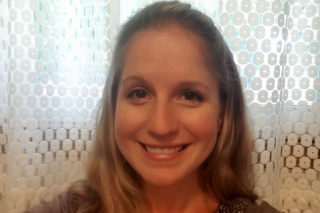 There's a war going on inside the brain of 26 33-year-old Sioux Falls, S.D., school teacher Katie Blunck.
Cancer cells in her brain are fighting healthy cells.
"It's very aggressive, hard to kill and considered incurable," Blunck tells the Argus Leader.
The war might kill her; so might the one she's having with her insurance company, which is refusing to pay for proton therapy, which is what doctors at Mayo Clinic are recommending as a way to kill the cancerous cells without harming healthy brain cells.
Twice now the insurance company — Wellmark Blue Cross and Blue Shield — has said it's "not medically necessary." So doctors are requesting it again, saying it is. If the third appeal is denied, there can be no more.
The insurance company says there's not enough data to say the treatment will work. "You can't get research/proof if you don't actually use it on people to gain proof/research/information," she writes on a GoFundMe page. "They have to start somewhere so they should start now …. and here I am. Let's get going on this—time is a-tickin'!"
She says she's feeling special, because there are only five people in the United States being treated for this type of cancer, all of them at the Mayo Clinic in Rochester.
"One woman got it when she was 30 and now it is back again and at the age of 40. Another 17-year-old girl in the pediatric oncology department was just diagnosed, too," she said.
"The insurance company will be as they will be, and things will go as they will go," she tells the paper.
She's focusing on the box of cards she's gotten from students, now that they know she won't be back this school year. "But to know that I have so many people rooting for me … this outpouring is so amazing."
She'll be paid at least through the end of the school year because other teachers and staff have donated their own sick time once the 30-days allowed by the school district runs out.