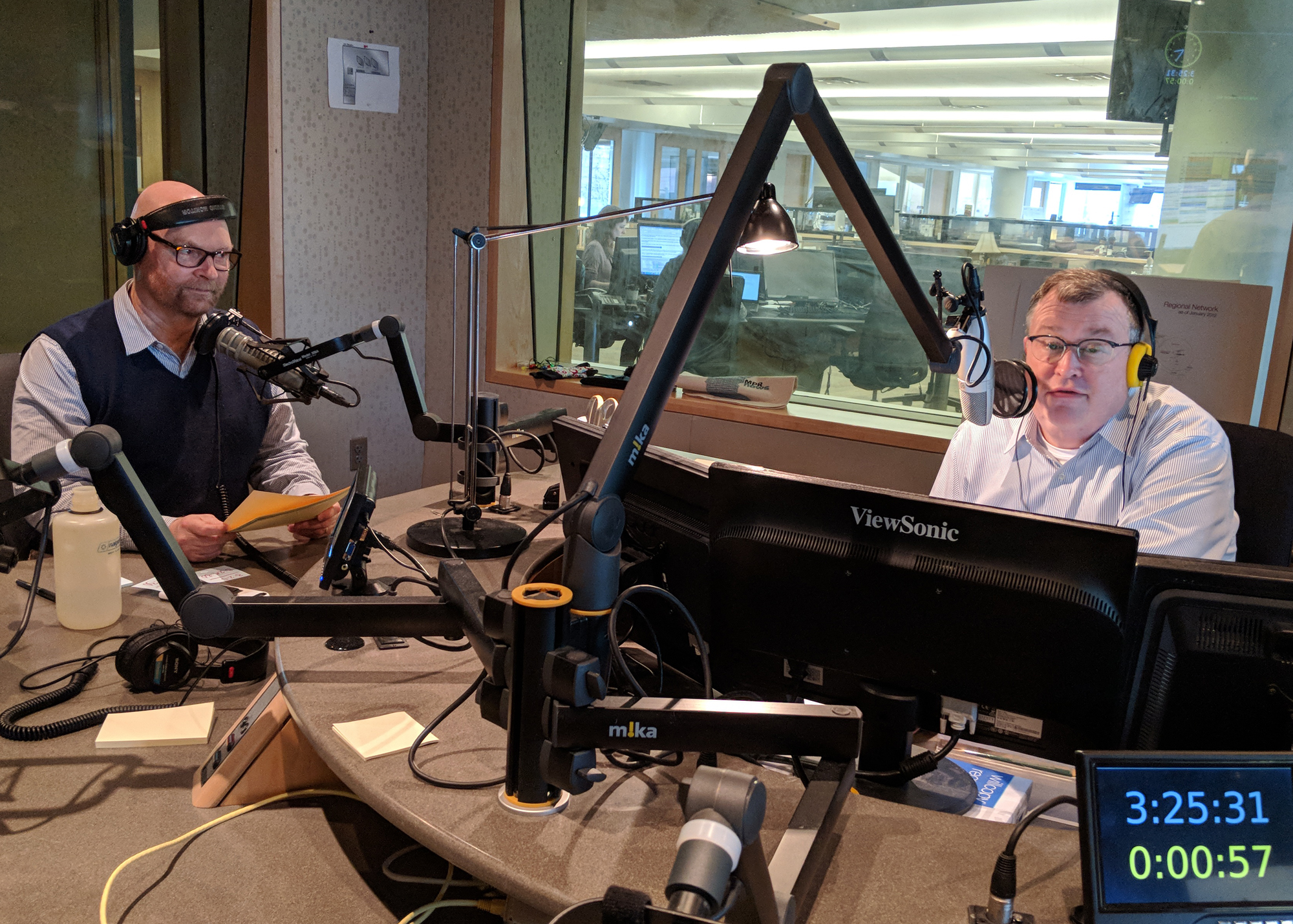 Thursday February 15, 2018
(Subject to change as events dictate. Final day of MPR pledge drive.)
Until 9 a.m. – Morning Edition
MN flu update; The Florida school shooting; Planet Money on art havens.
9 a.m. – MPR News with Kerri Miller
MPR News host Kerri Miller spoke to New York Times Book Review editor Pamela Paul and Gene Luen Yang, National Ambassador for Young People's Literature, about how to raise a reader.
9 a.m. – 1A with Joshua Johnson
The Florida shooting
10 a.m.- Special coverage
Live coverage of President Trump's address to the nation
11 a.m.- 1A with Joshua Johnson
Baltimore has a problem with cops and robbers. Some of the cops are robbers, too. The latest scandal exposed officers acting like a gang stealing hundreds of thousands of dollars from drug dealers and keeping the cash.
Guests: Brandon Soderberg Managing editor and news editor, Baltimore Beat; Neill Franklin Executive director, Law Enforcement Against Prohibition (LEAP), retired major, Maryland State Police Department; Michael Wood Jr., former Baltimore police officer and author of "Crimes and Punishments in the 21st Century."
12 p.m. – MPR News Presents
From the Commonwealth Club's "Climate One" series: "EPA Then and Now." What has happened to the EPA since its founding in 1970 with bi-partisan support? Guests are former EPA staff scientist Lynda Deschambault, former EPA administrator Gina McCarthy, and science historian Benjamin Franta
1 p.m. – The Takeaway
The latest from Florida; The Gaza Strip nears a breaking point; The importance of the movie, Black Panther.
2 p.m. – BBC NewsHour
South Africa has a new president. NewsHour finds out about Cyril Ramaphosa and asks what might already be in his in-tray? Also: a study highlighting the economic risks of failing to treat adults with ADHD. And concerns about racism in schools in the Czech Republic.
3 p.m. – All Things Considered
St. Paul teachers contract is revealed; a hearing for U of M basketball player Reggie Lynch; the Florida shooting; Bob Mondello's review of "Black Panther"; and an Olympian mom.
7 p.m. – The World
American craft beers have done well overseas. But it's not easy to keep beer fresh while it crosses the ocean. How a Brooklyn brand is doing a brisk export business, while other American craft beers choose to stay home.
8 p.m. – Fresh Air
A look at President Trump's anti-immigration policies and how he's used MS 13 to justify them. And a discussion of what MS 13 is, and how it was originally formed. Terry talks with Jonathan Blizter, a New Yorker staff writer who covers immigration.