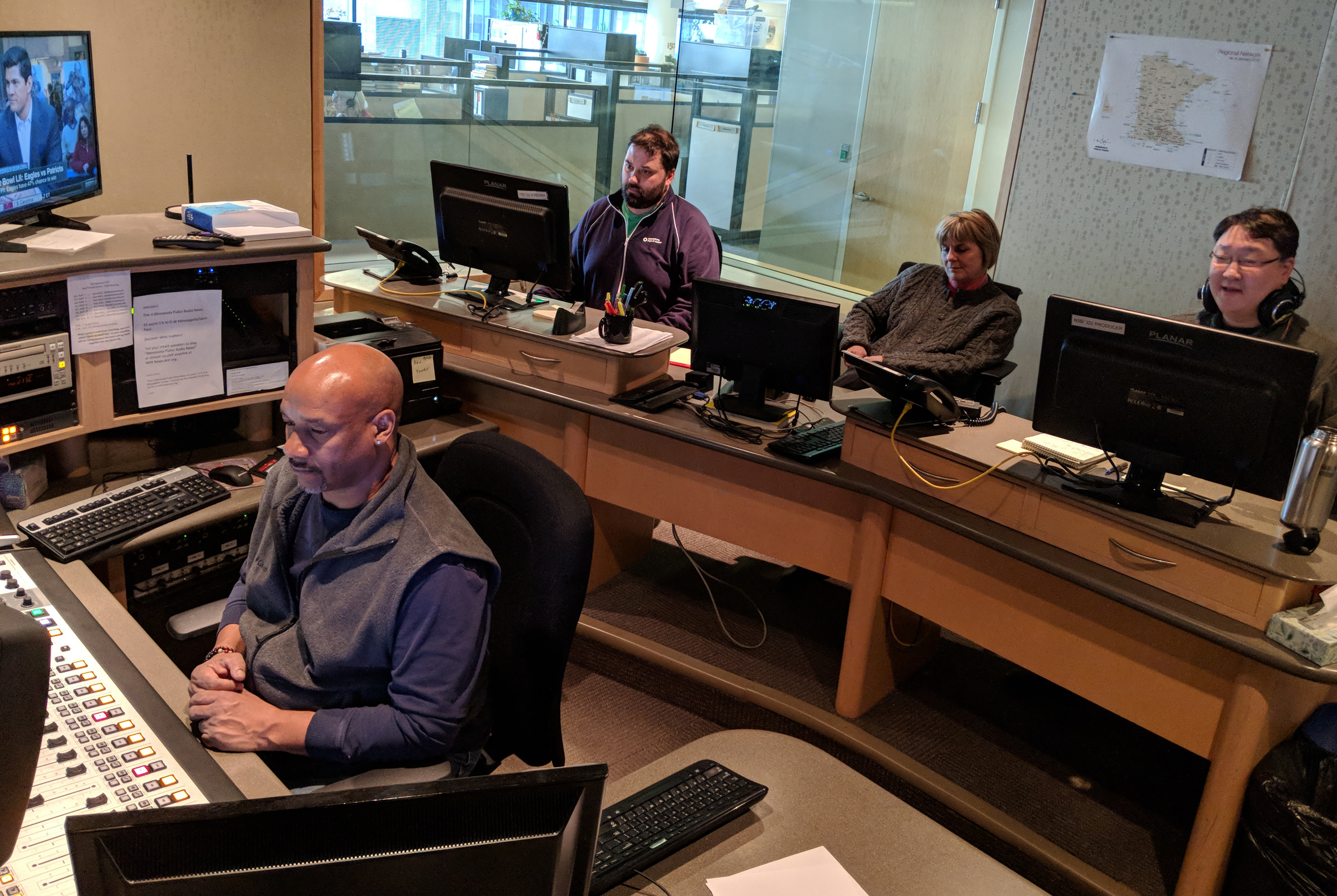 Tuesday February 27, 2018
(Subject to change as events dictate)
Until 9 a.m. – Morning Edition
Riham Feshir reports on Luis Candela-Gonzalez and other vocal activists who say they've been detained by ICE for speaking up against discriminatory practices or the current immigration system. Also: A look at Florida gun laws. Susan Stamberg on Mary Pickford. The West Virginia teachers strike.
9 a.m. – MPR News with Kerri Miller
The Mueller investigation has spawned fierce political debates. Meanwhile Russia is mounting plans to hack our 2018 midterms. What is Russia doing? And how can the U.S. protect its elections?
Guest: Molly McKew, Fianna Strategies
9:40 a.m. – Kerri talks to author Randy Ribay about his book, "After the Shot Drops" and the difficulties of adolescent male friendship in a culture of toxic masculinity.
10 a.m.- 1A with Joshua Johnson
The Republican Party's "Race Problem." A 2016 Pew Research survey reveals that only about 7 percent of African-Americans identify as or lean Republican, even after the GOP's efforts to appeal to more black voters.
Guests: Jill Upson, West Virginia State Delegate, the first black Republican woman elected to the West Virginia House of Delegates in the state's history; Leah Wright Rigueur, professor, Harvard University; author, "The Loneliness of the Black Republican"; Gianno Caldwell, Republican strategist; principal at Caldwell Strategic Consulting; news analyst, Fox News.
11 a.m. – MPR News with Tom Weber (Marianne Combs hosts)
Will the new tax code hit charities hard? While a tax break isn't usually the only reason people donate to charities, it is an incentive. With the new tax law coming into play, are people are still willing to give to charities even if they don't get as many tax benefits?
Guests: Hadar Susskind, senior vice president of government relations at the Council on Foundations; Rob Zeaske, Second Harvest Heartland CEO; Molly Chase, HUGE Improv Theater managing director.
12 p.m. – MPR News Presents
"LBJ, Nixon and the Making of Today's Supreme Court." From a forum over the weekend at the Minnesota Historical Society. The Warren Court of the 1950s and 1960s was the most liberal Supreme Court in American history. Yet within a few short years, new appointments shifted the court in a more conservative direction. Historian Laura Kalman explores the court's shift and the fierce ideological battles of the late 1960s and early 1970s that reframed the Warren Court's work in a negative light. She also examines how the events of the 1960s and 1970s still have an impact on the U.S. Supreme Court today.
1 p.m. – The Takeaway
Congress, the NRA, 1994 assault weapons ban. Looking back on the last time Congress passed major gun control legislation.
2 p.m. – BBC NewsHour
Syria's temporary ceasefire collapses on its first day. A German court rules that cities can ban older polluting diesel cars. And advice out of Pakistan on the sensitive disposal of old Korans
3 p.m. – All Things Considered
Republicans v. Delta Airlines; collectors of student loans; the political crisis in Ethiopia. Dr. Jon Hallberg on teen depression; Minnesota reaches a pinnacle of graduation.
7 p.m. – The World
The execution of a rebel fighter by military cannon in British-controlled India 1857. His skull, later displayed in an English pub. A scholar investigates, to tell the story of the man's life.
8 p.m. – Fresh Air
Antidepressants and other psychotropic drugs. Terry talks with psychologist and journalist Lauren Slater, whose new book Blue Dreams is, in part, about the science and history of mood-altering drugs. She'll also talk about the medicine she's taken as a patient with bipolar disorder and depression, and the side effects she's experienced.