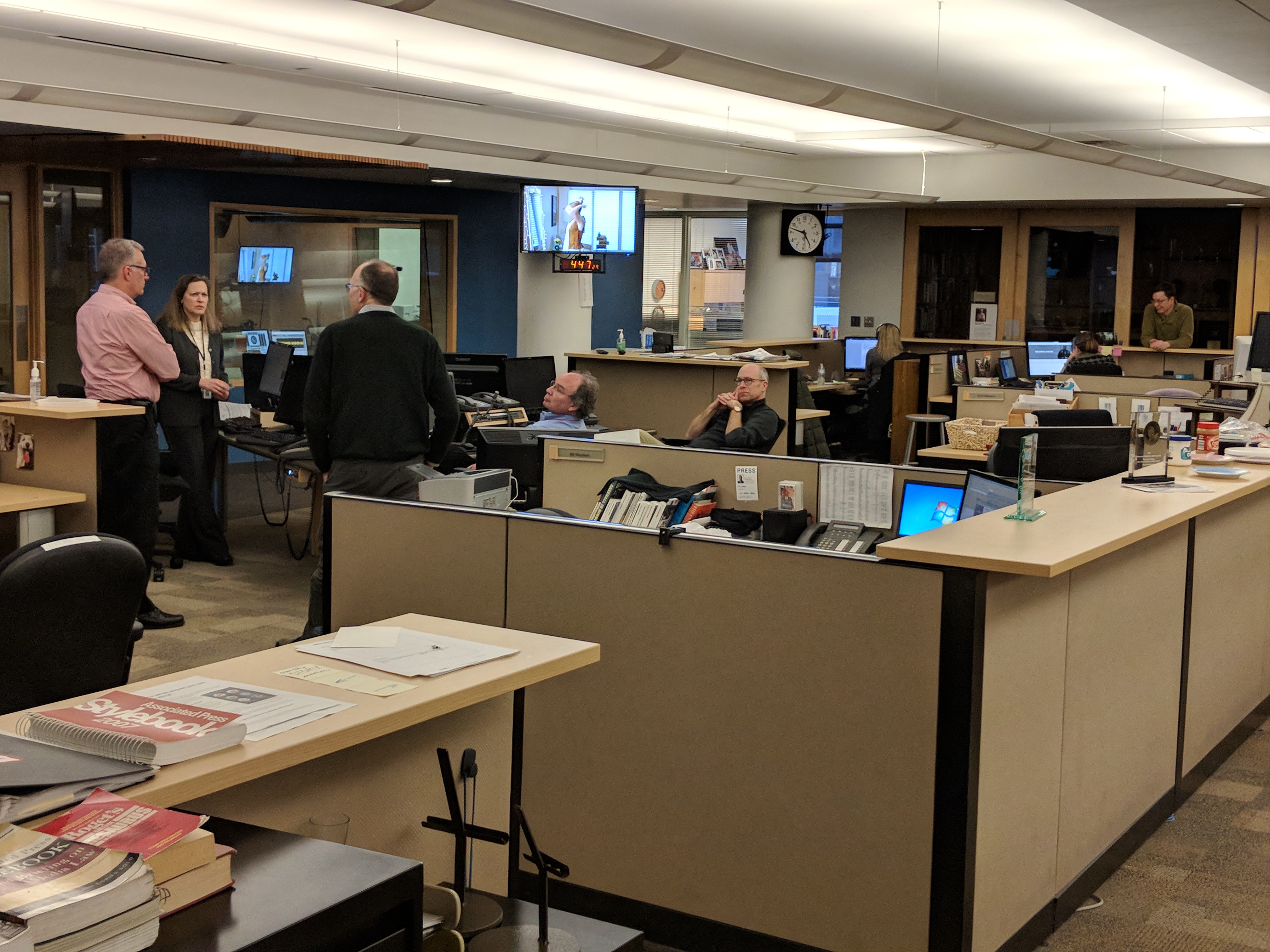 Thursday February 8, 2018
(Subject to change as events dictate. Frequent pledge drive updates during programming. )
Until 9 a.m. – Morning Edition
A preview of Polymet public hearings on the Iron Range and in Duluth. Also: Ice hockey, North Korea style; the budget deal; Russian bot interference; and Oklahoma tries to raise taxes.
9 a.m. – MPR News with Kerri Miller
What men need to know about sexual harassment. MPR News host Kerri Miller spoke to anthropologist Jose Santos, who researches masculinity, and Robin Schooling, a human resources expert, about how people can start to change the culture surrounding harassment.
10 a.m.- 1A with Joshua Johnson
The winter games. The time's come for South Korea to host the greatest sporting event on earth. In the lead up to the opening ceremony, politics has been predominant. Vice President Mike Pence has warned North Korea to not highjack the image of the Winter Olympics. Sports bring people together. Will the Games pull Washington and Pyongyang further apart?
11 a.m. – 1A with Joshua Johnson
Astrology has been around for thousands of years, but it seems to be having a moment right now. A new generation is setting its sights on the stars. It's not a science – yet it seems to make sense for millions. What are they seeing, and is what they are seeing really there?
12 p.m. – MPR News Presents
Best-selling author and Minnesota native Dan Buettner of National Geographic. He's spent years doing research on what he calls "The Blue Zones of Happiness" and shares some lessons from the world's happiest people.
1 p.m. – The Takeaway
A former border patrol agent tells his story.
2 p.m. – BBC NewsHour
The US military strikes inside Syria. Are we witnessing a major new phase in the war? The Austrian simulating a mission to Mars. And the girl who Boko Haram tried to make into a suicide bomber… twice.
3 p.m. – All Things Considered
The state of the congressional budget deal; Philadelphia celebrates;  could red Missouri mirror Kansas; the grand vision of SpaceX; Paul Huttner's Climate cast.
7 p.m. – The World
Pope Francis may be ready to cut a deal with China. Critics say the Church should not cozy up to a Communist government. But one historian says the Vatican knows well how to deal with empires.
8 p.m. – Fresh Air
Journalist Robert Draper, a contributing writer for National Geographic, and writer-at-large for the New York Times magazine, writes about the pervasiveness of surveillance cameras and how we are all being watched in this month's edition of National Geographic. He also has reported on gerrymandering, which he will talk about.