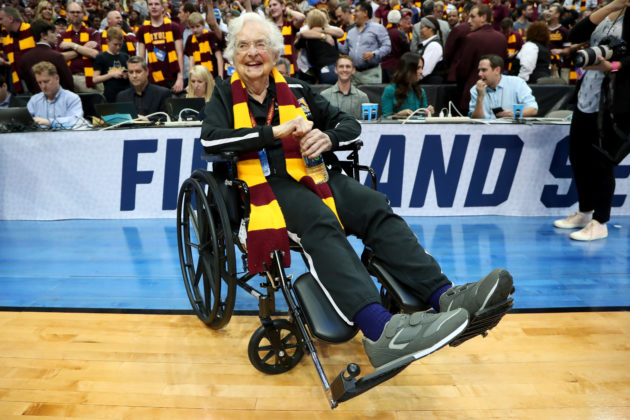 In a perfect world, someone will lift Sister Jean Dolores-Schmidt, wheelchair and all, to cut down the net after Loyola wins the NCAA basketball championship next week.
Non-fans would be hard pressed to name any of the teams left in the annual celebration of college basketball but the world loves the devoted and loyal and the good Sister is nothing if not devoted and loyal.
She's the team mascot and chaplain. She's 98. She suffers no fools gladly.
But, this being college sports and all, everyone is trying to cash in. Some licensed merchandise is diverting sales money to Loyola.
The Bobblhead Hall of Fame says the Sister Jean bobblhead is the biggest selling bobblehead ever.
"Worship. Work and Win!" – Sr. Jean.

Pre-order your Sr. Jean bobblehead now!

HERE: https://t.co/I6y9OzxJMt#OnwardLU pic.twitter.com/ifZhz6SpVo

— Loyola Ramblers (@LoyolaRamblers) March 23, 2018
Loyola will play Michigan on Saturday, but not before the 98-year-old sister gets a reminder from her elder.
Jalen Rose's grandma buried Sister Jean #GoBluehttps://t.co/ukksdLtTqG pic.twitter.com/6vg9jn9i1B

— Barstool Sports (@barstoolsports) March 27, 2018
In fact, Michigan fans seem to be whistling by the graveyard when it comes to the power of a 98-year-old woman.
We're coming for you Sister Jean! pic.twitter.com/2jcnbdvSrx

— MSZ Wolverines (@MSZ_Wolverines) March 25, 2018
Hey Sister Jean. pic.twitter.com/t2FWS0PI12

— Eric Upchurch (@EUpchurchPhoto) March 25, 2018
We're coming for you Sister Jean😂😂😂 #FinalFour #GoBlue pic.twitter.com/rveKs9hw7z

— Michigan Moments (@GoBlueMoments) March 25, 2018
Sister Jean is not taking the bait. She has no social media accounts.
There's a serious side to all this attention to an old woman, according to Shannon Ryan, a columnist for the Chicago Tribune. It's a reminder that we could treat the non-famous elderly better than we do.
Seventeen percent of the 65-and-older population lives in social isolation, which poses health risks. Fifty-one percent of people at least 75 years old live alone. Income inequality among America's elderly is among the starkest of developed nations.

So if you're giddy about Sister Jean at the tournament, take time to check on an elderly neighbor on your block. Bring them their mail, rake their leaves, just stop by for a chat.

When you buy a T-shirt or socks with her image, donate to Sister Jean's religious community Sisters of Charity of the Blessed Virgin Mary

The next time you post a meme of Sister Jean on social media, think about volunteering at a local nursing home where many elderly are lonely. Send a tweet about Sister Jean? How about also make a call to your grandparents?
Related: 'Sweet elderly lady' sees 1st Winnipeg Jets game after chance encounter with strangers (CBC)