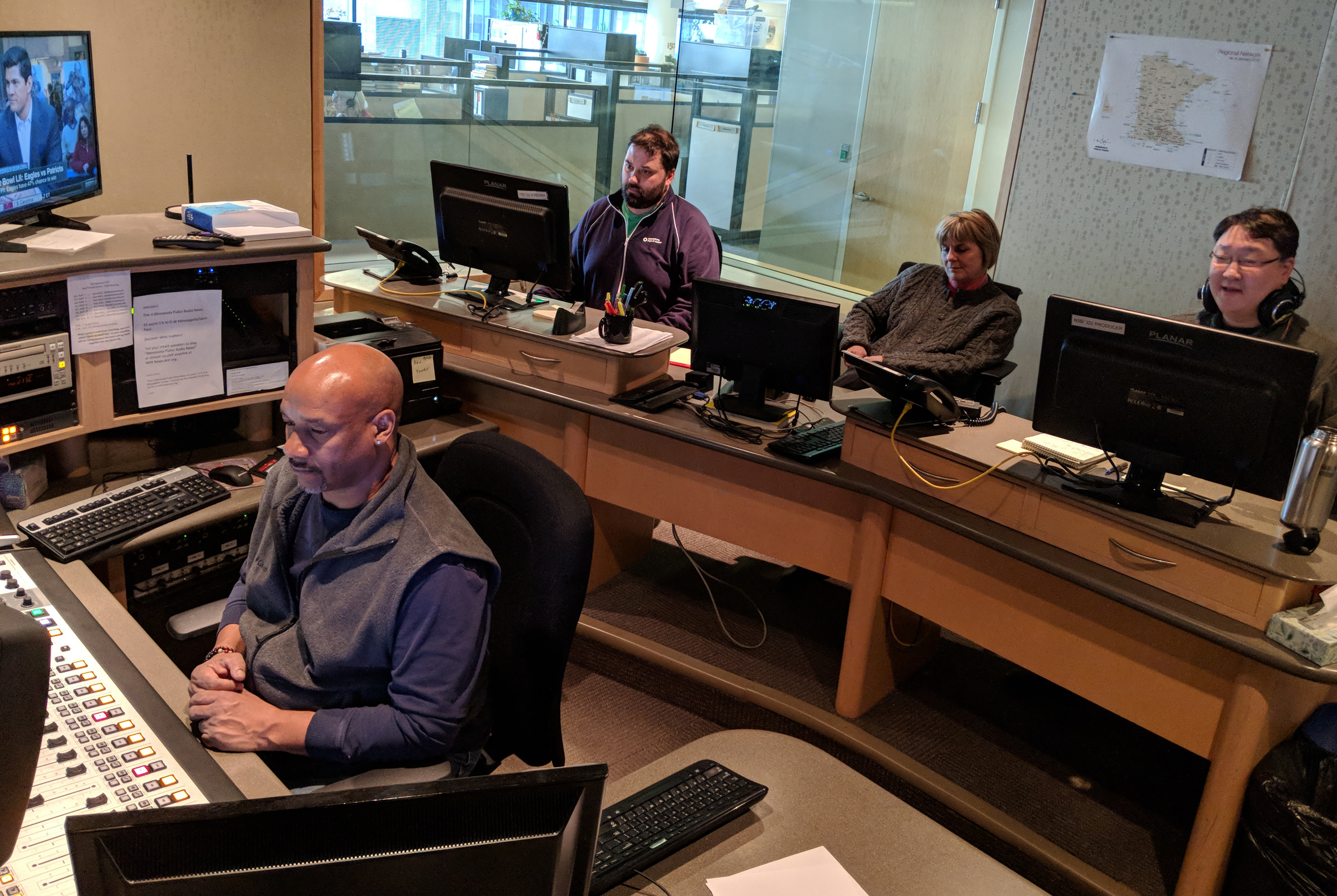 Wednesday March 7, 2018
(Subject to change as events dictate)
Until 9 a.m. – Morning Edition
How to spend the 3M settlement; reducing nitrates in Minnesota water; nuclear talks and the Koreas; factory workers fear steel tariffs; the results of the Texas election; and Ask Cokie about security clearances.
9 a.m. – MPR News with Kerri Miller
With all the talk of 'chaos in the White House' we want to take a look at the leadership style of this and past presidents. Who have been chaotic leaders? What leadership strategies have been most effective?
Guests: Hitendra Wadhwa, professor of Professional Practice at Columbia School of Business, founder of the Institute for Personal Leadership; Tim Walch, director emeritus of the Herbert Hoover Presidential Library
10 a.m.- 1A with Joshua Johnson
President Trump is pushing hard for tariffs on steel and aluminum. Many Republicans and America s allies don t like the idea. Nor do the markets. But the White House says the current setup penalizes those who matter most. Is Trump's talk of imposing tariffs a move to benefit domestic manufacturing, or just to please his political base? And what might the backlash be here and abroad?
Guests: Shawn Donnan, world trade editor, Financial Times; Veronique de Rugy, senior research fellow at the Mercatus Center, George Mason University; Michael Stumo, CEO, the Coalition for a Prosperous America; Mike Hicks, grain dryer service technician, Whetstone AG Supply.
11 a.m. – MPR News with Tom Weber (Mike Mulcahy hosts)
Renewable energy is now Minnesota's second-largest source of electricity generation. Renewables – solar and wind among them — made up 25 percent of the state's electricity generation in 2017, overtaking nuclear and second only to coal. That's according to a report released last week by Bloomberg New Energy Finance, which tracks power generation across the country.
Coal made up 39 percent of the energy Minnesota generated inside its borders in 2017. And while nuclear capacity is static, Minnesota has been adding new wind and solar capacity every year. Where are renewables growing and will that growth will continue?
Guests:Ben Gerber, executive director, Midwest Renewable Energy Tracking System (M-RETS);Gabe Chan, assistant professor at the University of Minnesota.
12 p.m. – MPR News Presents
Part one of an NPR special on the investigation of Russian interference in the 2016 election. For NPR's"Embedded" series, Kelly McEvers reports on two key questions explored by Special Counsel Robert Mueller: Part 1 is titled, "Collusion." Part 2, airing on Thursday March 8, is titled,"Obstruction."
1 p.m. – The Takeaway
In Obama's backyard, a fight over displacement. The proposed Obama Presidential Center could push people out. What one Chicago community is saying as developers forge ahead.
2 p.m. – BBC NewsHour
How the Saudi Crown prince is shaking his country and his region. What should the West make of him? We'll have the latest on the Russian spy poisoning. And marriage advice from China: lower your expectations.
3 p.m. – All Things Considered
Gov. Dayton outlines a school security plan; a look at gun permit data in Minnesota; what's next after the Texas primary; the power in Puerto Rico flickers; and a congressional hearing on security clearances.
7 p.m. – The World
A family under fire. Meet a mother who lives in Syria in the rebel-held area of Eastern Ghouta. She has two kids. They stay in an air raid shelter because their neighborhood is being bombed.And it's hard to explain why.
8 p.m. – Fresh Air
Terry has a return visit from John Oliver, who hosts the HBO satirical series Last Week Tonight, which often reviews the news of the week, then takes a deep dive into one story, which is always both really funny and informative. His approach has been described as an investigative comedy. He first became known as a correspondent on The Daily Show.