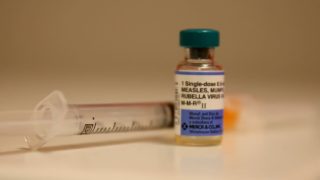 Fourteen years ago, health officials declared that measles in the United States had been wiped out. Science developed immunizations, and the immunizations were effective.
Then the anti-vaccine crowd got attention it didn't deserve and the outbreaks are now more common.
This week in Wisconsin, authorities in La Crosse and Trempealeau counties and businesses in the area have to spend their time tracking down everyone who visited several locations, because someone with measles had visited the area, the La Crosse Tribune reports today.
The Comfort Inn at 1223 Crossing Meadows Drive in Onalaska between April 13 and 18.

The Dollar Tree at 2910 Market Place in Onalaska on April 14.

St. Mary's Catholic Church at 20344 W Ridge Ave. in Galesville between 10 a.m. and 1:30 p.m. April 15.

Champions Riverside Resort at W16751 Pow Wow Lane in Galesville from 12:30 to 5 p.m. April 15.

The Fairfield Inn at 434 S. Third St. in La Crosse, between 6:30 p.m. and midnight April 15.

Texas Roadhouse at 4310 Hwy. 16 in La Crosse between 9 and 11:15 p.m. April 15.
The measles virus can remain in the air for two hours after a person leaves an area.
A year ago this month, Minnesota's measles outbreak started with a two-year old hospitalized child who hadn't been immunized. By the end of May, 65 cases were confirmed and the transmission didn't appear to be slowing down.
It eventually involved five schools, 12 child care centers, three health care facilities, and numerous households; an estimated 8,250 persons were potentially exposed to measles in these settings, the CDC reported in a subsequent investigation.