In a perfect world, Michelle McNamara, the University of Minnesota journalism grad, would be alive today to see the perp walk a man may do in California. She lived determined to see it, she committed the last years of her life to making it happen.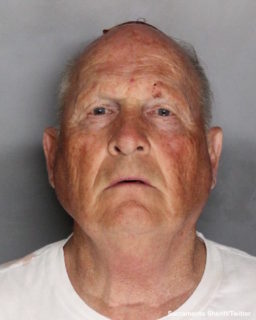 McNamara was an investigative reporter who grabbed hold of the Golden State Killer case (she coined the name) and wouldn't let go. As of Wednesday, it's believed he was finally caught. Joseph James DeAngelo, 72, was arrested by Sacramento County sheriff's deputies.
The Golden State Killer is believed responsible for at least 12 murders and 45 rapes between 1976 and 1978.
The rapist broke into homes where single women or couples were sleeping. He'd tie up the man, put a pile of dishes on his back, then threaten to kill them both if the dishes tumbled while he raped the woman.
McNamara hadn't finished her book, "I'll Be Gone in the Dark," the words the rapist uttered to one of his victims, when she died in her sleep in 2016.
Today, Forbes called McNamara "the Golden State Killer's last victim."
Her self-admitted obsession with the case disrupted her sleep to the point that she called on pharmaceutical aids to help her get some much-needed rest.

In a heartbreaking twist, the night before she died, [husband Patton] Oswalt had told her to "sleep until you wake up" because she had been so run down pursuing leads, researching and writing furiously.

An undiagnosed heart condition combined with Xanax, Adderall and Fentanyl in her system caused McNamara's death.
Her husband and her friends finished her book, which included this passage in the form of a letter to the killer:
One victim's phone rang twenty-four years after her rape. "You want to play?" a man whispered. It was you. She was certain. You played nostalgic, like an arthritic former football star running game tape on a VCR. "Remember when we played?"

I imagine you dialling her number, alone in a small, dark room, sitting on the edge of your twin bed, the only weapon left in your arsenal the firing up of a memory, the ability to trigger terror with your voice.

One day soon, you'll hear a car pull up to your curb, an engine cut out. You'll hear footsteps coming up your front walk. Like they did for Edward Wayne Edwards, twenty-nine years after he killed Timothy Hack and Kelly Drew, in Sullivan, Wisconsin. Like they did for Kenneth Lee Hicks, thirty years after he killed Lori Billingsley, in Aloha, Oregon.

The doorbell rings.

No side gates are left open. You're long past leaping over a fence. Take one of your hyper, gulping breaths. Clench your teeth. Inch timidly toward the insistent bell.

This is how it ends for you.

"You'll be silent forever, and I'll be gone in the dark," you threatened a victim once.

Open the door. Show us your face.

Walk into the light.
"I think you got him, Michelle," her husband tweeted when the news broke today that she probably had.