Almost 10 years ago to the day, I thought it might not be a terrible idea to talk to some area TV meteorologists about climate change and the pressure they feel to take a "side."
It wasn't easy. All but two of the 11 I contacted — Craig Edwards, then of MPR News, and Steph Anderson, then of KTTC in Rochester, Minn. — didn't want to talk to me. And probably with good reason. In 2008, WCCO meteorologist Mike Fairbourne signed a statement from 31,000 "scientists" who contended the role of humans in global warming is overblown. He was excoriated for his views by those who disagreed. That's a bad thing in a business fueled by ratings, and TV meteorologists are the main driver of viewer loyalty to a local TV station.
At the time, a study said, only a third of the nation's TV weathercasters believed there was scientific consensus on climate change.
Anderson said she couldn't say climate change was happening. Edwards was pretty sure it was.
We're going to guess the number of TV weatherpeople willing to talk about it, though, has changed based on a small dust-up on Twitter last evening because of this tweet from KARE.
The weather extremes we're seeing here & across the country, build a strong case for climate change. We sit down with meteorologist @pdouglasweather, a self-described conservative & Christian, about his shifting stance on the topic. @ChrisHrapsky at 6:30 @kare11 #BTN11 pic.twitter.com/Jm8KO8mQiq

— Nikki Muehlhausen (@NikkiKARE11) April 16, 2018
The tweet promoted this segment on KARE's Breaking the News, which featured weather icon Paul Douglas, a climate change evangelical.
Douglas is one of the first meteorologists in the country who made it OK for TV meteorologists to talk about climate change.
It's that word "debate" that caused the intramural spat.
Curiously, it featured local meteorologists who are all on the same page on the issue.
Mike Augustyniak, of WCCO, was the first to challenge Breaking the News producer Nikki Muehlhausen.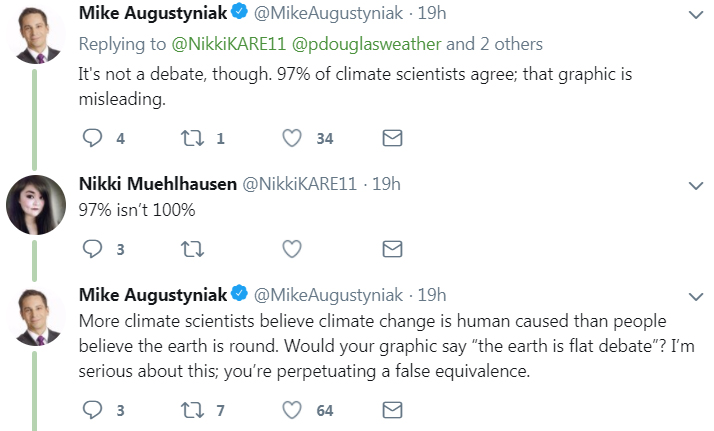 Once you cleared away all the deniers trying to muscle in on the conversation, the Twitter exchange illuminated the reality that although TV meteorologists seem more willing to address climate change now, the blowback for appearing to suggest science is not settled on the question — even if it's incorrect — is much more intense than in Fairbourne's day.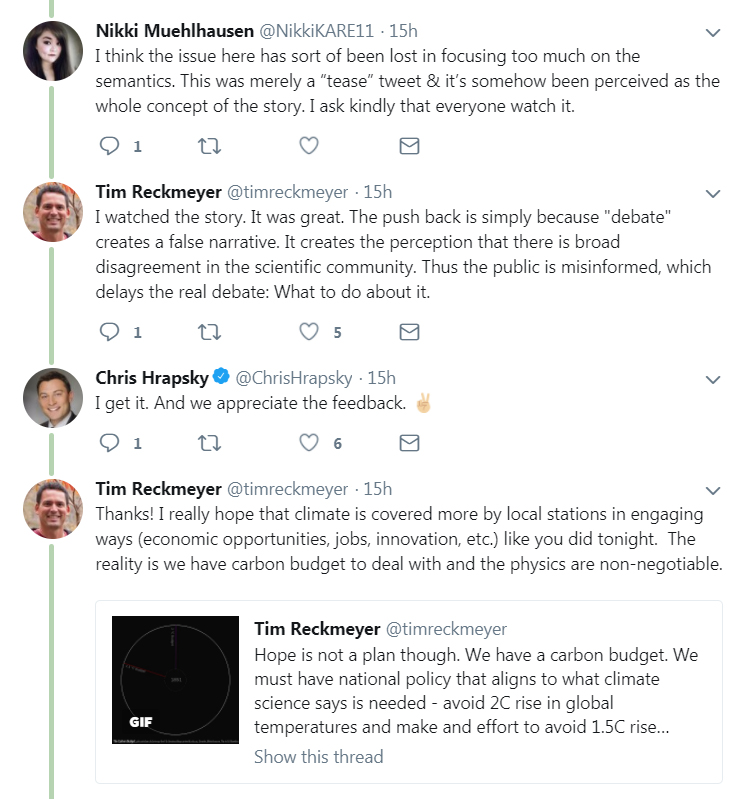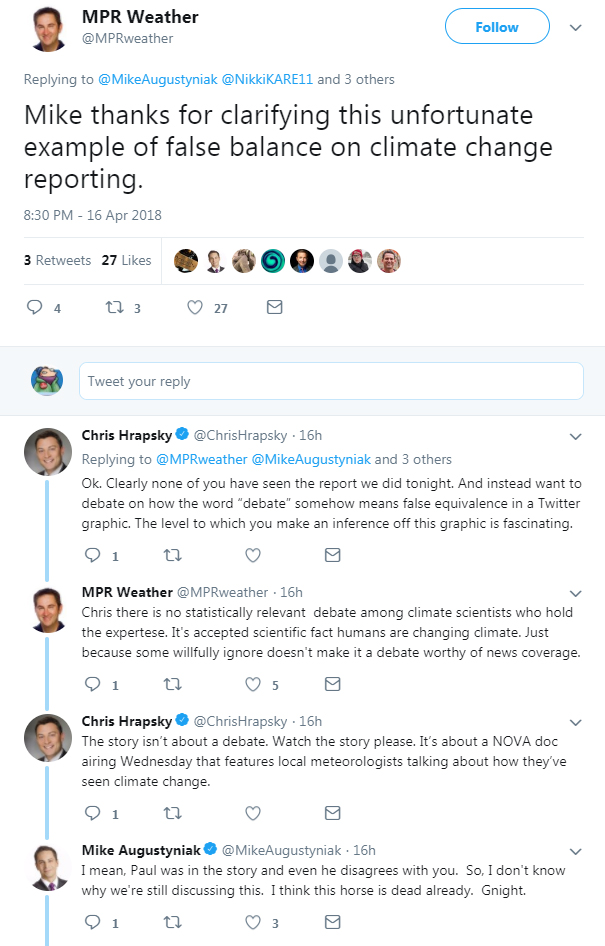 But it's still slow going to get broadcast meteorologists to talk about their views on the science. Last year, for example, George Mason University's Center for Climate Change Communication issued a survey request to 2,220 of them. Only 486 responded to multiple requests. Only 2 percent of those who answered the survey said they don't think climate change is happening.
Nineteen percent of those surveyed said they planned to alter how they presented climate change information because of the "political climate," with 27 percent of them (5 percent of the sample size) saying they would provide less information.
(h/t: Paul Tosto)
Related: Beer, but to get your attention on climate change (Climate Cast)