Perhaps you've noticed police departments increasing the use of social media to get help identifying suspects — they call them "persons of interest" — in crimes. It's a troubling trend that is growing more troubling because businesses have started doing the same thing.
Last week, Tom Reid's Hockey City Pub used the power of social media to try to get back some pins that someone stole.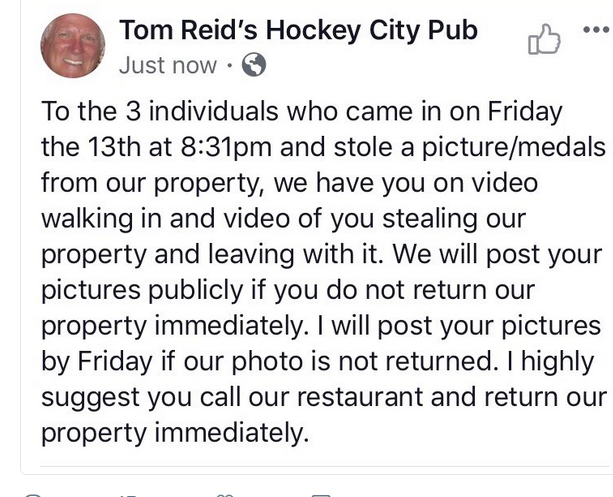 The restaurant posted security photos.
Tips started pouring in, KARE 11 reported. One of them fingered Matthew Rivera from Woodbury. One problem: Rivera hasn't been to the restaurant in over a year.
No matter. The restaurant tagged Rivera's Facebook page to try to shame him into bringing the ill-gotten goods he didn't get back. He got hate messages and a text message from his boss.
The actual thieves — the ones in the photos — returned the stolen pins. But Rivera told KARE 11 the damage had already been done.
Tom Reid's social media accounts posted apologies. Then deleted them all.
"It's one thing to get rid of the posts where they mentioned him as a possible suspect. But it's another to take down all the apology posts," said attorney Jeffrey O'Brien with Chestnut Cambronne PA.

O'Brien points out the big danger in internet shaming — people who saw the first post might not have seen the apologies.

And O'Brien says the false claim was made worse by contacting Matthew's employer.

"I think he's got a strong case for damages," O'Brien said.

The bar wouldn't answer questions from KARE 11, giving a statement that reads, "We have apologized to Mr. Rivera, and we are truly sorry and embarrassed."
Memorabilia stolen from Tom Reid's Hockey City Pub returned after plea – KMSP-TV https://t.co/uVHS2zPztA

— Hockey shows (@Hockeyshows) April 18, 2018
Rivera, meanwhile, has advice for the online sleuthers. Stop it.