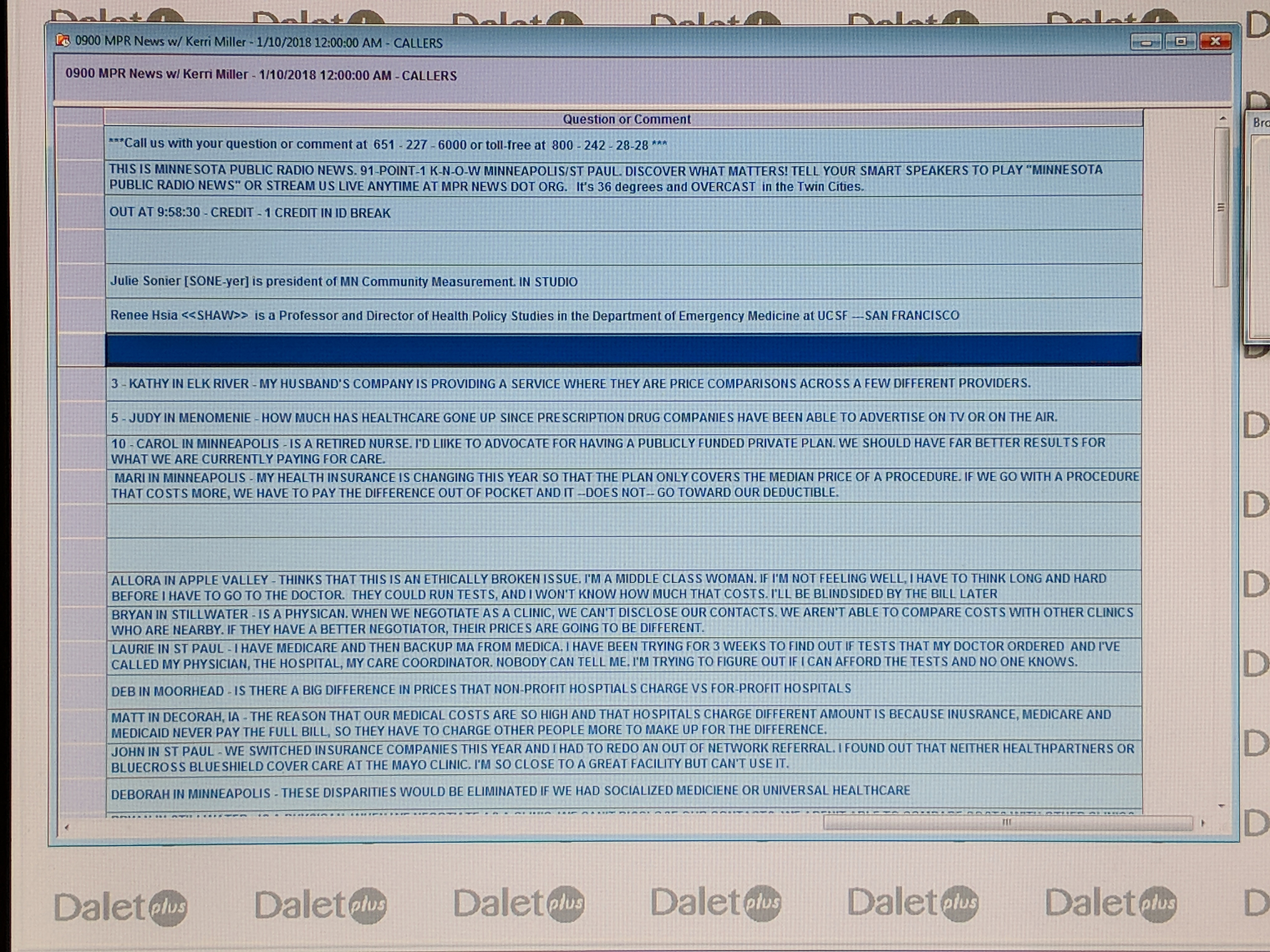 Thursday April 26, 2018
(Subject to change as events dictate)
Until 9 a.m. – Morning Edition
A preview of the Korea summit;  Ben Carson's plan to triple the rent for people in subsidized housing; the NPR poll on teacher strikes; and three Nobel Prize-winning scientists will be in town to meet with more than 1,000 high school and college students, young scientists and 3M employees.
9 a.m. – MPR News with Kerri Miller
Republican stereotypes. We're talking about the most destructive stereotypes that are lobbed at Republican voters. You know them: racist, sexist, "haters" and why it feels righteous if you're on the other side to cling to these tropes.
Guests: Joaquin Munoz, Better Angels citizen moderator; Eddie Glaude, professor of religion and African American studies at Princeton.
10 a.m.- 1A with Joshua Johnson
Andrew Puzder knows what Rear Adm. Ronny Jackson is facing with his uphill nomination battle. Puzder was once on track to join the cabinet. Last year, he was President Trump's pick for labor secretary when allegations about his private and professional life led him to withdraw his nomination.
Nearly a year later, the former CEO says the president is well on his way to turning the tide on Obama-era economic reforms and that progressives are trying to block Trump's path.
Guest: Andrew Puzder, author, "The Capitalist Comeback: The Trump Boom and the Left's Plot to Stop It."
11 a.m. – MPR News at 11
Democratic stereotypes. Democrats are often portrayed to be lefty, God-hating, never-met-a-government-program-they-didn't-love, tree-huggers.
Guests: Drew Westen, professor of Psychology at Emory University. Author of "The Political Brain;" Liz Mair, Republican strategist.
12 p.m. – MPR News Presents
Part 1: On the day of the dedication of The Lynching Memorial in Montgomery Alabama. a rebroadcast of the MPR documentary by Chris Julin and Stephanie Hemphill, "Postcard from a Lynching."
Part 2: The final segment of the MPR podcast series, "74 Seconds," which won a Peabody Award this week.
1 p.m. – The Takeaway
A memorial dedicated to the victims of lynching in America opens in Montgomery, Alabama.
2 p.m. – BBC NewsHour
The leaders of North and South Korea are about to meet. What can we expect? Also: a new curb is announced on female middle distance runners with high testosterone. And pursuing migrants off the coast of Libya.
3 p.m. – All Things Considered
The VA nominee bows out; profiles of the Korea leaders; and Wade Goodwyn has a story and does it really matter what it's about? It's Wade Goodwyn!
6:00 p.m. – Marketplace
Roughly a third of Puerto Rico's public schools are slated to close this summer. Why Hurricane Maria is just one of many recent storms for the island's education department.
6:30 p.m. – The Daily
After being blocked for months by lower courts, President Trump's executive orders that restricted travel from several predominantly Muslim nations have finally reached the Supreme Court. The justices seem focused on one question: Should the president's authority have anything to do with his personal beliefs?
Guest: Adam Liptak, who covers the Supreme Court for The New York Times.
7 p.m. – The World
A book that changed the lives of women in America and has challenged the way people around the globe talk about women's health.
8 p.m. – Fresh Air
Jake Tapper, CNN's chief Washington correspondent, and anchor of The Lead and State of the Union talks about his debut novel set in 1954 McCarthy-era Washington, and similarities he sees today. And they'll discuss how he deals with guests from the Trump administration when they promote falsehoods or evade his questions.