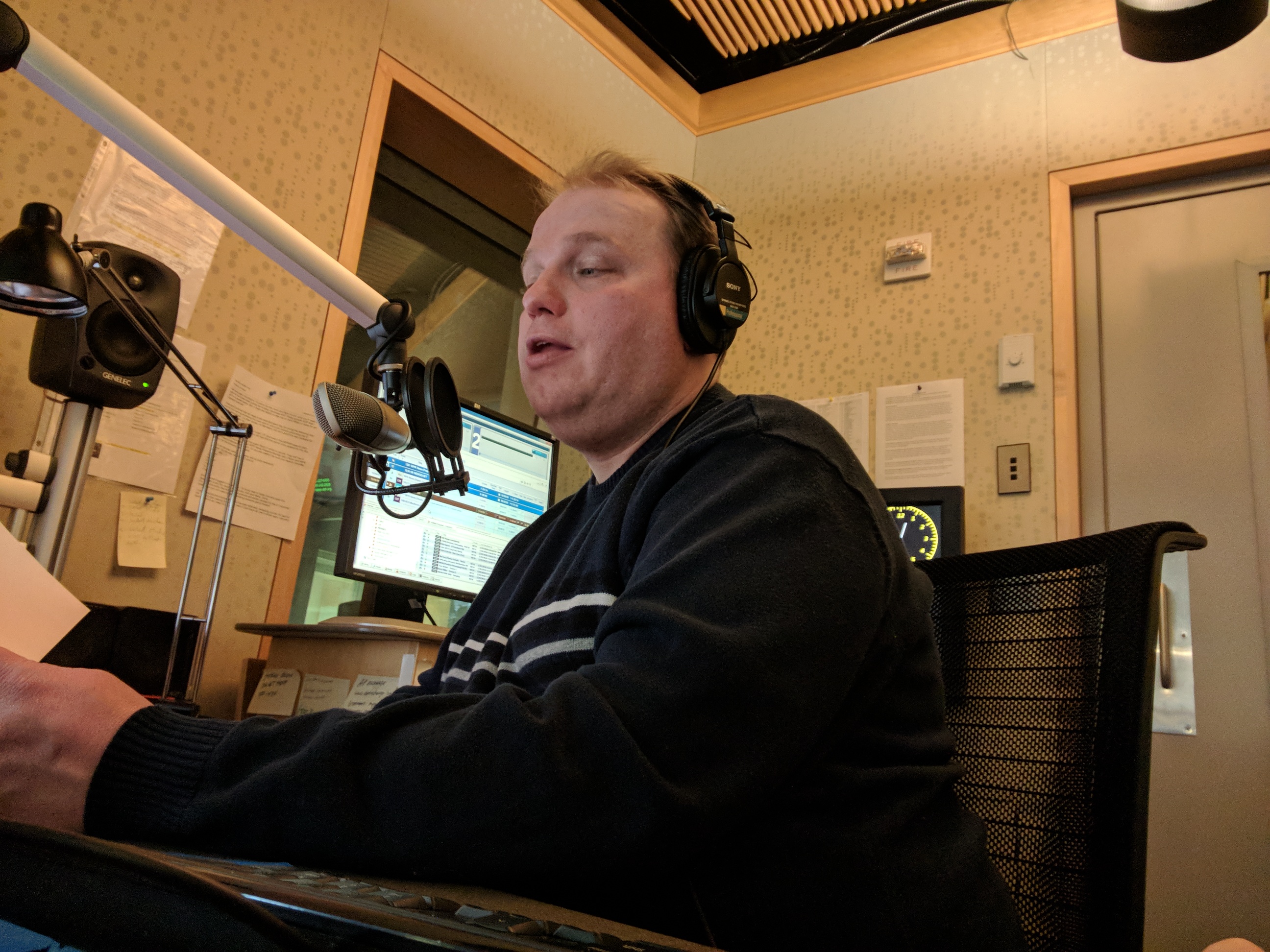 Monday April 30, 2018
(Subject to change as events dictate)
Until 9 a.m. – Morning Edition
The week ahead at the Capitol; the latest on the refinery fire in Superior; Minneapolis Council President Lisa Bender's visit; Pompeo in the Middle East; President Trump in Michigan; and poetry in unexpected places.
9 a.m. – MPR News with Kerri Miller
The Political Junkie's weekly observation on politics.
9:20 a.m.- Music can't change the world, but it can motivate a generation to protest as it did during the Vietnam War era. We've been down this road before, when Sam Cooke wrote the song "Change is Gonna Come" it became the anthem for civil rights movement and Jay Z song "Spiritual" addressed police shootings of black Americans following the deaths of Alton Sterling and Philando Castile. History is filled with protest songs that speak to our troubled past and present.
Guests: Brother Ali, American Rapper, community activist and member of the Rhymesayers Entertainment hip hop collective; Rodney Carmichael, NPR music critic.
10 a.m.- 1A with Joshua Johnson
Many local newspapers are struggling to stay profitable. And many others are closing. But not all the woes of local news are the fault of the internet. Some newspaper owners are trying to squeeze dollars wherever they can. After a round of staff cuts, the Denver Post published a stinging editorial about its owner.
Local news is essential for vital communities. What future does it have?
Guests: Rick Edmonds, media business analyst, the Poynter Institute; Tim Grieve, vice president, News, McClatchy; Michelle Holmes, vice president, Content, Alabama Media Group; Neil Chase, executive editor, The Mercury News and the East Bay Times.
11 a.m. – MPR News at 11
Mayo Clinic is transitioning to a new electronic medical records system, and it's one of the largest and most expensive in the history of electronic medical records transitions. It has the entire city of Rochester on edge.
Guest: Catharine Richert, MPR reporter.
11:20 a.m. – Why are several U.S. states all competing to attract skilled millennials to their cities? Is it because millennials have a can-do approach to work? Millennials are great at changing the way that traditional workplaces operate. Unlike boomers who are used to clocking in and out, millennials seem to be more focused on project deadlines. Last fall, Gov. Scott Walker made a bid for millennials when he launched a $7 million ad campaign designed to bring millennials from Chicago. And in Minnesota we have campaigns for millennial in tech and healthcare. With all this attention, millennials are spoilt for choice, but which state is best for young people. Is it Minnesota, or Wisconsin?
Guests: Bridgit Bowden, reporter, Wisconsin Public Radio; Matt Lewis, director, Make It. MSP.
12 p.m. – MPR News Presents
A broadcast of Chris Farrell and Louis Johnston's annual "spring review" of the international, national and regional economy. It was a Senior College event held at Alexandria Technical and Community College on April 26. Chris Farrell is MPR economics commentator, and Louis Johnston is professor of economics at St. John's University and the College of St. Benedict. Liz Fedor of Twin Cities Business magazine was the moderator.
1 p.m. – The Takeaway
DNA helped catch the Golden State Killer thanks to help from a genealogy website. What at-home DNA testing means for law enforcement, and your privacy.
2 p.m. – BBC NewsHour
Where now for the caravan of migrants encamped at the border between Mexico and California? One of the biggest projects ever undertaken in Antarctica. And the lessons of the May 1968 events in France 50 years on.
3 p.m. – All Things Considered
The blackouts in Puerto Rico; Alexa for kids; microchipping cacti; the assault on the intelligence community.
6:00 p.m. – Marketplace
President Trump intends to deliver a speech to address high prescription drug costs in the coming weeks. And one idea he has proposed is to cap how much people on Medicare pay for their prescriptions. But will this really lower drug prices?
6:30 p.m. – The Daily
In a historic summit meeting, North and South Korea vowed to pursue a peace treaty to formally end the Korean War after more than 65 years. That could bring reunions for the thousands of families who have been separated since the war broke out. Guest: Sylvia Nam, whose grandfather went to North Korea just after the Korean War started and never returned.
7 p.m. – The World
Chinese robocalls. People in major U.S. cities are picking up the phone, and hearing Chinese.While most folks hang up, some Chinese immigrants have been scammed, and talked into sending large sums of money.
8 p.m. – Fresh Air
Terry Gross talks with Alex Wagner, contributor to CBS News and the Atlantic, and former MSNBC anchor. Wagner was curious about the roots of her mixed-race ancestry. So she used her reporting skills to investigate, digging through archives and getting multiple and conflicting genetic tests. She'll tell us what she found. Her memoir is "Futureface."