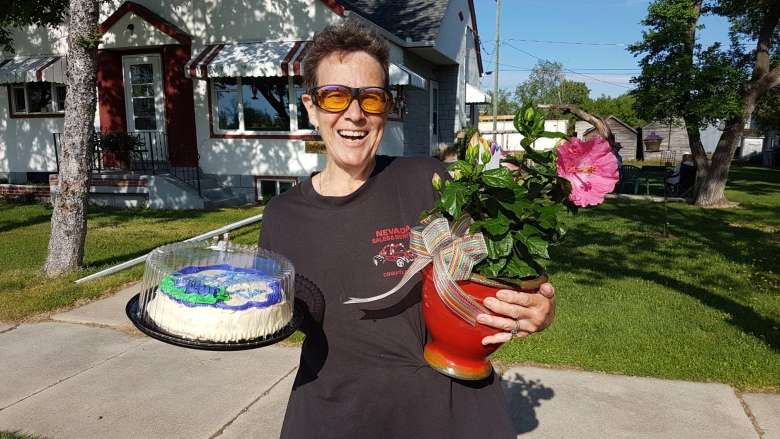 Here's your daily dose of sweetness:
Just when you're ready to give up on the internet, a daughter in Nova Scotia comes along who just wanted to do something nice for her mother, who lives in the middle of nowhere, Manitoba.
Alison Hill wanted to send her mom some flowers but it's not easy to do that when you live in Nova Scotia and there are no florist shops near middle of nowhere, Manitoba.
She posted on Reddit, looking for someone who'd pick up a hibiscus she'd ordered and drive to you-know-where to bring them to Tia Hill in time for her 71st birthday.
She found somebody, the CBC reports. A guy who goes by "DudeYourOnToMe," who agreed to make the drive.
He showed up with the flowers, and a birthday cake.
Tia Hill was sitting in her front yard on the evening of May 24, enjoying birthday wine with her husband and a few neighbours.

"I said to them [her neighbours], 'If I had known we were having company, I would have baked a cake,'" said Hill, who moved to Sifton six years ago after three decades in Sydney, N.S.

She said a grey truck that she didn't recognize pulled up. A man got out and asked if she was Tia.

"I said, 'Yes I am.' And he said, 'Well just a moment.' And he went around to the passenger side and he came out with an urn full of salmon pink hibiscus and a birthday cake. And I was shocked. I was like, 'Where did this come from?'"

The card on the flowers said they were from Alison and her three-year-old son.
"I asked him his name. He said his name is Dean and he does deliveries," Tia said.
But she didn't get his last name and the flower shop had a different name on its paperwork.
Nobody knows who Dean is and that appears to be just the way he wants to keep it.
"I do these things because I hope some day someone will look out for my Mom too," he said on Reddit.