Is this editorial cartoon over the top?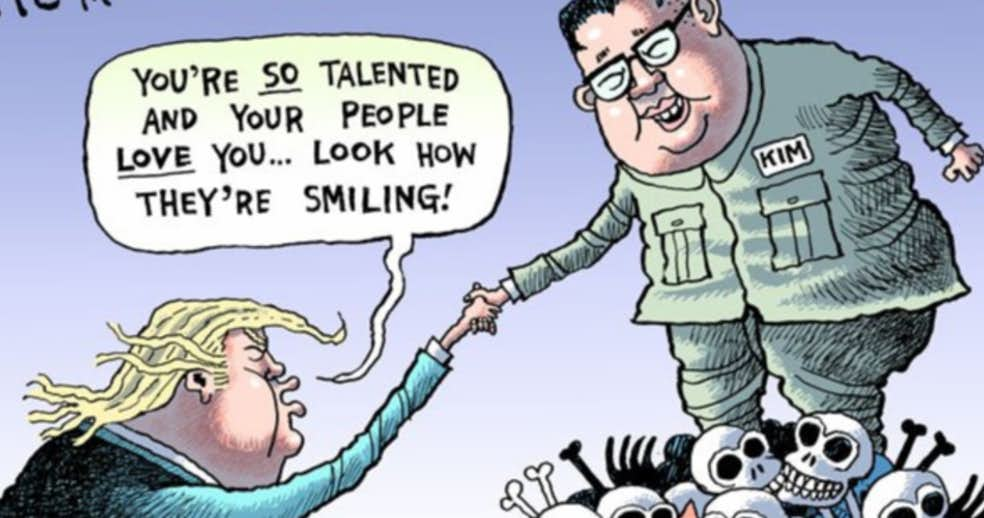 The Pittsburgh Post-Gazette must think so. It's fired the editorial cartoonist who drew it after a prolonged dispute over Rob Rogers' anti-Trump editorial cartoons it refused to publish.
His bosses spiked six cartoons in May and June, according to TribLive.com. The Columbia Journalism Review says 19 Rogers cartoons were killed since early spring.
His colleagues are not happy.
This is a disgrace. I barely recognize this place anymore. Rob was a talented, wonderful colleague whose only transgression was he did his job. What has happened to the marketplace of ideas we are supposed to provide? This is a sad day for Pittsburgh and the @PittsburghPG . https://t.co/PzD6coxij1

— Michael A. Fuoco (@michaelafuoco) June 14, 2018
CNN's Jake Tapper suggests the fix was in.
Photo from 2016 of the publisher of the @PittsburghPG, which fired award-winning editorial cartoonist @Rob_Rogers today after too many cartoons satirizing the most powerful man on the planet. https://t.co/JukWGlzD1J pic.twitter.com/m7duC9KdG5

— Jake Tapper (@jaketapper) June 15, 2018
"This is precisely the time when the constitutionally-protected free press — including critics like Rob Rogers — should be celebrated and supported," the mayor of Pittsburgh said in a statement. "This decision, just one day after the President of the United States said the news media is 'Our Country's biggest enemy.' sets a low standard in the 232-year history of the newspaper."
This got the cartoonist fired. Share it. pic.twitter.com/6ik1HjgVAW

— Ted St. Godard (@tedstgodard) June 14, 2018
"There was never a problem before but with the new order of the Post-Gazette editorial pages, it seems that those who do not follow the pro-Trump, pro-conservative orthodoxy of the publisher and editorial director are of no use," the Newspaper Guild of Pittsburgh said.