Generally speaking, settling scores in an obituary rarely makes anyone look good. But, according to the obituary in the Redwood Falls Gazette (since removed) in southwestern Minnesota, maybe Gina and Jay have been waiting a long time to exact their revenge. Maybe they feel better about things now.
But I doubt it.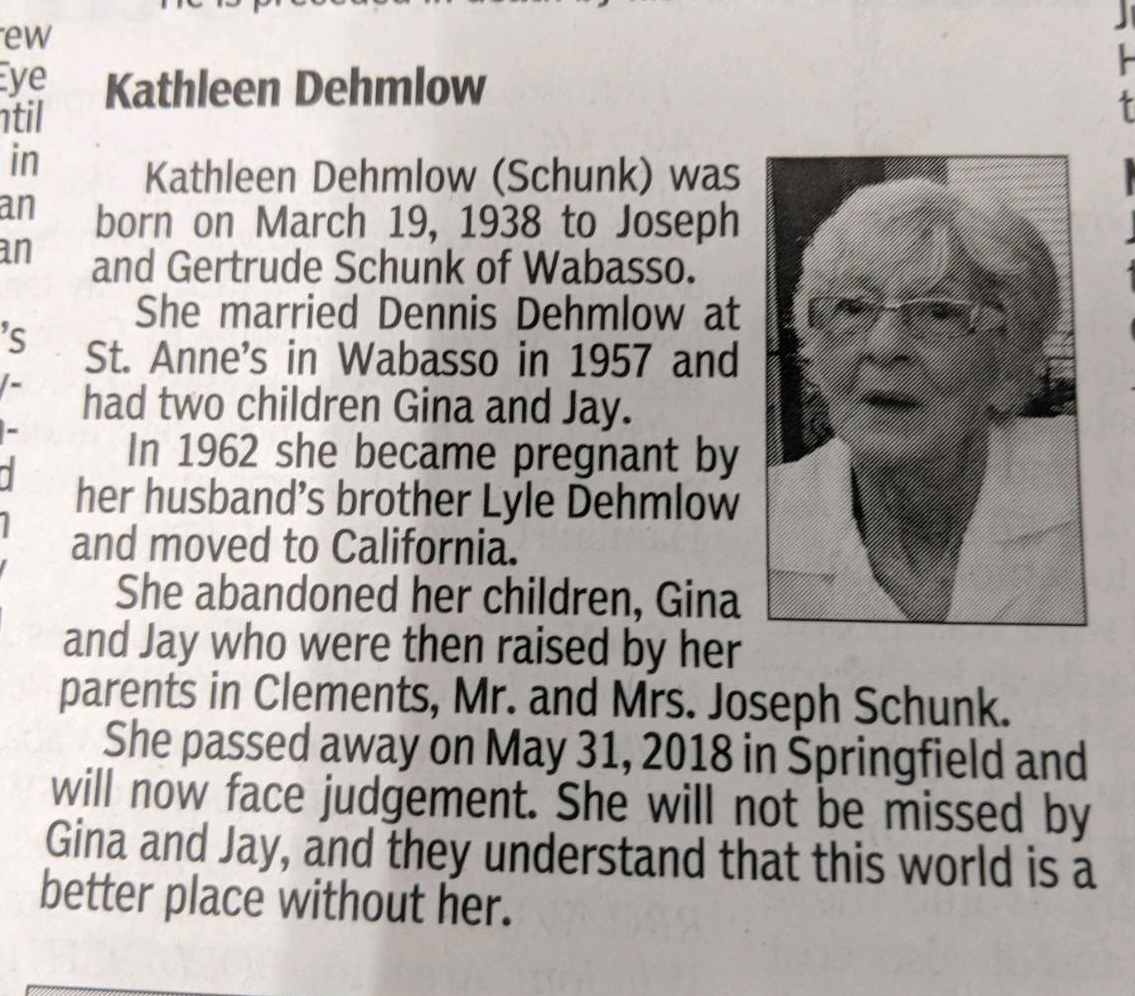 Not surprisingly, nobody has offered any online condolences to the woman's surviving kin.
(h/t: Mike Worcester)
[Update 9:37 a.m. 6/5] —
And the mystery behind Kathleen Dehmlow's obituary takes another turn.

cc: @RandBallsStu @jalbus @johnmoe @MyLittleBloggie @kryssypease pic.twitter.com/8SXSlcRq3w

— Lindsay Guentzel (@LindsayGuentzel) June 5, 2018
[11:59 a.m.] – From the Redwood Falls Gazette:
Thank you for your inquiry.

We have no comment.

Kind Regards,
[1:11 p.m.] – From the Strib.
Dwight Dehmlow, who lives in the Twin Cities, said, "The sad thing about this is there is no rebuttal. There is more to it than this. It's not simple."

Dehmlow declined to say more about what went on back then, and he would not explain his relationship to Kathleen Dehmlow.

She had lived in a nursing home for the past year, and her sisters were there when she died, Dwight Dehmlow said.

"She made a mistake 60 years ago, but who hasn't?" he said. "Has she regretted it over the years? Yes."

Dwight Dehmlow said he determined Tuesday that Jay is behind the obituary.

"He's very upset," the relative said. "He decide to go out with hate. I can't believe he did this. … This is going to hurt a lot of people."