It doesn't take much, really, to get to the top of a list of president's in one's lifetime. Not many presidents serve during the average lifetime.
I'm in my sunset years, for example; there've been only 12 and one was the treasonous Richard Nixon, so only 11 are in the competition.
Nonetheless, it's not entirely insignificant that President Barack Obama has finished at the top of a Pew survey of 2,002 adults, which asked which president has done the best job in their lifetimes. The analysis is based on their first and second choices.
There's probably some interesting math to be played with under the survey but the fact Franklin Roosevelt finished last in the survey has little to do with Roosevelt's performance in office — all he did was literally help save the world — and more to do with the fact most people in the survey couldn't select Roosevelt because they weren't alive when Roosevelt served.
But it makes for tasty headlines, we suppose.
"People's views of the best president of their lifetimes are partly tied to their ages," Pew says in an understatement. "Millennials, who are currently ages 22 to 37, are far more likely than older generations to name Obama as one of the best presidents in their lifetimes: About six-in-ten Millennials (62%) view Obama as one of the top two, with nearly half, 46%, naming him the best president."
The old-timers are more likely to select Ronald Reagan, Pew says.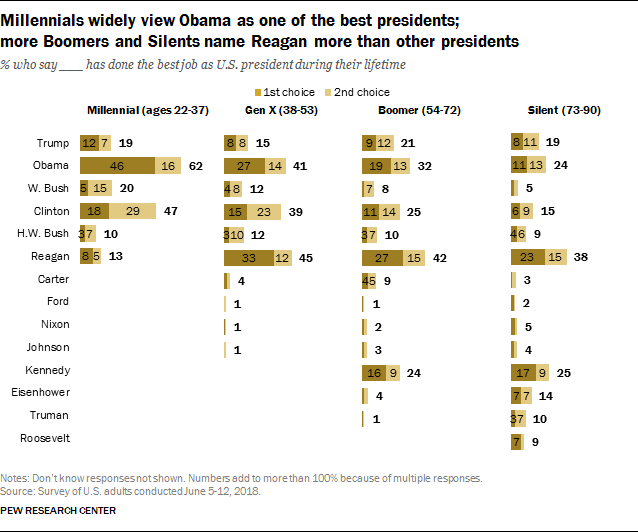 Is there much to really take away from surveys like this? Not really. History judges presidents. And Pew notes that people rarely name a sitting president as the best, even people who are members of a sitting president's party.
There's a little bit of bipartisanship in the survey. Fourteen percent of Democratic-leaning respondents gave credit to Reagan. Thirteen percent of Republicans surveyed say Obama has done the best job of any president of their lifetimes.