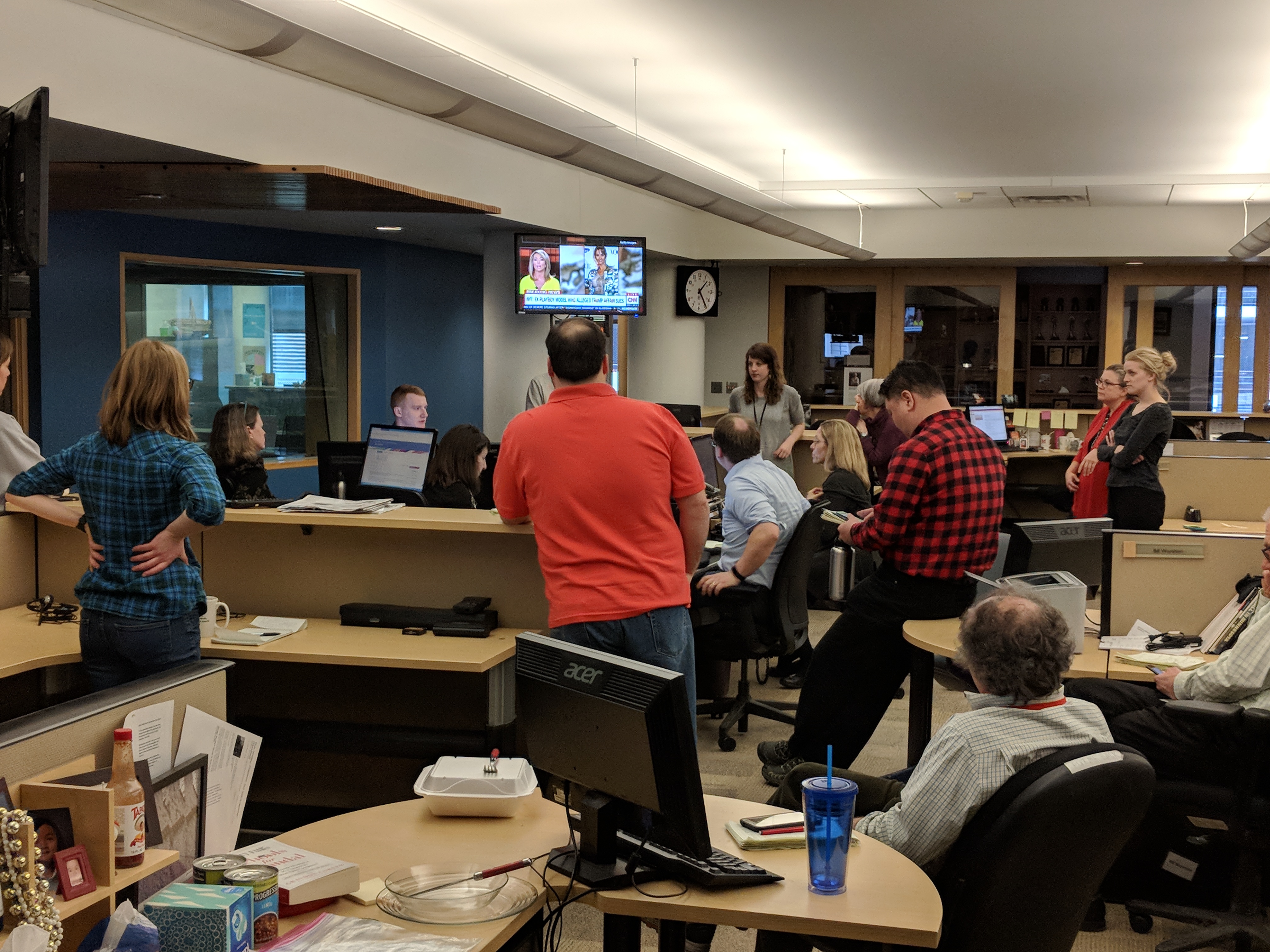 Tuesday July 3, 2018
(Subject to change as events dictate)
9 a.m. – MPR News with Kerri Miller
The evolution of the anti-abortion movement. It's been 45 years since the Supreme Court's landmark Roe v. Wade decision. We'll talk about how the anti-abortion movement has gained a lot of ground since then, including last week's high-court decision on pregnancy crisis centers.
Guests: Daniel K. Williams, associate professor of history at the University of West Georgia, and author of "Defenders of the Unborn: The Pro-Life Movement before Roe v. Wade"; Mary Ziegler, professor of law at Florida State University, and author of "After Roe: The Lost History of The Abortion Debate."
10 a.m.- 1A with Joshua Johnson
Immigration and Customs Enforcement was established in 2003. But the agency has been heavily scrutinized lately, tracking with the heightened criticism of President Trump's 'zero tolerance' immigration policy. Thousands of people demonstrated in Washington, D.C. and across the country on June 30 to protest the Trump administration's 'zero tolerance' policy
Should we abolish ICE? What's the best way to enforce our immigration policy?
Guests: Ron Nixon, homeland security correspondent, The New York Times; author of "Selling Apartheid: South Africa's Global Propaganda War"; S. Deborah Kang, associate professor of history at California State University San Marcos. Aauthor "The INS on the Line: Making Immigration Law on the U.S.-Mexico Border, 1917-1954"; Mark Pocan, congressman for Wisconsin's 2nd congressional district; John Sandweg , former acting director ICE, former acting general counsel DHS, Partner Frontier Solutions.
11 a.m. – MPR News at 11
As the Archdiocese of St. Paul and Minneapolis will shell out $40 million in a historic settlement and high school students, parishioners and even employees of Catholic institutions will feel the pressure of the payout.
Guest: Julie Craven, Media and Communications for Our Lady of Lourdes Church in Minneapolis.
12 p.m. – MPR News Presents
Aspen Ideas Festival "A Higher Loyalty: A Conversation with James Comey."
1 p.m. – The Takeaway
San Francisco pursues innovation at a price. Guest London Breed, the city's mayor-elect and a renter herself, says housing is her priority
2 p.m. – BBC NewsHour
We'll have more on that Thai cave rescue – we'll be there – and ask what psychologists and diving teachers can bring . And a rare chance to ask a high-up in the Nicaraguan government about the violence this year. And the latest from the World Cup as England and Colombia compete for a quarter final place .
3 p.m. – All Things Considered
How asylum really works; a visit to coal country; US-Mexico relations; modernizing Catholicism.
6:00 p.m. – Marketplace
Many classic American stories take place on a great road trip. A look at the cultural, and economic, significance of those long drives across the country.
6:30 p.m. – The Daily
United States prosecutors are looking to hold people criminally accountable for overdose deaths. They're settling on unexpected targets: other users.
Guests: Kimberly Elkins, whose fiancé died of a fentanyl overdose, and Rosa Goldensohn, who reported on the opioid crisis for The New York Times.
7 p.m. – The World
Homeland Security has to decide by Thursday about what to do with a thousand Yemenis living under protected status in the United States. Should it extend their protections or deport them to a war in progress?
8 p.m. – Fresh Air
Former U.S. Ambassador to Russia Michael McFaul is an expert on Russia and American Foreign Policy and is considered the architect of Obama's Russia policy. His new book is, "From Cold War to Hot Peace: The Inside Story of Russia and America". McFaul is currently a professor of political science at Stanford University, the director of Freeman Spogli Institute for International Studies and the Peter and Helen Bing Senior Fellow at the Hoover Institution.