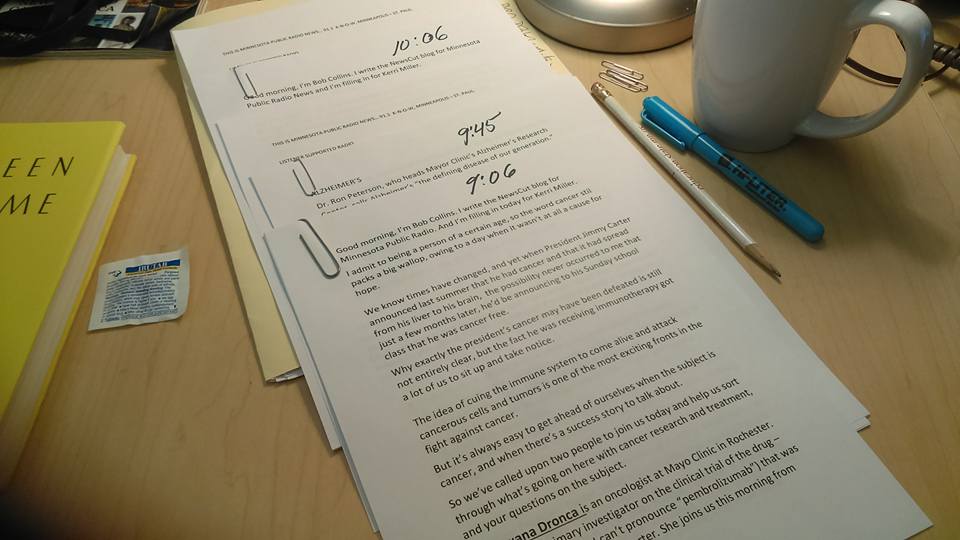 Tuesday July 31, 2018
(Subject to change as events dictate)
9 a.m. – MPR News with Kerri Miller (Chris Farrell hosts)
According to a report from the United Nations, America has a pervasive poverty problem. They state that 40 million Americans live in poverty and 18.5 million live in "extreme poverty." Why is this problem so widespread in America and why is it so difficult for families and citizens to leave poverty?
Guests: Tracey L. Ross, associate director, All-In Cities Initiative; Elaine Rasmussen, chief executive officer of Social Impact Strategies Group.
10 a.m.- 1A with Joshua Johnson
The Attorney General believes sheriffs are critical to American traditions of law enforcement. Jeff Sessions wants to strengthen the powers they have. But how much power do they have? Who are they? And why do we still elect sheriffs?
11 a.m. – MPR News at 11 (Chris Farrell hosts)
President Donald Trump and other political leaders have touted the Foxconn plant in Wisconsin as good for the local economy. Foxconn is an electronics manufacturing company based in Taiwan that is planning to develop in parts of south eastern Wisconsin. The Wisconsin government is willing to offer incentives to the tune of $3 billion in subsidies with the hope that what the company provides in jobs and pays in taxes will outweigh any expenses that the state had to pay.
This is the largest subsidy package offered to a foreign business of a local government, and may set a precedent for future contracts whether they be foreign or local.
Guests: Tim Bartik, senior economist at W.E. Upjohn Institute for Employment Research; Art Rolnick, senior fellow at the Humphrey Institute.
12 p.m. – MPR News Presents
Can Americans Come Together by Having Better Arguments?" Eric Liu, of the Aspen Institute's "Better Arguments" project, says America is in a perpetual, unresolvable fight among core principles. It's a good thing, and it's baked into our DNA. He moderates a discussion with the audience, and with Topeka Mayor Michelle De la Isla, Ramesh Ponnuru of the National Review, Stanford University political science professor Rob Reich and lingust Deborah Tannen, author of "You Just Don't Understand" and "The Argument Culture."
1 p.m. – The Takeaway
What to watch for in the trial of Paul Manafort.
2 p.m. – BBC NewsHour
Has North Korea restarted work on long-range ballistic missile?
3 p.m. – All Things Considered
The Manafort trial begins; wildfires: how did we get here; the era of downloadable guns; with Tottenham Hotspur playing AC Milan at the US Bank Stadium, we'll talk to Spurs legend Ledley King about the game, and whether this years World Cup has changed perceptions of the beautiful game in the U.S.
6:00 p.m. – Marketplace
A look at the challenges of LA real estate and traffic. In Southern California, being a homeowner costs a lot of money. And probably means a lot of driving, too.
6:30 p.m. – The Daily
Democrats are working on an election strategy for the 2018 midterms and beyond. It's one that deliberately sounds less ambitious than it is.
Guests: Representative Hakeem Jeffries, Democrat of New York; and Alexander Burns, who covers national politics for The New York Times.
7 p.m. – The World
President Trump yesterday offered to meet with Iran's leader without pre-conditions. Today Iran rejected that offer as "worthless." So where does that leave relations between Washington and Tehran? Host Marco Werman gets reaction from Barbara Slavin, who directs the Future of Iran initiative at the Atlantic Council, and from New York Times correspondent Thomas Erdbrink in Tehran.
Also, trade tensions between the US and China are having an impact on many American farmers. China is slapping retaliatory tariffs on American crops, like soy and corn, and prices have plummeted. President Trump has called on farmers to be patient and patriotic. The World's Jason Margolis visited Illinois, America's number one soy state, to see just how far farmers there are willing to go.
Plus, Marco speaks with Swedish activist Elin Ersson, who faced down irate passengers on a flight from Gothenburg to Istanbaul last week, as she tried to halt the deportation of an Afghan man who was put on the flight. Ersson says the mixed reception she received on the plane offers a snapshot of Sweden's deeply polarized society when it comes to immigration.
8 p.m. – Fresh Air
Dave Davies speaks with actor Tony Shalhoub. He's been nominated for an Emmy for his performance in the Amazon comedy series "The Marvelous Mrs. Maisel." Shaloub also starred in the TV series Monk and the film Big Night.