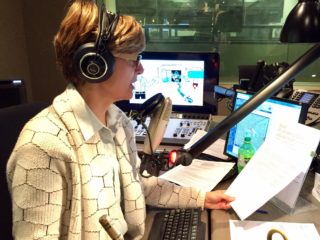 Monday July 9, 2018
(Subject to change as events dictate)
9 a.m. – MPR News with Kerri Miller
MPR News Host Kerri Miller runs down the week in politics with Ken Rudin, host of The Political Junkie Podcast.
9:20 a.m.- President Trump announces new Supreme Court nominee today. Who will it be and how are people gearing up for the confirmation hearings?
Guests: Ilya Shapiro, senior fellow in constitutional studies at the Cato Institute; Jimberly Atkins, chief Washington reporter/columnist, Boston Herald.
10 a.m.- 1A with Joshua Johnson
President Trump will name a successor to Supreme Court Justice Anthony Kennedy today.
Guest: Supreme Court Justice Stephen Breyer
11 a.m. – MPR News at 11
It's a seller's market. The Twin Cities is going through a housing shortage. Home sales fell 12 percent this Spring the demands for new homes is overtaking the number of new homes coming on to the market. Experts are saying it's a seller's market, is it the case that homebuyer beware or does the Twin Cities have a problem with housing?
Guests: David Arbit, the director of research & economics for Minneapolis Area Association of Realtors; Herb Tousley, Director of Real Estate Programs at the University of St Thomas.
12 p.m. – MPR News Presents
John McWhorter will break down modern English and explain why he thinks accepting linguistic changes can bring out the conservative in all of us.
1 p.m. – The Takeaway
A look at facial recognition technology; the World Cup's final four; how unpaid court costs have kept drivers off the road; the fight over a citizenship question on the census.
2 p.m. – BBC NewsHour
Brexit turmoil: The UK minister in charge of negotiations over leaving the European Union has resigned.
3 p.m. – All Things Considered
Artificial intelligence's gender problem; Nina Totenberg on the SCOTUS pick; preparing for heat waves; tariffs and the economy; is there a doctor in the MN House?
6:00 p.m. – Marketplace
The Immortal Henrietta Lacks and who can be the guardian of her cells and their rewards, if anyone. One tries in business and economic news to avoid the existential. Sometimes, though, you just can't.
6:30 p.m. – The Daily
President Trump is scheduled to announce his pick for a new Supreme Court justice at 9 p.m. Eastern. Here's a look at the top candidates to replace Justice Anthony M. Kennedy.
Guest: Adam Liptak, who covers the Supreme Court for The New York Times.
7 p.m. – The World
A South American country welcomed Europe's Jews before, during and after the Holocaust. And it's built strong ties with Israel. Now,
Paraguay has followed Donald Trump's lead by moving its embassy to Jerusalem.
8 p.m. – Fresh Air
Paul Greenberg writes about seafood and sustainability. His new book is "The Omega Principle: Seafood & the Quest for a Long Life and a Healthier Planet." It's about the science of fish oil supplements, the harvesting of the tiny fish that oil is extracted from, and the ripple effect this harvesting has on the health and abundance of the oceans. Greenberg is also the author of the James Beard award winning best seller "Four Fish and American Catch."