Man, we love our roadside kitsch.
Mr. Bendo has been standing outside a muffler shop in Sioux Falls since 1963. The people of Sioux Falls, S.D., have grown to like the guy. A local band wrote a song about him. And, of course, he's got a Facebook page.
When a car crashed into him on St. Patrick's Day in 2010, the locals put a cast on his foot pending a repair and people signed it. Sweet.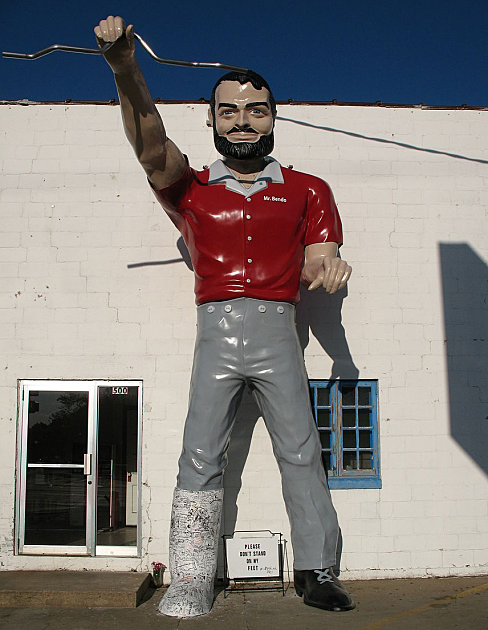 So it was bad news earlier this year when the guy who owned the muffler shop — Jerry Wallenstein — retired.
He was able to sell Mr. Bendo to another muffler shop, but then the politicians took over. They said Mr. Bendo could go up in his new location, but no tailpipe allowed. It violated signage rules because the tailpipe represented a business, thus it is illegal.
Duh. That's the point of Mr. Bendo.
"I've never heard anything so dumb in my life," Wallenstein told Sioux Falls Business.
He's got a point.
Mr. Bendo looked pretty silly without a tailpipe.
Outrage, muffler style, ensued. The people weren't going to take this standing up.
Finally, the city officials thought so too. They've now relented. The tail pipe is back, the Argus Leader newspaper reports.
"Mr. Bendo obviously means a lot more to the people of Sioux Falls than what we think," muffler shop owner Joe Darst said. "That's how the pipe came back in his hand."
That and the money he spent on an attorney to fight City Hall.
"They said 'there's two things that will never stay in Sioux Falls, Mr. Bendo and the Bob's Chicken sign," Darst said. "I didn't argue with them, I just hired an attorney."
City officials said they determined that Mr. Bendo isn't a sign, it's a work of art.
Meanwhile, the Happy Chef statue — a 36-foot spoon-wielding cook — that's stood at the entrance of Mankato, Minn., on U.S. Highway 169 for 50 years isn't going to get any landmark status.
The city's Heritage Preservation Commission is asking that it be placed on the list of historic landmarks in the city.
The owner says "no," the Mankato Free Press reports today.
"He stated that they are stewards of the history of the statute and have a fondness for the statue as well, and that they are interested in preserving the statute, just not in having the designation," according to the minutes of the Commission's August meeting cited by the paper.
The chain topped out at about 80 with nearly a third accompanied by the statutes. Founded by Mankato's Frederick brothers — Sal, Tom and Bob — who became legendary in the Minnesota restaurant industry. They believed they were the first restaurant to offer coffee in a thermos pot so java drinkers wouldn't have to wait for the waitress to refill their cups, they offered breakfast day and night, and the restaurants were popular stops for locals and highway travelers alike.

"And it started here," Commission Chair Jessica Potter said in June. "That's why it's historically significant, because it started here. And this is the last Happy Chef standing outside a Happy Chef restaurant."

The Mankato business, founded in 1963, is also the last Happy Chef restaurant still operating.

Operator Adrian Swales is keen to get the statute wired for sound and to resurrect some of the corny jokes he told kids who pushed the button. Most of those lines were focused on his height, but five decades later he could probably add some about his age: "I'm so old my Social Security number is 1; I'm so old that when God said, 'Let there be light,' I flipped the switch; I'm so old that they wanted me to be a Heritage Preservation Landmark."