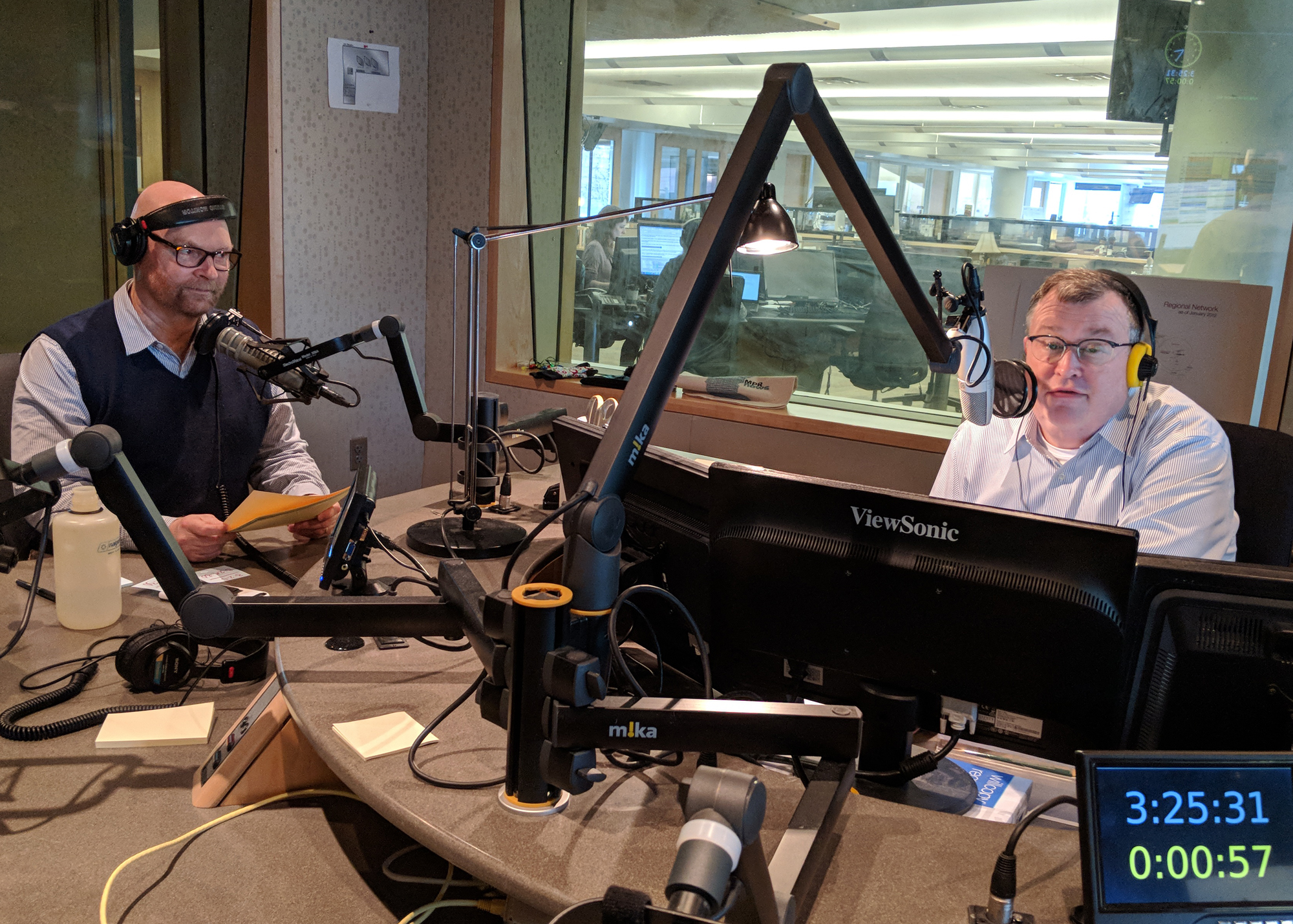 Tuesday August 21, 2018
(Subject to change as events dictate)
9 a.m. – MPR News with Kerri Miller
This weekend the president compared Mueller's probe to McCarthyism. But what was McCarthyism? And how does it compare to our current historical moment?
Guest: Elizabeth Cobbs, historian.
10 a.m.- 1A with Joshua Johnson
Catholics around the country are reeling and reflecting after the release of a sweeping grand jury report that implicated 300 priests in the abuse of more than 1000 children in Pennsylvania. The report contains searing details about minors who were victims of rape, assault, molestation and other abuses. And it articulates how the church's hierarchy covered it up over decades.
What will it take to bring these victims justice? Can the Catholic Church remain credible on moral issues as more information about sexual abuse comes to light? And how can Catholic leaders help correct a culture of violence that has targeted the church's most vulnerable members for so long?
Guests: Virginia Alvino Young, race, identity and equity reporter, WESA Pittsburgh; Mitchell Garabedian, lawyer, represents survivors of sexual abuse; Bob Hoatson, former Catholic priest, the Archdiocese of Newark, New Jersey. Now president, Road to Recovery.
11 a.m. – MPR News at 11
Since taking office, President Trump has challenged the integrity of intelligence officials. Last week the White House decided to cancel the security clearance of former CIA director John Brennan, after he was publicly critical of Trump's policies. Trump isn't the first president to challenge CIA intel.
Guests: Afsheen John Radsan, professor of Law at Mitchel Hamline; David Jackson, reporter at USA Today.
12 p.m. – MPR News Presents
The Islamic religious holiday Eid al-Adha is celebrated worldwide today. From the America Abroad series: "Backlash: Europe's Far Right… and Muslim Migration." Millions of Muslims from the Middle East and Africa have moved to Europe in recent years. This program looks at the xenophobic and violent populist movements that have been gaining steam in Europe. Anchored by Madeline Brand.
1 p.m. – The Takeaway
Marriage and citizenship.
2 p.m. – BBC NewsHour
How will the EU react to Britain's call for US-style sanctions on Russia over the Novichok poisoning?
3 p.m. – All Things Considered
Apps for reporting sexual assault; Hurricane Irma recovery in the Keys; Trump's war in Afghanistan.
6:00 p.m. – Marketplace
The surprising staying power of Old Hollywood. As TV and movies from the past are brought back to life, so is pricey memorabilia.
6:30 p.m. – The Daily
The policy began in secret. The Trump administration denied such a policy existed. And when it finally acknowledged that migrant children were being separated from their parents at the border, chaos ensued. Only now is the full picture of what happened and why becoming clear.
Guest hosts: Annie Correal, who covers New York City for The New York Times, and Caitlin Dickerson, an immigration reporter at The Times.
7 p.m. – The World
Microsoft says a group of hackers with links to the Russian government tried to launch cyber attacks on the Senate and anti-Trump conservative think tanks. The group, known as Fancy Bear, has been linked to previous hacking attacks. Host Marco Werman speaks with technology expert Zeynep Tufekci about the news. They explore how digital technologies went from instruments for spreading democracy to weapons for attacking it.
Then The World's Patrick Winn takes us to Seoul, South Korea, where some entrepreneurs are profiting off the prospect of a war with North Korea, by selling things like gas masks, hazmat suits and rations.
Plus Marco interviews Nazi-hunter Efraim Zuroff on the 95-year old former Nazi camp guard who was deported from the US early this morning.
And Marco checks in with Judaic studies professor Richard Freund on the archaeological dig to uncover the underground remains of the Great Synagogue of Vilna, in Lithuania.
Plus we have an update on the riots in Uganda, the flooding in India and Trump's coal emissions rollbacks.
8 p.m. – Fresh Air
Beth Macy talks to Dave Davies about her new book Dopesick: Dealers, Doctors, and the Drug Company That Addicted America. It's a ground-level look at the crisis in a new book focusing on central Appalachia, which she calls the birthplace of the modern opioid epidemic. Macy has spent three decades reporting on the region, focusing on social and economic trends and how they affect ordinary people. Her book is an intimate look at cops, judges, drug dealers, young heroin users and their long-suffering parents, doctors and health activists struggling to fight the epidemic – and executives of a pharmaceutical company that aggressively marketed opioids. Macy is also the author of Factory Man and Truevine. She was a reporter for the Roanoke Times from 1989 to 2014. In 2010, she was awarded the Nieman Fellowship for Journalism by Harvard University.