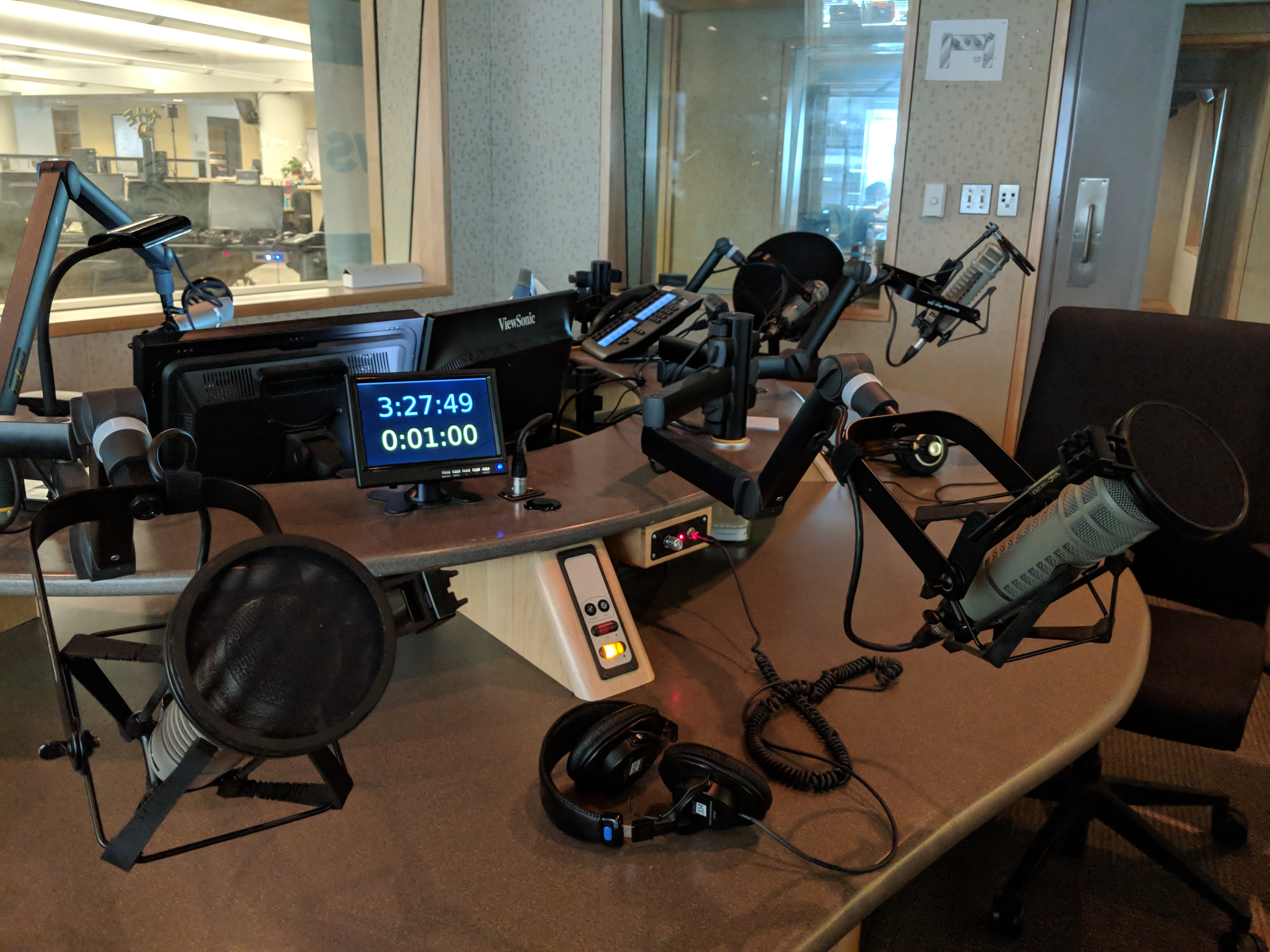 Thursday August 23, 2018
(Subject to change as events dictate)
9 a.m. – MPR News with Kerri Miller
Political Junkie at the State Fair. Kerri Miller and Ken Rudin will talk about Minnesota politics and the audience will have a chance to stump him with their political questions.
11 a.m. – MPR News at 11
Counter Stories with Brandt Williams. Conversations by people of color, for people of color and everyone else. This week the crew watched "Crazy Rich Asians."
12 p.m. – MPR News Presents
For MPR's Water Main initiative, Chris Farrell moderates a program about water quality and the destructive impact of aquatic invasive species. (Rebroadcast)
Guests: Jeff Forester, Minnesota Lakes and Rivers Advocates; Jim Wherley, co-owner of Sunset Bay Resort in Ottertail County; Kelly Pennington, Minnesota DNR.
1 p.m. – The Takeaway
A year after Hurricane Harvey, coastal communities in Texas and along the Gulf are still working to rebuild.
2 p.m. – BBC NewsHour
A trio of European airlines stop flying to Iran. Is it proof the new US boycott of Tehran is trumping Europe's commitment to the Iran deal? Is Australia on course to get its 5th prime minister in 5 years?
And there's new British computer-software that could revolutionize some cancer treatment.
3 p.m. – All Things Considered
An update on Greenland ice; Kavanaugh on the power of a president; Hawaii prepares for a hurricane; Georgia wants to close polling places in poor areas; Planet Money: yard-sale economics; State Fair opens; who's in charge of combating and controlling invasive aquatic species in Minnesota?
6:00 p.m. – Marketplace
"A city seeing hope in tariffs. Granite City, Ill., is a town all about American-made steel. So tariffs on imported steel are making a lot of people there happy.
6:30 p.m. – The Daily
The special counsel, Robert Mueller, has followed a set of rules devised to allow for the investigation of a sitting president. Those rules will now be tested.
Guests: Neal Katyal, who drafted the regulations that govern Mr. Mueller's investigation, and Michael S. Schmidt, who has been covering the special counsel investigation for The New York Times.
7 p.m. – The World
We're starting the show in Puerto Rico, where some residents have had to wait almost a year after Hurricanes Irma and Maria devastated the island to get their electricity back. The World's Carolyn Beeler traveled to Puerto Rico and has the story of one resident who's still waiting.
Later, we'll get an update on the war in Afghanistan. The top US military commander in Afghanistan said this week that the president's military strategy there is working. Host Marco Werman speaks with Kabul-based journalist Lotfullah Najafizada, about recent violence in the country and efforts to start a new round of peace talks.
And then reporter Rupa Shenoy reports from Toronto, where the government is struggling to find enough housing for refugees fleeing President Trump's immigration crackdown here in the US.
Plus, Cuba experiments with giving people internet on their phones.
And we hear about the set-jetting trend, where people travel the world to check out locations where their favorite TV shows were filmed.
8 p.m. – Fresh Air
Turning the Israeli-Palestinian conflict into a hit TV series. Dave Davies speaks with Avi Issacharoff, co-creator of the Israeli action series Fauda, which is now streaming on Netflix. Issacharoff is an Israeli journalist who's covered the Palestinian conflict for years. Some stories in the series come from his reporting.