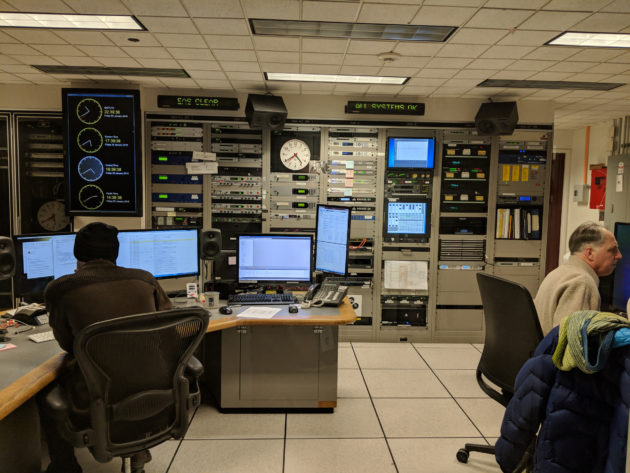 Thursday September 13, 2018
(Subject to change as events dictate)
9 a.m. – MPR News with Kerri Miller
Guest: Julie Schumacher, who new novel is "The Shakespeare Requirement."
10 a.m.- 1A with Joshua Johnson
Twenty years ago, a horrific crime on the New York Subway changed the way we treat the mentally ill. Andrew Goldstein went off his meds and shoved Kendra Webdale in front of a subway car in Manhattan. Now he's walking out of prison and into a mental health system that his horrific crime changed.
Guests: Bill Keller, editor-in-chief, The Marshall Project; Eric Smith, graduate student in San Antonio, TX. Spent several years in Assisted Outpatient Treatment; Dr. Marvin Swartz, professor of psychiatry and behavioral sciences, Duke University; Beth Haroules, , senior staff attorney, NY-ACLU.
11 a.m. – MPR News at 11
The Counter Stories panel discusses the Serena Williams cartoon, widely decried as racist, that was published in an Australian newspaper this week. The cartoon from The Herald Sun was drawn by Mark Knight after the U.S. Open women's final in which Serena Williams and umpire Carlos Ramos got into heated exchanges.
The group also discussed the fatal shooting of Botham Shem Jean by an off-duty Dallas police officer. The officer who shot him lives in the same building as Jean and claims that she mistook his apartment for her own and believed he was an intruder.
Panelists: Don Eubanks, associate professor at Metropolitan State University and cultural consultant; May Losloso, senior organizer with the Children's Defense Fund; Luz Maria Frias, president and CEO of YWCA Minneapolis; Brandt Williams, MPR News reporter.
12 p.m. – MPR News Presents
A new APM Reports documentary, "Hard Words: Why American Kids Aren't Being Taught to Read." More than half of American kids can't read very well, and many teachers don't know the science of how children learn to read and how they should be taught.
1 p.m. – The Takeaway
Hurricane Florence barrels toward the U.S. And while some in its path can afford to leave their homes for safety, others are forced to stay behind. What does it mean to adequately protect our most vulnerable citizens before and during a catastrophic storm?
2 p.m. – BBC NewsHour
The Pope meets top US clergy to tackle the latest wave of sex abuse allegations. The monster typhoon about to hit the Philippines. And the prime suspects in the nerve agent poisoning appear on Russian TV.
3 p.m. – All Things Considered
Obama in Cleveland; the new head of Planned Parenthood; young non-voters in Las Vegas; what should Minnesota farmers do with soybeans they can't sell; Joe Mauer's retirement planning; Climate Cast with Paul Huttner.
6:00 p.m. – Marketplace
After Hurricane Maria devastated Puerto Rico in 2017, two million people needed food, so chef Jose Andres stepped in with a plan.
6:30 p.m. – The Daily
Lost in the Storm, Part 1
One year ago, Houston thought it was prepared for Hurricane Harvey. As another major hurricane approaches the U.S., we look at how flooding overwhelmed Houston's emergency systems, and how one family found out that they were on their own.
Guests: Annie Brown, a producer for The Daily, speaks with Wayne Dailey, who sought urgent medical care for his wife during Hurricane Harvey, and Sheri Fink, who reported this story for The New York Times Magazine.
7 p.m. – The World
While the Carolinas prepare for the arrival of Hurricane Florence, millions of people on the other side of the planet are bracing themselves for Typhoon Mangkhut . That storm is packing winds of over 150 miles an hour and heading straight at the Philippines. The World's host Carol Hills speaks with Richard Gordon, who's with the Red Cross in Manila.
Also, federal funds diverted from FEMA to ICE. It happened earlier this year. Carol gets the story from Mary Small, director of the non-profit Detention Watch Network, about more than 10 million dollars in government money that was taken away from the Federal Emergency Management and diverted to Immigration and Customs Enforcement.
And for the next story in our week-long series from Afghanistan, The World's Shirin Jaafari reports on the trend of plastic surgery. It is becoming more popular there. But the reasons might come as a real surprise.
Then, accusations of anti-Semitism in the UK. Britain's Labour party finds itself at the center of a very public debate about what constitutes anti-Semitism. Party leader Jeremy Corbyn's past statements have brought criticism from Jewish leaders in Britain. Carol Hills speaks with columnist for the Guardian newspaper, Jonathan Freedland in London.
8 p.m. – Fresh Air
Michael Che and Colin Jost are head writers for Saturday Night Live, and they anchor Weekend Update on the show. The two are hosting the Emmy awards Monday, September 17.