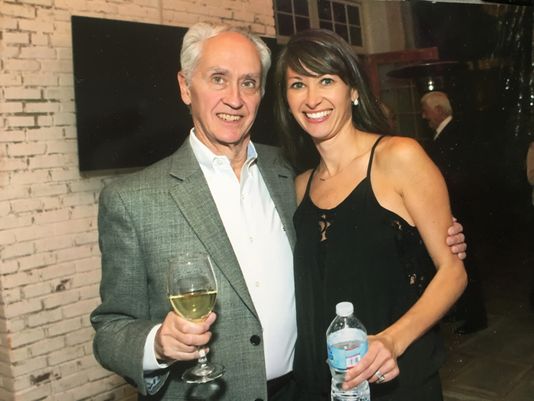 Rick Stein's family raised the obituary/death notice bar with their obituary in a Delaware paper.
Here:
Wilmington – Rick Stein, 71, of Wilmington was reported missing and presumed dead on September 27, 2018 when investigators say the single-engine plane he was piloting, The Northrop, suddenly lost communication with air traffic control and disappeared over the Atlantic Ocean off the coast of Rehoboth Beach.

Philadelphia police confirm Stein had been a patient at Thomas Jefferson University Hospital where he was being treated for a rare form of cancer. Hospital spokesman Walter Heisenberg says doctors from Stein's surgical team went to visit him on rounds when they discovered his room was empty.

Security footage shows Stein leaving the building at approximately 3:30 Thursday afternoon, but then the video feed mysteriously cuts off. Authorities say they believe Stein took an Uber to the Philadelphia airport where they assume he somehow gained access to the aircraft.

"The sea was angry that day," said NTSB lead investigator Greg Fields in a press conference. "We have no idea where Mr. Stein may be, but any hope for a rescue is unlikely."

Stein's location isn't the only mystery. It seems no one in his life knew his exact occupation.

His daughter, Alex Walsh of Wilmington appeared shocked by the news. "My dad couldn't even fly a plane. He owned restaurants in Boulder, Colorado and knew every answer on Jeopardy. He did the New York Times crossword in pen. I talked to him that day and he told me he was going out to get some grappa. All he ever wanted was a glass of grappa."

Stein's brother, Jim echoed similar confusion. "Rick and I owned Stuart Kingston Galleries together. He was a jeweler and oriental rug dealer, not a pilot." Meanwhile, Missel Leddington of Charlottesville claimed her brother was a cartoonist and freelance television critic for the New Yorker.

David Walsh, Stein's son-in-law, said he was certain Stein was a political satirist for the Huffington Post while grandsons Drake and Sam said they believed Stein wrote an internet sports column for ESPN covering Duke basketball, FC Barcelona soccer, the Denver Broncos and the Tour de France. Stein's granddaughter Evangeline claims he was a YouTube sensation who had just signed a seven-figure deal with Netflix.

When told of his uncle's disappearance, Edward Stein said he was baffled since he believed Stein worked as a trail guide in Rocky Mountain National Park. "He took me on a hike up the Lily Peak Trail back in the 90s. He knew every berry, bush and tree on that trail." Nephew James Stein of Los Angeles claimed his uncle was an A&R consultant for Bad Boy records and ran a chain of legal recreational marijuana dispensaries in Colorado called Casablunta.

Niece Courtney Stein, a former Hollywood agent, said her uncle had worked as a contributing writer for Seinfeld and Curb Your Enthusiasm and was currently consulting on a new series with Larry David.

People who knew Stein have reported his occupation as everything from gourmet chef and sommelier to botanist, electrician, mechanic and even spy novelist. Police say the volume of contradictory information will make it nearly impossible to pinpoint Stein's exact location.

In fact, the only person who might be able to answer the question, who is the real Rick Stein is his wife and constant companion for the past 14 years, Susan Stein. Detectives say they were unable to interview Mrs. Stein, however neighbors say they witnessed her leaving the home the couple shared wearing dark sunglasses and a fedora, loading multiple suitcases into her car. FAA records show she purchased a pair of one-way tickets to Rome which was Mr. Stein's favorite city.

An anonymous source with the airline reports the name used to book the other ticket was Juan Morefore DeRoad, which, according to the FBI, was an alias Stein used for many years.

That is one story.

Another story is that Rick never left the hospital and died peacefully with his wife and his daughter holding tightly to his hands.

You can choose which version you want to believe or share your own story about Rick with us at the Greenville Country Club on Friday, November 9, 2018 from 3:00-6:00pm.
"I wasn't sure how it'd be received," Alex Walsh, his daughter and the writer of the obit, told Delaware Online.
"No words could ever do him justice," she said. "But we did our best to come close."
She had earlier written her aunt's obituary, saying she died of disco fever.
Rick Stein died from an aggressive form of liver cancer not long after he was diagnosed.
(h/t: Cat Zadra)