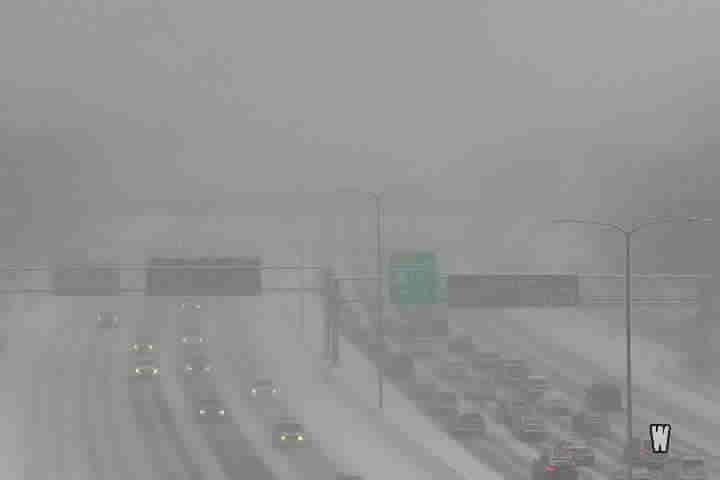 "I thought you guys were supposed to be good at this winter stuff," an out-of-towner said to me late Thursday night when I dropped him off at a hotel on the Bloomington strip. It had taken us about 45 minutes to drive from Fairview Hospital, taking the deserted river roads instead of returning to the disaster on the interstate I'd been seeing all evening.
He had witnessed scores of accidents and spin-outs — none with any authorities nearby — along a stretch or two which I'd carefully navigated around in one of the ways I look for interesting people and ideas to blog about — driving for a ride-share service.
Apparently, he's flying off to Riyadh, Saudi Arabia Friday armed with a story about how Minnesotans, except for one heck of a ride-share driver, don't know how to drive in the snow.
That's too bad, because that's not the story of what happened last night; quite the opposite actually.
I hit all the major thoroughfares and a lot of the minor ones — 35W, 494/694, Hennepin Avenue, 94, 100, 394, Excelsior Blvd., Lyndale, etc — and it wasn't until close to 11 p.m. I spied my first MnDOT salt trucks/plows — over the Wakota Bridge. That was one more than any city or county equipment the entire evening.
Hennepin County didn't dispatch help until 2 a.m. Friday, the Star Tribune reported.
Surprisingly, the takeaway last night is, aside from the usual goof (I'm looking at you, young driver in Uptown who slowed and then sped through the red light on into the oncoming path of a car that barely skidded to a halt in time after you got flustered and decided to just stop in the middle of your illegal turn), the drivers were pretty skillful on roads that were mostly clear of those responsible for clearing and treating them.
If there was a crawl on the interstate, it was often because people were driving slow — not too slow — given the glare ice they were on, fully matching their driving to the road conditions, just as MnDOT and the State Patrol lecture us about constantly. They left lots of room between them and the car in front. Why, I'd bet they even had their hands at 10 and 2 on the steering wheel.
That's all more nuance, perhaps, than the warm folks at home, watching things unfold on the TV news, can understand, but it's an underreported reality nonetheless. We're actually pretty good at this.
True, there are certain things you can't do in conditions like last night that people's habits make them do. The person in the SUV on 35E near Maryland Avenue, who decided to change lanes on short notice, hitting the accelerator to do so, with traffic approaching in the other lane, found out how the law of physics works the hard way.
But for the most part, what drivers last night accomplished was pretty impressive, though the people of Riyadh will never learn of it.
The people doing the driving weren't lying about what was happening.
Just got home from work (EP to Roseville), it was greasy on the freeways and side streets. Another quality prep job by MnDOT…

— Michael Imholte (@overdrive535) November 9, 2018
PS – MNDOT can close roads well, the clearing seems to be a problem this week.

— BMF (@Lafcurve) November 9, 2018
Dear @MnDOTnews Minnesotans are very good with snow. It's half our year. #MNDOT does a fabulous job clearing our roads all winter. Why is it that the first couple of snows we get each year MMDOT is always late to the party? #DeployThePlows #DropSomeSand

— Jody Holloway (@JHollowLog) November 9, 2018
Maybe MnDot should be proactive, 494 in Bloomington is pure ice. The last couple of years they can't figure out when to get out there and treat the roads.

— Ryan Flinck (@BaBoffRoad) November 9, 2018
As you attempt your 2 hour commute to work, seeing collisions, rollovers, Jack knifed semis, and people leaving in ambulances, remember one thing.

This is all your fault. MNDOT did nothing over night. No plows, no salt, no sand.

But it is your fault. Because they said so.

— Bryan Reynolds ☠ (@BReynoldsMN) November 9, 2018
MNDOT, what are you even doing? 🧂🧂🧂

— Kate | superkate_88 (@kateglassman) November 9, 2018
By mid-evening, MnDOT was assuring Twitter it was out, apparently as usual, even if people weren't seeing any proof.
Welcome! Yup, we're out and working. pic.twitter.com/6UmtrTNwqC

— MnDOT (@MnDOTnews) November 9, 2018
The good news is we've gotten the first "storm" out of our system now and we can get on with winter.
The drivers of Minnesota have shown they're ready for it. Last night, they did their part to prove it.