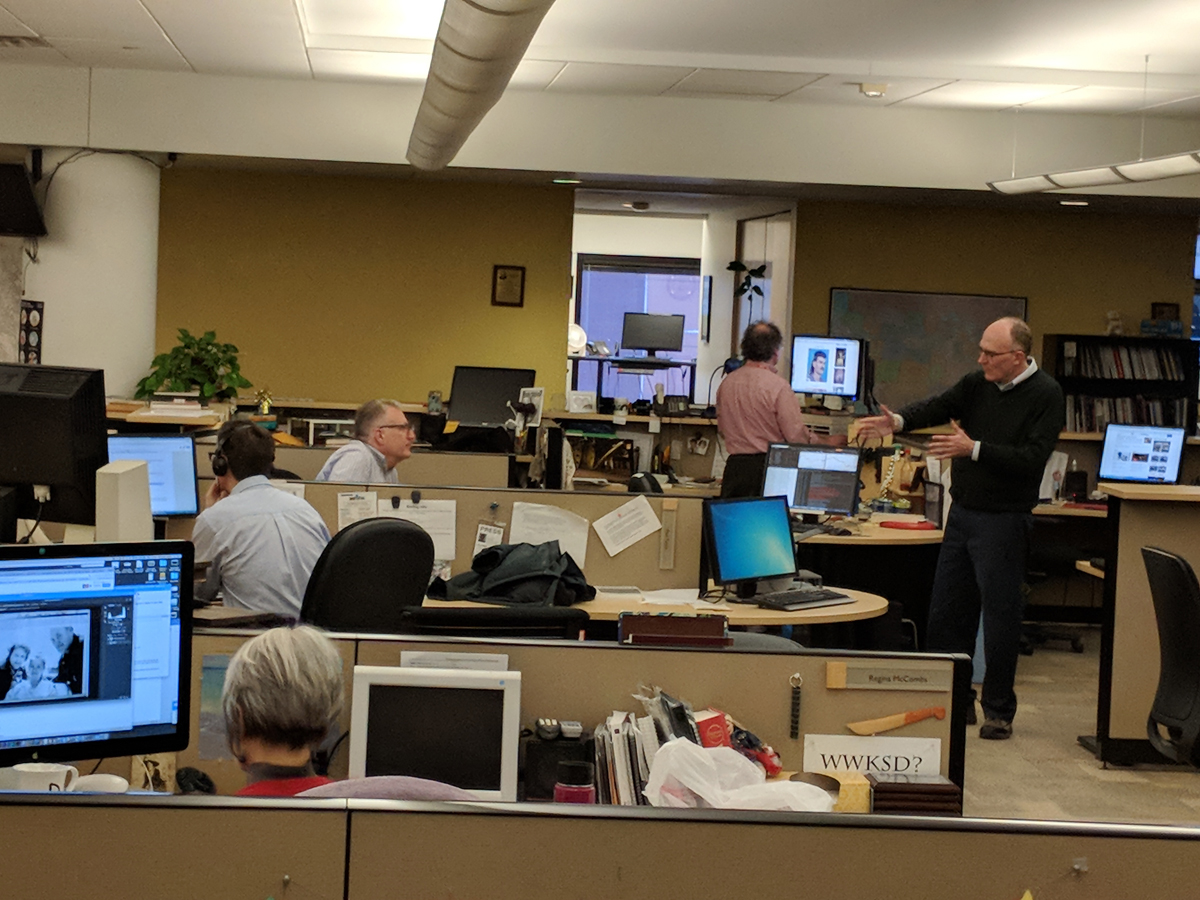 Wednesday Nov. 14, 2018
(Subject to change as events dictate)
9 a.m. – MPR News with Kerri Miller
America has a dark history of racism that continues today. Many adults have difficulty understanding and talking about race, let alone explaining it to their kids. What are best practices for parents talking to their kids about racism? And how do parents' decisions about schools, clubs and friends communicate their values to their children?
Guests: Jemar Tisby, president of "The Witness," a black Christian collective; Anastasia Higginbotham, author of "Not My Idea: A Book About Whiteness."
10 a.m.- 1A with Joshua Johnson
Born as Stanley Lieber to immigrants, he was an avid reader who dreamed of literary fame. He found his way into comics. First, he filled inkwells in the years when the medium was considered a public menace.
Soon, he was writing comics. He split his first name into two in the credits (he legally changed his name in the 1970s) of his earliest works, implying that his new comics imprint, Marvel, had more writers than it really did. And those credits appeared on stories about heroes who were a little more human than the caped crusaders that dominated the comic book shop shelves. Spider-Man might save the day, but he still has to do his homework. The Fantastic Four were a formidable fighting force that couldn't stop bickering at times.
Stan Lee may have lived an American story, but then he ended up creating them.
Guests: Evan Narcisse , senior staff writer, io9/Gizmodo, co-author of "Rise of the Black Panther"; Jessica Merriman, founder of MomoCon and director of Animation at Dragon Con; Jennifer Brett, multiplatform journalist and digital coach, Atlanta Journal Constitution.
11 a.m. – MPR News at 11
An estimated 30,000 people died from opioid overdoses in the U.S. in 2017. With so many people being affected what is being done to treat addiction?
Guests: Marco Pravetoni, associate professor, Department of Pharmacology, senior investigator at the Minneapolis Medical Research Foundation in the Hennepin County Medical Center; Joseph Lee, M.D., medical director, Hazelden Betty Ford Foundation Youth Continuum.
12 p.m. – MPR News Presents
Historian Walter Russell Mead, who spoke recently at the Institute for Freedom and Community at St. Olaf College. "Examining 'America First': Nationalism and Jacksonian Democracy in the 21st century."
1 p.m. – The Takeaway
A look at evacuation protocols and infrastructure, as California's deadliest wildfire continues to burn.
2 p.m. – BBC NewsHour
High stakes for Britain's Prime Minister Theresa May. She tries to persuade her cabinet to back her Brexit deal; and what hope of a long term truce between Israel and Hamas in Gaza? Today, the defense minister for Israel quit.
3 p.m. – All Things Considered
Hurricanes and tall buildings; the effect of the California fires on air quality; the voting update from Florida; the crisis in Yemen escalates.
6:00 p.m. – Marketplace
A conversation with CEO of AEG. From the Barclays Center in New York to the Staples Center in Los Angeles to Target Center in Minneapolis, AEG is behind them and more than a hundred more of the world's largest entertainment venues.
6:30 p.m. – The Daily
Republicans, seeking to secure the party's majority and agenda in the Senate, are determined to delegitimize the statewide recount underway in Florida. We look at what Democrats have learned since the last time Republicans used that strategy.
Guests: Maggie Haberman, a White House correspondent for The New York Times; Jeremy W. Peters, who covers politics for The Times and is reporting on the recount from Tallahassee.
7 p.m. – The World
Brexit – why does it matter? We're watching as the British government comes "significantly closer" to a formal divorce agreement with the European Union. The World's Matthew Bell explains what's at stake for Americans, and why the Northern Ireland border has got everyone's knickers in a twist.
Also, we'll hear how Steve Bannon, President Trump's former right-wing advisor and a strong supporter of Brexit, is resurfacing this week in Oxford, England. He's been invited to lecture at the university there.
Plus, why Kirstjen Nielsen may soon be sidelined as secretary of Homeland Security, and how the US government has lost track of released Guantanamo detainees.
And we find out why a building that's just down the road from our studios, Boston's City Hall, became a global architectural icon. Some call it the Taj Mahal of brutalism, the style of architecture known for big, blocky structures made from exposed concrete.
8 p.m. – Fresh Air
Director Sandi Tan's new documentary, "Shirkers", is about the film she made as a teenager in 1992 in Singapore where she lived. She wrote and starred in the film; a mentor twice her age directed it. Once they stopped filming he disappeared with the footage, and she lost track of the film for decades. Shirkers was awarded a directing prize at Sundance.