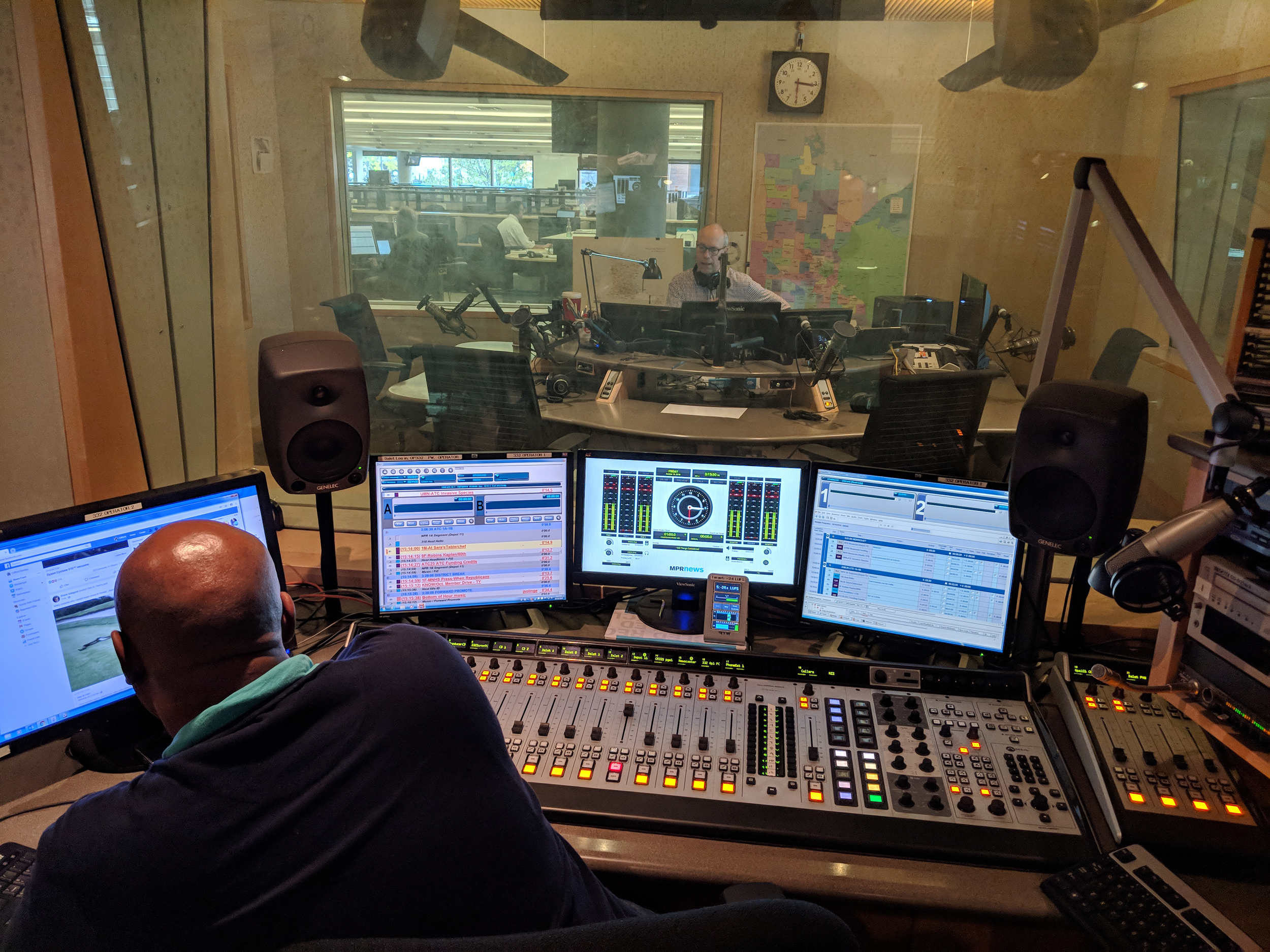 Friday November 2, 2018
(Subject to change as events dictate)
9 a.m. – 1A with Joshua Johnson
Domestic news roundup. The nation is reeling after Saturday's mass shooting at the Tree of Life synagogue in Pittsburgh. Funerals were held throughout the week for the 11 victims. Robert Bowers, the man accused of the mass shooting, pled not guilty in his first court appearance on Thursday.
With less than a week to go before the midterms, early voting numbers are at a record high in over a dozen states. How close is the battle for control of Congress?
On Monday, President Trump told Axios he will use the executive order to end birthright citizenship for children of non-citizens and unauthorized immigrants born in the U.S. Is this move constitutional?
The Department of Defense also announced Monday that it will deploy at least 5,200 troops to the U.S.-Mexico border as the migrant caravan continues to trek north.
Guests: Wendy Benjaminson, managing editor, McClatchy DC Bureau; Naftali Bendavid, news editor, The Wall Street Journal; Jessica Taylor, lead digital political reporter, NPR.
10 a.m.- 1A with Joshua Johnson
International news roundup. Secretary of Defense James Mattis and Secretary of State Mike Pompeo called for a ceasefire in Yemen in 30 days. The American government supported the Saudi air campaign for three years prior to this.
In Germany, Chancellor Angela Merkel confirmed that her current term will be her last, and that she will step down in 2021. Her announcement follows state elections that brought double-digit drops in the vote shares of center-left and center-right parties. Who could fill Merkel s role? What's behind her decision not to run again?
As predicted, in Brazil, far-right leader Jair Bolsonaro was elected to the presidency, despite fierce campaigning against him. Bolsonaro is well known for provocative statements about women and other minorities. Why are some calling him Brazil's version of President Trump?
Guests: Nina-Maria Potts, director of Global News Coverage, Feature Story News; Rajini Vaidyanathan, BBC correspondent and anchor for World News America; Clemens Wergin, Washington bureau chief, Die Welt, a moderately conservative German daily newspaper.
11 a.m. – MPR News at 11
There are only four days to go before the 2018 midterm elections. In today's broadcast, we'll talk to some of the candidates in races you might not have thought too much about. We'll hear from the major party candidates for Minnesota Secretary of State and State Auditor, and we'll hear from leaders of the state House about control of the Legislature.
We'll also check in with MPR political reporters about judicial races that will be on the ballot – and the final campaign rallies of this election season.
12 p.m. – The Takeaway
A mid-term election preview.
1 p.m. – Science Friday
Are ants a fluid or a solid? A tour of the wonders of the animal world, from squishy balls of ants, to bugs that walk on water, and the amazing drying capabilities of a shaking dog. Plus, researchers give paralyzed patients the ability to walk again.
2 p.m. – BBC NewsHour
The US reinstates sanctions on Iran; the cleric known as the father of the Taliban has been killed; do virtual border guards actually work?
3 p.m. – All Things Considered
The week in politics; the GOP agenda after the midterms; climate change as a Minnesota campaign issue; the reaction on the southern border to the invasion of US troops; how hunters are changing their practices because of CWD; Bob Mondelo's review of "Bohemian Rhapsody."
6:00 p.m. – Marketplace
It's combination of a diary, a planner, a sketchbook and a to-do list, all in one. A conversation with the inventor of the Bullet Journal.
6:30 p.m. – The Daily
Two years ago, news organizations including The New York Times were accused of having misled the country with voting projections. Here's what we're doing differently this time.
Guest: Nate Cohn, who covers elections, polling and demographics for The Times.
7 p.m. – The World
We asked people from our audience who are new US citizens to let us know what voting in next week's midterms means to them. Host Marco Werman will share several of the response we got, and speak to one of our listeners in Texas who is voting for the very first time on Tuesday.
Also today, we'll be focusing on climate change as an election issue for these midterm elections. The World's Carolyn Beeler will tell us about climate initiatives that are on the ballot in a few states around the US. And Jason Margolis reports from Houston, Texas, where the legacy of Hurricane Harvey and the need to prevent massive flooding from the next big storm are key parts of the debate ahead of a Congressional race there.
Plus we get on update on the progress of thousands of migrants from Central America who continue to make their way north through Mexico, toward the southern US border.
And as "Bohemian Rhapsody" opens in movie theaters across the US, we hear about a part of Queen frontman Freddie Mercury's life that doesn't get much attention in the film: his roots on the island of Zanzibar, off the east coast of Africa.
8 p.m. – Fresh Air
A rebroadcast of Terry Gross' interview with comic and former Daily Show correspondent Hasan Minhaj, whose 2017 Netflix special is about being a Muslim American, and the son of Indian immigrants, in President Trump's America. His new comedy series, Patriot Act, explores today's cultural and political landscape.