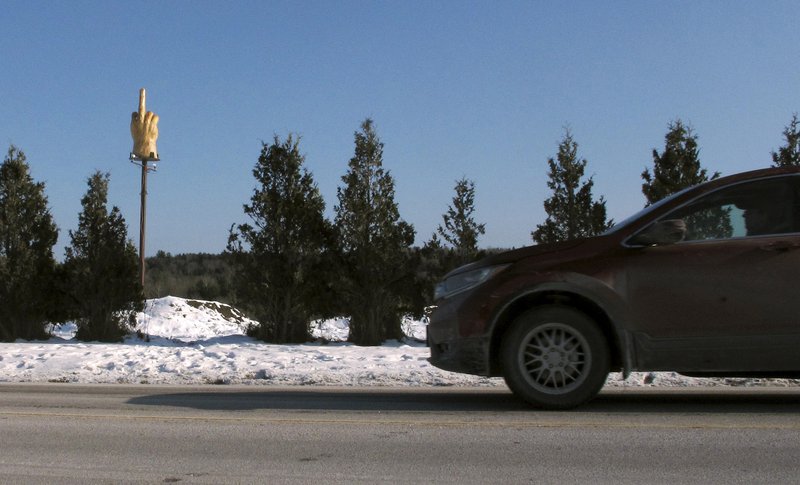 There's nothing we like better than a good, old neighborly feud that results in an art installation. And by "art installation," we mean a large sculpture of a hand with its middle finger extended.
Ted Pelkey, a 54-year-old mechanic in Vermont, has been trying for 10 years to move his business — a truck and trailer repair business — to his home in Westford, Vt.
The town initially signed off on the project, the Boston Globe reports, but then neighbors complained. Then the town delayed the permit. That's his story, anyway; town officials aren't talking.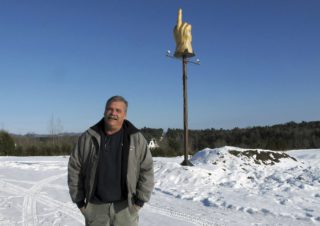 Pelkey says he was looking for a way to "stick it to the town."
"Too bad I can't go buy a big [F-bomb] middle finger and put it on a post out there," he told the Globe.
Eureka!
He commissioned a sculptor to turn a 7-foot-tall, 600-plus-pound chunk of pine into a single-finger salute.
As they say in Vermont, "Jesum Crow!"
The finger, Pelkey explains, was intended to be only a temporary installation; within a few days of its unveiling, he figured, he'd receive word from the town that it needed to be removed.

But in an unexpected twist, town officials have revealed that because the piece is considered public art, there's nothing they can do to compel Pelkey to remove it. The Vermont Agency of Transportation has declared the finger out of its jurisdiction, as well, saying a state law banning billboards does not apply because it's not an advertisement.

The bird, in other words, is free to soar. And it has.
Last Saturday, more than 100 cars stopped to take a picture of the art work that has become known simply as "the finger."
He's hoping the publicity will lead the town to cave in and give him his permit, ignoring the fact that that's not the way it ever works in Vermont.