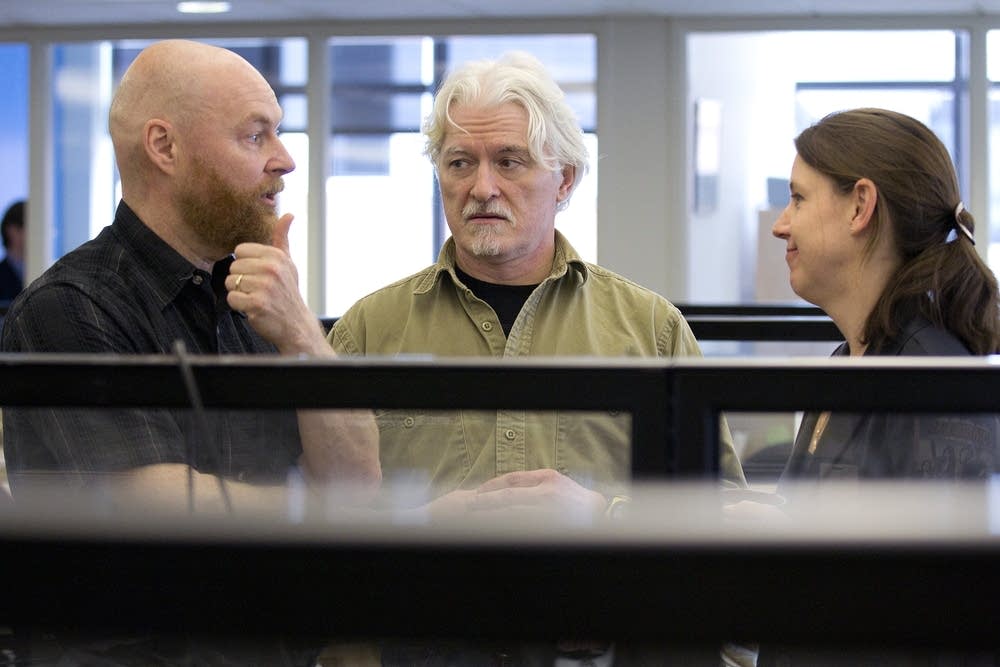 Nothing can save a journalism career like a little attribution. And yet, every now and again, we hear the stories of journalists who lift the work of other journalists and pass it as their own.
That appears to be the case with Colin Covert, the Star Tribune's movie reviewer, who's been on staff there for 30 years. So it's safe to say, he should've known better.
Covert has "resigned" after an investigation by the paper into some of his reviews turned up language that was too unique to be anything but a rip-off of someone else's work.
In a note posted to the paper's website Monday evening, editor Rene Sanchez says a reader noticed similarities between Covert's reviews and other reviews.
"Nine" had used a unique phrase from the late New Yorker film critic Pauline Kael. Editors confirmed the phrase — "self-glorifying masochistic mush" — was used by Kael in 1974.

After additional research, editors identified other phrases in Covert's "Nine" review that are identical to phrases in other reviews written by Kael, including "archaic big-musical circus," "comic-strip craziness" and "stardust is slightly irritating." Further examination of some of Covert's work identified eight other reviews that contained unique phrases used previously by writers for the New York Times, Paste Magazine, vulture.com, the Wall Street Journal, IndieWire and Hollywood Reporter.

The reviews by Covert in question span many years, but one was published as recently as November 1. In that review, of the film "Can You Ever Forgive Me?", Covert wrote: "There's breathtaking craft and control in her performance, but not once do you sense the tools at work." A year earlier, in a Nov. 27, 2017, review of "Call Me by Your Name," Jon Frosch wrote in the Hollywood Reporter: "There's breathtaking craft and control in the performance, but not once do you sense the tools at work."
It's an inglorious end to a long career in the Twin Cities.
"I'm sorry to say that through too many mistakes over the last 30 years I have compromised the Star Tribune's meticulous reputation for integrity," he said in a statement. "The paper has given me the opportunity to craft a wonderful, important career and through its benefits safeguarded me through three serious health crises. It is no exaggeration to say that I am grateful from the bottom of my heart. When blunders occur it is proper to admit them, correct them and move on."
Writing in Columbia Journalism Review several years ago, editor/publisher Elizabeth Spayd — this is me attributing — suggested the rules of plagriasm are outdated:
… many top editors are cleaving to an old and rigid definition of plagiarism—labeling it "the unforgivable sin"—while building large staffs dedicated to aggregating without attribution. It's not that stealing another writer's work is proper. It isn't. It's that editors don't clearly define when circumstances allow reporters to take material from others and when they do not. Do the circumstances matter? Is lifting several consecutive paragraphs of exquisite writing the same as not bothering to rephrase a sentence from a report? To my mind, the latter is laziness; the former is theft.

But in many newsrooms, the editors seem to have just one ruler they use to measure every infraction, an approach that has passed its prime.
Indeed, many news organizations are loathe to credit other news organizations for stories that the other organization broke, not wanting to give credit to the competition. In theory, then, many stories that appear in the paper are based on someone else's uncredited work.
Are a few words in a review much different?
Archive: NPR Acknowledges Plagiarism In 10 Music Stories (NPR)