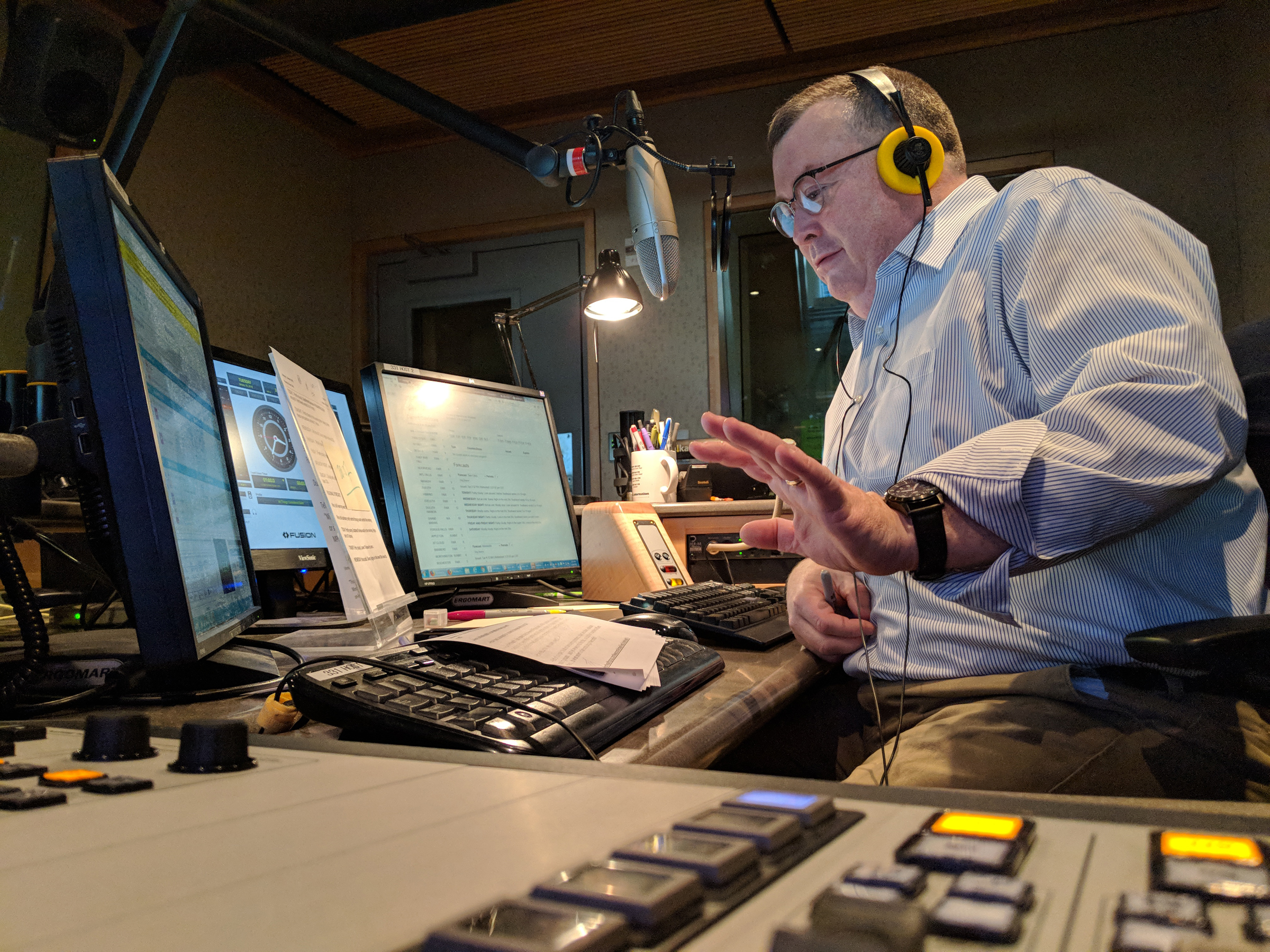 Friday Dec. 14, 2018
(Subject to change as events dictate. This page is updated throughout the day.)
9 a.m. – 1A with Joshua Johnson
Domestic news roundup. On Wednesday, President Trump's former attorney Michael Cohen was sentenced to three years in prison for financial crimes and lying to Congress. According to The Washington Post, this could be bad news for more than just the presidents former fixer.
Prosecutors also struck a deal with AMI, the publisher of The National Enquirer, which admitted to paying off a Playboy model who alleged a sexual affair with the president. And Michael Flynn has asked a federal judge to spare him from prison time for cooperating in the Mueller investigation.
As the Russia investigation moved forward, President Trump threatened to bring everything else to a halt. In a televised meeting with Senator Chuck Schumer, D-NY, and Representative Nancy Pelosi, D-CA, he vowed to shut down the government in order to get funding for his long-promised border wall.
Guests: Fernando Pizarro, Washington correspondent, Univision; Wendy Benjaminson, managing editor, McClatchy DC Bureau; Josh Kraushaar, political editor, National Journal.
10 a.m.- 1A with Joshua Johnson
International news roundup. On Wednesday, British Prime Minister Theresa May survived a no-confidence vote in the House of Commons. But a third of her Conservative Party colleagues voted to remove her. Now she'll go back to the European Union to try to sell leaders on a reformed deal, which she'll take back to Parliament, which has to approve the final negotiation.
In Poland, world leaders are meeting for the COP24 summit. So far, COP 24 efforts to integrate the landmark IPCC report on climate change – one that reported on the effects of a 1.5 degree rise in global temperatures – have failed. The BBC reported that efforts stalled out and "scientists and many delegates in Poland were shocked as the US, Saudi Arabia, Russia and Kuwait objected to this meeting "welcoming" the report."
This week, Time honored persecuted, killed and endangered journalists as their vaunted "Person Of The Year." The list included murdered Washington Post columnist Jamal Khashoggi, Burmese reporters Wa Lone and Kyaw Soe Oo, the staff of the Annapolis "Capital Gazette," Filipina editor Maria Ressa and more.
Guests: Elise Labott, global affairs correspondent, CNN; Indira Lakshmanan, executive editor, Pulitzer Center on Crisis Reporting; Nancy Youssef, national security reporter, The Wall Street Journal.
11 a.m. – MPR News with Angela Davis
Reporter Dan Gunderson will join the program to talk to host Angela Davis about what the farm bill is and how it (likely) impacts you.
11:15 a.m.- If there are children in your life, you probably have a good sense of what toys are popular gifts. But, if you're an aunt, uncle, cousin, sister, brother, grandparent…gift giving can be a bit of a test.
Guests: Sarah Jackson, the editor of Minnesota Parent; Dennis Green, senior reporter at Business Insider.
12 p.m. -The Takeaway
Can $3 billion fix a humanitarian catastrophe? A look at the UN aid designated for Yemen, and how much has actually reached the Yemeni people.
1 p.m. – Science Friday
It's one of the most tantalizing prospects in medicine: putting the body's own immune cells to work to target cancer. Science Friday looks at cancer immunotherapy research. Plus: raccoons that outsmart the scientists who study them.
2 p.m. – BBC NewsHour
We'll be hearing from the Yemeni port of Hodeidah where a ceasefire has come into effect . How soon before the UN can start delivering relief supplies? We have a report from Ireland, on how Brexit will impact on the multi-million dollar horse racing industry. And why is the United States backing the formation of an army in Kosovo?
3 p.m. – All Things Considered
The week in politics; Lin-Manuel goes Mary Poppins; asylum seekers in San Diego; possible bankruptcy for the Boy Scouts.
6:00 p.m. – Marketplace
As the year comes to an end, many Americans will have leftover money in their healthcare savings accounts, which come with a deadline. Marketplace will provide a look at how some are spending that money, before it expires.
6:30 p.m. – The Daily
Last week, Victorina Morales came forward and said that for the last five years, she had been working as an undocumented immigrant at President Trump's golf club in New Jersey. A couple of days ago, we visited her in her home with Miriam Jordan, the New York Times reporter who first broke the story.
Guests: Victorina Morales, a former housekeeper at the Trump National Golf Club in Bedminster, N.J.; Miriam Jordan, who covers immigration for The Times.
7 p.m. – The World
A 7-year-old Guatemalan girl died hours after she was taken into Border Patrol custody. She and her father were with a group of migrants who crossed into the US illegally along a remote strip of New Mexico desert and then turned themselves into Border Patrol. The girl apparently died of dehydration. A lot of the news coverage has been about the conditions in border patrol facilities. But our Global Nation desk says the more relevant story is how migrants are taking more dangerous routes into the US, following Trump's immigration crackdown.
We've also been seeing reports of migrants who were traveling with the caravan giving up and going home. We check in with the UN migration agency, the IOM, which has been helping migrants who choose to go back to their countries of origin, and hear that the number embarking on a return journey is small compared to the thousands waiting at the border.
Plus, Russia's air force sent two strategic bombers to Venezuela this week. The aircraft can carry nuclear weapons, and Russia is said to be considering a permanent deployment. Host Carol Hills speaks with Reg Thompson of Stratfor, a strategic analysis company, to find out more.
8 p.m. – Fresh Air
Bruce Springsteen's sold-out solo Broadway show closes on Saturday. But the show was filmed and will be available on Netflix this weekend. We feature Terry Gross' 2016 interview with Springsteen, recorded in his home studio.