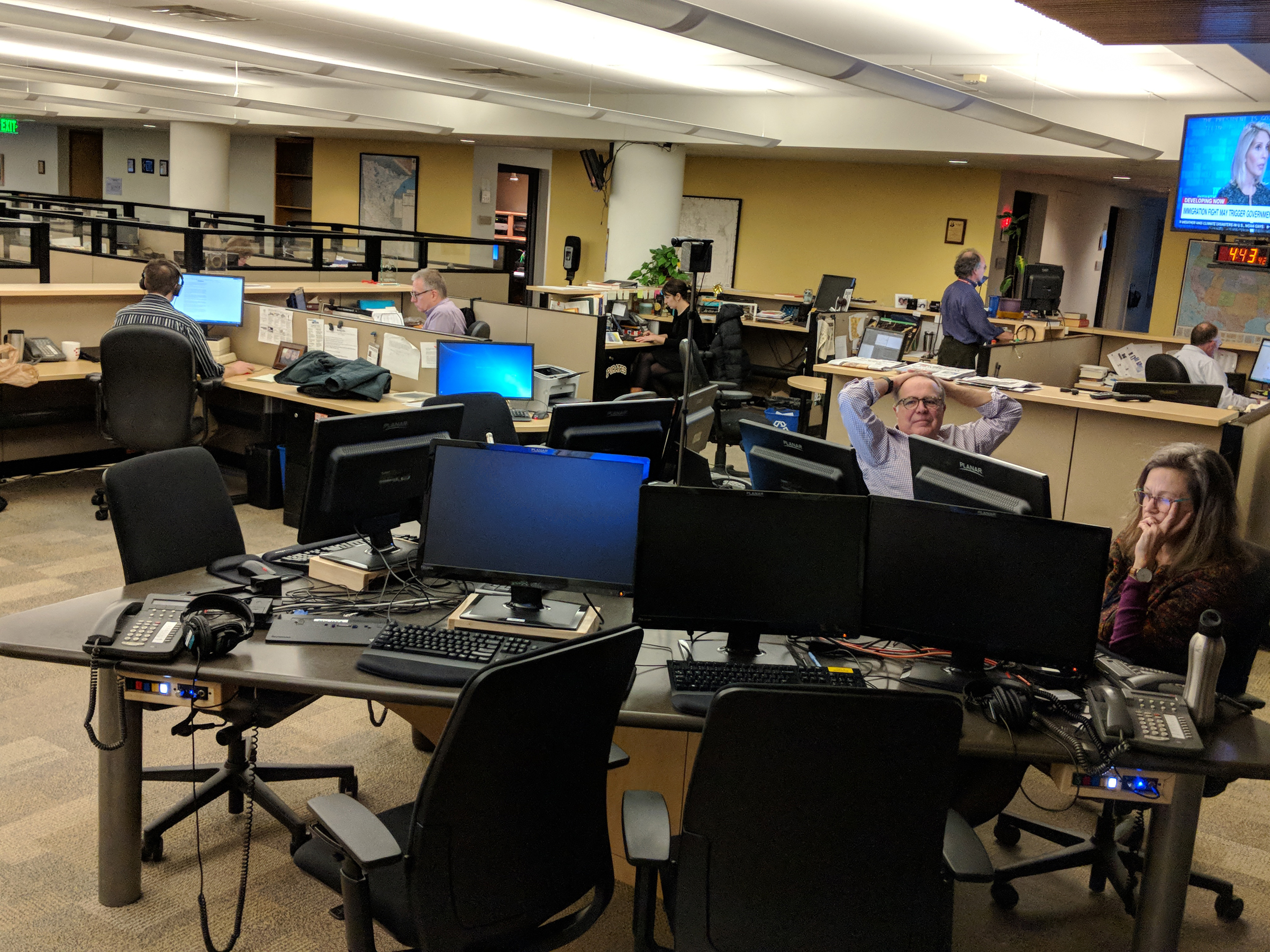 Tuesday Dec. 18, 2018
(Subject to change as events dictate. This page is updated throughout the day.)
9 a.m. – MPR News with Kerri Miller (Euan Kerr)
It's no secret that your smartphone knows a lot about you. Most people bring their devices with them everywhere they go—to work, to school and their homes. But, what a lot of people don't know is just how often their movements are logged and who has access to that data. The Times found one woman whose location was tracked about once every 21 minutes and other people whose locations were tracked up to 14,000 times a day. The frequency of the tracking is staggering, but the specificity of the data is also alarming. The datapoints can reveal extremely personal information like the last time you visited the doctor's office, how long you stayed there and if you stopped by an ex's house on the way home. So, what does this reporting mean for the roughly 77 percent of Americans who own smartphones?
Guests: Natasha Singer, a technology reporter at The New York Times who covers consumer privacy; Sascha Meinrath is the Chair in telecommunications and director of the "X Lab" at Penn State
9:45 a.m. – Kent Nerburn talks about his new book, "Dancing with the Gods: Reflections on Life and Art."
10 a.m.- 1A with Joshua Johnson
"Christmas music" has become less of a genre and more of a season unto itself. Radio stations play our festive favorites nonstop. And artists continue to release new holiday albums in hopes of making their days merry & bright. Who's buying holiday music these days… and why?
Guests: Elahe Izadi, pop culture writer, The Washington Post; Chris Molanphy, pop critic and chart analyst, host, Hit Parade podcast; PJ Morton, musician, keyboardist with Maroon 5.
11 a.m. – MPR News with Angela Davis
DNA kits are a popular gift this holiday season. But, what information do these companies keep and what information do users have to reckon with?
Guests: Mica Anders, a professional genealogist and David Matthes, associate teaching professor in the College of Biological Sciences at the University of Minnesota.
12 p.m. – MPR News Presents
Retired MPR host Gary Eichten hosts an annual MPR tradition: a year-end program on the economy with guests Chris Farrell of MPR and economics professor Louis Johnston of St. John's University and the College of St. Benedict. They'll look back at 2018 and look ahead to the coming year.
1 p.m. – The Takeaway
A look at who is behind the Internet Research Agency and how their work plays a central role in the findings of new reports released on Monday by the Senate Intelligence Committee; the motivations behind recent protests in Hungary; the future policy agenda of the Interior Department – what's left unfinished by Ryan Zinke and whether it's likely to remain on the same course for the next two years; and with an act of kindness story.
2 p.m. – BBC NewsHour
The British government has decided to step up preparations for leaving the European Union next March without a deal; botched traditional male circumcisions in South Africa cause further loss of life; and part two of the special reports from our Africa correspondent been travelling down the Congo River, today he's meeting gorillas and exploring the mineral-rich province of Katanga.
3 p.m. – All Things Considered
The rise and fall of Michael Flynn; coal's deadly dust; a security camera hack; a profile of Jennifer Lopez.
6:00 p.m. – Marketplace
Does Amazon's new future headquarters near Washington DC mean the tech giant could start working with the Department of Defense? A look at how defense contracting has shaped the economy of Crystal City, Virgina, Amazon's new home.
6:30 p.m. – The Daily
At the start of 2018, the biggest threat to the Trump presidency was an investigation into his campaign's ties to Russia. As the year draws to a close, it's his hush payments to women. We look at what's behind that change — and how the threat may change again next year.
Guests: Mark Mazzetti, a Washington investigative correspondent for The New York Times; Michael S. Schmidt, who covers national security and federal investigations for The Times.
7 p.m. – The World
The World is following the sentencing of Michael Flynn. Our take on it today will examine his long military career and show how he got into Donald Trump's orbit. We're also looking into the story of Flynn associates indicted for lobbying in DC, unregistered and illegally, on behalf of Turkey.
And we preview President Trump's plan B for a southern border wall. If Congress refuses him funding, he has said he will ask the military to build it. How would that work? And would it even be legal? Questions everyone may be asking as we approach Friday's deadline for a federal budget deal.
Also, Marco speaks with a young Syrian woman, a swimmer, who rescued migrants trying to cross the Mediterranean. The people she saved from drowning called her a hero. The Greek government now calls her a people smuggler. Sara Mardini rejects that accusation. She tells Marco her story, and describes what she wants to do to keep protecting the rights of refugees.
8 p.m. – Fresh Air
Terry Gross talks with Emily Blunt, who stars as Mary Poppins in the new film Mary Poppins Returns, which has news songs and a new story. Blunt also co-starred in The Devil Wears Prada, A Quiet Place and the film adaptation of Stephen Sondheim's Into the Woods.