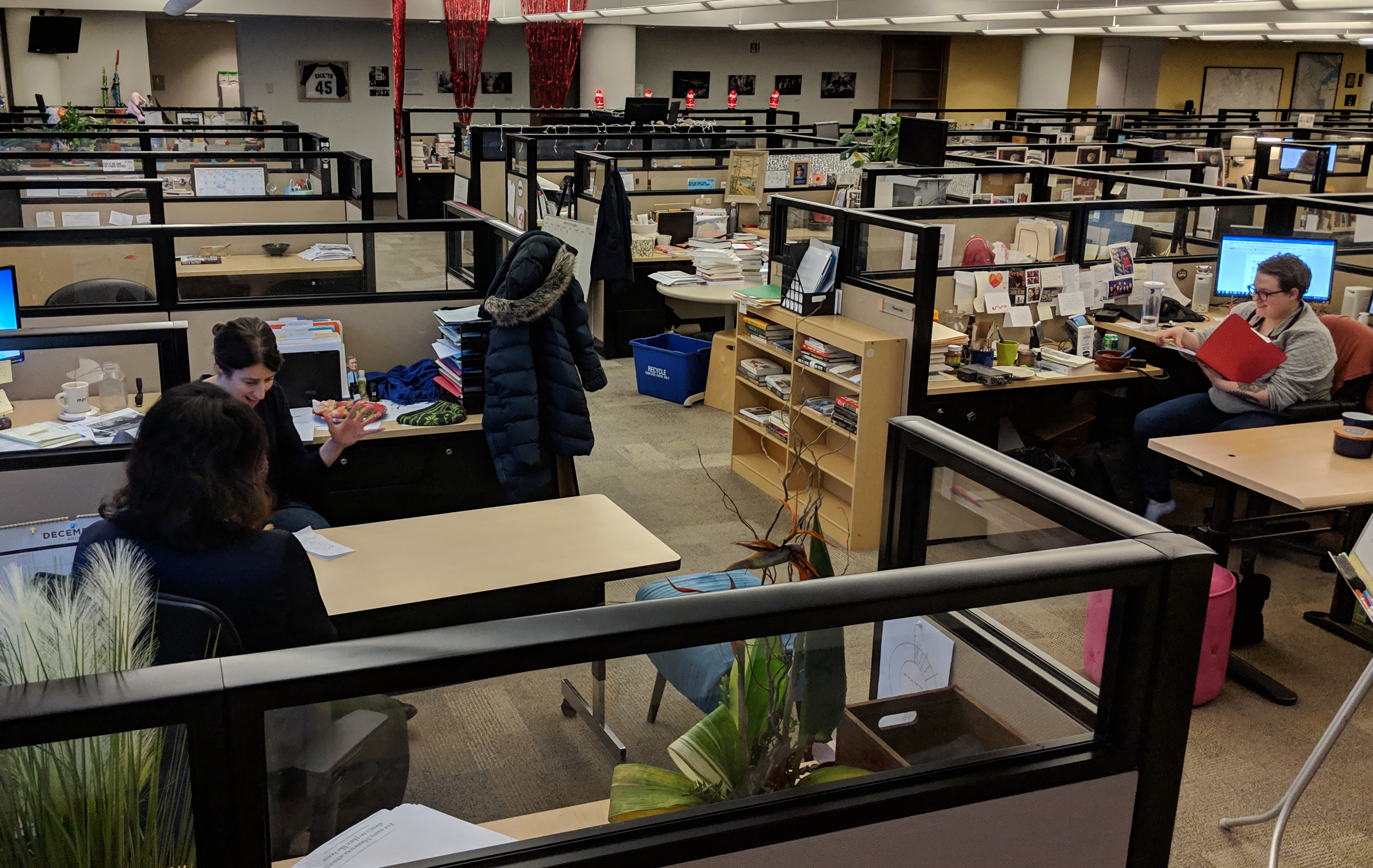 Friday December 28, 2018
(Subject to change as events dictate. This page is updated throughout the day.)
9 a.m. – 1A with Joshua Johnson
Friday News Roundup – Domestic. On Saturday, President Donald Trump made good on his promise to shut down the government over funding for a wall along the U.S.-Mexico border. When asked how long the partial shutdown might last, he responded, "Whatever it takes." Congress has since returned to session, but a resolution seems distant. This is the third shutdown of President Trump's presidency. Who's affected this time?
According to the president, "most of the people not getting paid are Democrats." But many federal workers have set the record straight about the impact of shutdowns across the aisle and throughout the different branches of government.
But this dispute isn't the only immigration-related issue making headlines. On Christmas Eve, 8-year-old Felipe G mez Alonzo, a detained migrant child from Guatemala, died after doctors had diagnosed him with a common cold. He's the second minor to die in the custody of Border Patrol – once again raising questions about the care of undocumented immigrants at the border.
Department of Homeland Security Secretary Kirstjen Nielsen called Felipe's death "deeply concerning and heartbreaking." She said the agency will adopt a "series of extraordinary protective measures, including having the CDC investigate the surge in "sick children" crossing the border.
Will conditions at the border actually improve?
Guests: Ron Elving, senior editor and correspondent, NPR; Alexandra Jaffe, correspondent, VICE News Tonight on HBO; David Priess, author, "How to Get Rid of a President: History's Guide to Removing Unpopular, Unable, or Unfit Chief Executives.
10 a.m.- 1A with Joshua Johnson
Friday News Roundup – International. President Donald Trump made a surprise visit to U.S. troops in Iraq and Germany on Wednesday. During the visit, he defended his decision to withdraw about 2,000 American troops from Syria, a move that spurred the resignation of Secretary of Defense Jim Mattis and was widely criticized by national security experts. A White House official said the trip had been in the works for more than six weeks.
Brett McGurk, the president's special envoy to coalition forces combating ISIS, also resigned over the troop withdrawal from Syria. But the president suggested he wasn't familiar with McGurk.
Anti-government protests have also gained more traction around the globe recently. Police used tear gas and fired upon thousands of protesters in Sudan on Christmas Day. The protesters were attempting to march on the presidential palace of Omar al-Bashir, who has been Sudan's president for 29 years. The Associated Press reported that Tuesday's march came after "a week of protests initially sparked by rising prices and shortages of food and fuel, but which later escalated into calls for Bashir to go."
And in Tunisia, photojournalist Abderazzak Zergui set himself on fire to protest social conditions in the country. Reuters reported that Zerguri posted a Facebook video before his death that "appeared to say that whenever the unemployed in his town prepare to protest, militant attacks are launched to silence them."
A devastating tsunami in Indonesia killed more than 430 people on Saturday. The island is still on high alert as volcanic activity continues. Officials are still looking for survivors.
Guests: Ron Nixon, homeland security correspondent, The New York Times, author of "Selling Apartheid: South Africa's Global Propaganda War"; Rosiland Jordan, State Department/specials correspondent, Al Jazeera English Television; Nathan Guttman, Washington correspondent, Israeli Public TV.
11 a.m. – MPR News with Angela Davis
A winter storm is delivering rain, snow, and sleet in Minnesota as it moves through the region this week. That's making travel difficult in some parts of the state due to patchy blowing snow, sleet, and ice. It's a good moment for a review of how to drive in winter weather.
Guests: Cathy Doyle-Burris (BURR-is), driving instructor at AAA Minneapolis; Gordon Shank, lieutenant. at the Minnesota State Patrol
11:20 a.m. – Being home for the holidays can make it clear what kind of care aging parents and grandparents need. How do you ensure your loved ones age with support and joy?
Guests: Dorothea Harris, program manager of the Culturally Responsive Caregiver Support and Dementia Services at Volunteers of America; Maureen Kenney, director of Aging Services at the Amherst H. Wilder Foundation.
12 p.m. – The Takeaway
Does America have a leadership crisis? America's trust in leadership and institutions continues to hit an all-time low. Is local leadership the answer? Exploring the question of who should be leading the Republican Party now, if that matches up with what the base wants, and, more broadly, if the traditional leadership in the conservative movement even matters to the same degree as it once did.
1 p.m. – Science Friday
Host Ira Flatow recaps the biggest science stories of 2018 – from climate change, to space and human health. Plus: updates on local science stories from the year coming to you from Laramie, Wyoming, Chicago and the Florida coast.
2 p.m. – BBC NewsHour
Tensions rise ahead of Sunday's elections in the Democratic Republic of Congo
3 p.m. – All Things Considered
The week in politics; how much of the internet is fake; school lockdowns; Pittsburgh's bad year; year-end obits at the Grammy Awards.
6:00 p.m. – Marketplace
Between the government shutdown and turmoil on Wall Street, the holiday week has been anything but slow.
6:30 p.m. – The Daily
As the controversy unfolded over accusations that the Supreme Court justice had sexually assaulted a girl during high school, a "Daily" listener asked the young men in her own family what they thought.
7 p.m. – The World
We hear about refugee camps in the news all the time. But a lot of questions don't get reported on very often. Do people in refugee camps have a fire department, a public library, or restaurants? Are there landlords? Dentists? And what about plumbing?
Those are some of the questions that New York City schoolkids wanted to ask. The questions were collected by Bianca Giaever, who put together a report from the Dadaab refugee camp in Kenya. It tells the story of life in a refugee camp though the eyes and ears of a 12-year-old Somali boy named Muzamil. It's part of a collaboration with PBS Frontline's podcast, The Frontline Dispatch, and it's a fantastic listen!
Then, the shutdown in Washington is likely to continue through the New Year. Host Marco Werman speaks with Lindsay Lou in New Hampshire, whose husband is in the Coast Guard. He's still on duty. But he's not getting paid during the shutdown.
2018 was a big year in North Korea news, and President Trump is talking about meeting the North's leader Kim Jong-un for a second summit early next year. Marco runs through the highs and lows of US-North Korea relations over the past year with Robert Kelly, a political scientist at Pusan National University in South Korea.
And, an appreciation of acclaimed Israeli writer Amos Oz, who died today at the age of 79. Oz spoke with Marco for a memorable interview in 2011 and we share some of the highlights.
8 p.m. – Fresh Air
We continue our holiday series of favorite interviews of the year with British singer Tracey Thorn. Her latest album is rock critic Ken Tucker's #1 album of the year. Thorn used to be half of the duo Everything but the Girl. Terry Gross talks to Thorn about performing, motherhood, midlife, and feminism.